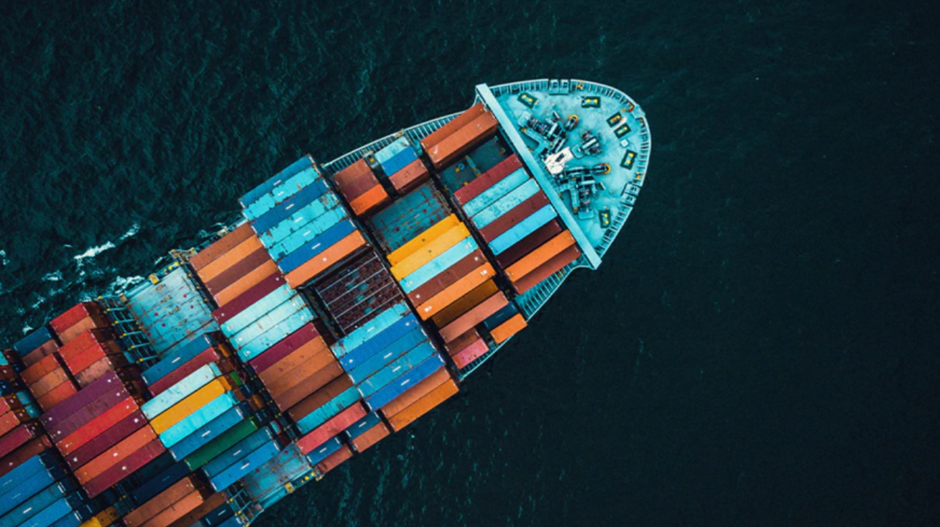 Plans for ammonia exports are taking shape around the world, as companies compete to secure the most attractive opportunities to fuel future zero carbon aspirations.
Hydrogen has taken centre stage in recent times, amid plans for the energy transition. The element poses difficulties in transportation, though.
To transport hydrogen, the exporter must chill the gas to below -252 degrees Celsius. Natural gas becomes a liquid at -160 degrees Celsius, while ammonia becomes liquid at a relatively balmy -33 degrees Celsius. Energy density of ammonia is also higher than hydrogen.
"Ammonia and hydrogen are two faces of the same solution," said Professor René Bañares-Alcántara. Introducing ammonia as an intermediate step requires more investment and processes – and inefficiencies, he noted.
"If you're going to use hydrogen in the place where it's produced, when it's produced, it would be stupid to transform it. However, if you want to use that hydrogen three months from now, 10,000 km away, ammonia is a really good way to transport and store it," the professor said.
Efficiency increases if ammonia is consumed direct, without having to crack it back into hydrogen.
The first energy use of ammonia is likely to be as a shipping fuel. A number of companies are working on plans for this, with MAN Energy Solutions aiming to have a commercially available ammonia engine by 2024.
Solving energy needs
Existing ammonia consumption focuses on fertiliser. However, given that it emits no CO2 when consumed, it is gaining in energy sector visibility.
For now, fossil fuels are the precursor to ammonia. Shifting from this carbon-intensive means of production to a less emitting option should play an important part in cutting the world's push for net zero.
Companies can process blue and green hydrogen into blue and green ammonia respectively. The cost of the hydrogen input is a key determinant for ammonia's competitiveness.
Production is straightforward, through a combination with nitrogen, although plants can be expensive.
There are some safety challenges, for instance, ammonia is highly toxic and may explode when exposed to high heat, but industry is well aware of its challenges. When used as a fuel, ammonia does emit NOx, although technology exists to capture most of this.
The Oxford Institute for Energy Studies (OIES) has said ammonia is "preferable to pure hydrogen, from economic, environmental and technological perspectives".
However, a research note from November predicted green ammonia would be unlikely to take off without carbon taxes or some other form of support.
Blue ammonia costs around $250-350 per tonne to produce, GaffneyCline projects director Drew Powell said, while green ammonia costs around $350-450.
"Pricing for green ammonia is driven by renewable electricity costs, while blue ammonia is driven by gas price – or whichever hydrocarbon is used. Renewable prices seem to be consistently reducing and market suggestions have hydrocarbon prices increasing. As a result, green ammonia should see a cost advantage within the next 10 years," the GaffneyCline director said.
Transportation
Talk of the energy transition often focuses on a shift to electrification. This is not straightforward, though, particularly when there is a need to move electricity over long-distance cables. A power cable does not offer exporters options to divert cargoes and is vulnerable to attacks or sabotage, while it also loses electricity through inefficiency.
Controlling transportation costs will have an impact on the economics of ammonia.
Production costs in Chile are lower than in Morocco, the Hydrogen Import Council has reported. However, when taking into account transportation – in this instance to Belgium – Morocco comes out ahead.
There is competition. Thunder Said Energy has suggested toluene as an alternative carrier for hydrogen.
Ammonia must be shipped in refrigerated tankers and to extract hydrogen at the end terminal is complex and requires cryogenics.
Using toluene as a hydrogen carrier would cost 20% less than ammonia, at $3.5 per kg, the consultancy said. This is still relatively expensive, it said, at around six times the price of liquefying and shipping LNG.
AFC Energy, a fuel cell power developer, has targeted ammonia as part of its plans. The company's CEO, Adam Bond, highlighted the advantages of moving ammonia. The costs are "a fraction of moving hydrogen, making it an ideal no carbon fuel for a variety of industries."
Power plans
AFC has a fuel cell that will run on hydrogen. Operators can supply this as hydrogen direct or crack ammonia, which releases hydrogen.
The International Energy Agency (IEA), in its net zero report from May, has said hydrogen and ammonia would become fuel inputs for electricity generation around 2030.
South Korea set out plans for a public-private partnership to focus on a green ammonia partnership. The focus is on using ammonia as a vector to transport hydrogen. The ammonia will be cracked to release hydrogen for a variety of needs, including power, heat and fuel cells.
As the world becomes more at ease with ammonia as a fuel source, there is scope for it to expand into power as a direct feedstock alongside other fuels.
Japan published a road map on its energy plans this year. The country aims to import 3 million tonnes per year of ammonia by 2030, rising to 30mn tpy by 2050. This will be part of Japan's shift away from coal and LNG, which it sees drastically reducing in the medium term.
"Japan's 2050 plans include an energy transition that will likely include combustion of ammonia in power stations, injected alongside coal and gas. There are plans to target 20% ammonia in power station fuel supplies," said GaffneyCline's Powell.
Using ammonia to co-fire power plants will reduce emissions from the facility, company and country. As such, it offers an appealing option as a bridge to lofty net zero goals.
Blue vs green
As a first step, blue ammonia is an attractive entry into a lower carbon environment. However, concerns are likely to linger, not least on how much carbon is actually captured in the process.
Green ammonia is the next step.
Bracewell partner Andrej Kormuth noted that green hydrogen "might well be the perfect energy molecule for the super majors and oil & gas companies as it would fall within their existing midstream and downstream capability".
A shift into hydrogen, and then ammonia, would not be an "enormous task … while maintaining the same business model", Kormuth said.
"Such companies' existing appreciation for quality control procedures and in-house engineering capability (not to mention midstream and downstream assets) should lend them a competitive advantage in this nascent industry, if indeed such companies make the appropriate investment and business focus shift."
Companies considering investments in hydrogen must pay close attention to the source and how policies may shift.
"We understand that there might be, at least from a cost perspective, the possibility of blue ammonia outperforming green ammonia. This may, potentially, lead to financially stranded assets," Bracewell's Kormuth noted.
GaffneyCline's global director of gas and LNG, Ryan Pereira, said the major risk for ammonia, particularly green ammonia, was commerciality.
"It's going to require a lot of private investment, just like with the hydrogen and CCUS projects being mooted for development. Increased investment in ammonia is likely going to require suitable regulation as well as policy support in certain countries, such as is happening with the pilot projects in Japan.
"With the right technology, and the right care around project development and execution, the technical and safety risks are manageable," Pereira said.
Certification
Professor Bañares also raised concerns about verification and certification. He cited an instance where an oil company had exported a blue ammonia shipment – of which 40% of the CO2 captured was used for enhanced oil recovery (EOR).
Production and consumption of the oil will cancel out the gains made from capturing the CO2.
"Terms are very flexible still. People are talking about the need for more certification. How much of the CO2 needs to be captured to call it blue?" he asked.
GaffneyCline projects director Drew Powell raised similar concerns. "Some operators may capture all emissions, from the furnace, the vent gases and the process stream. Or they can just capture the emissions from the process itself," he said.
Green ammonia needs similar clarifications. Does all of the power for the process need to come from renewable sources?
Suppliers and consumers will only know the true extent of their emissions if industry standards are codified. Regulations and policy will have a direct impact on how fast the resource can scale up to meet potential demand.
Supply lines
Progress on classification will make the matchmaking process between exporters and importers clearer.
"With increased production efficiency, green ammonia can deliver clean energy to markets across the globe through already established transport networks," fuel cell manufacturer GenCell CEO Rami Reshef said.
He went on to warn of "significant" capital and operating expenditure, when compared with traditional ammonia production.
"In order for the green ammonia market to grow, there is a need for technological developments to lower the cost of production. This is where GenCell aims, with its novel and economical approach to green ammonia synthesis, to disrupt the market," Reshef said.
The Middle East is likely to be a distinct source of ammonia exports, particularly to Asia, Powell said. The first step would be in blue ammonia supplies.
"Saudi efforts are likely to shift into green ammonia development, such as with the launch of NEOM. As renewable energy in the Middle East increases, this will push a lot of green ammonia to the Far East in the longer term," he said.
Needs and constraints
Other countries in the Middle East are not waiting. Abu Dhabi set out plans in May for a world-scale 1mn tpy blue ammonia plant as part of its TA'ZIZ project. Adnoc awarded the design work to Wood for the project, with a final investment decision (FID) due in 2022 and start up in 2025.
An Adnoc representative told Energy Voice that new use cases would emerge for both ammonia and hydrogen as demand for lower carbon energy increases.
"We foresee the greatest potential growth for blue ammonia in power generation, heavy transport and agriculture," he said. The Adnoc spokesperson went on to cite the example of a recent sale of blue ammonia to Japan's Itochu, which will be used for fertiliser.
"We view blue and green ammonia as complementary, addressing distinct customer needs and constraints," the official continued.
Doing deals
Australia is also working to tap new Asian demand for new feedstocks. Australia and Tokyo held talks in July. Ammonia – as well as hydrogen and carbon capture and storage (CCS) – were high on the agenda.
Leading Australian developer Woodside Energy agreed to work with Japanese partners on various areas. This included the production of clean ammonia in Australia, transportation and use as a power generation and marine feedstock.
Government support may be a critical factor. While Japanese demand is emerging, Australia's federal government has come out against one ambitious plan, the $36 billion Asian Renewable Energy Hub (AREH).
While there are clear benefits to cleaner energy sources, companies cannot overlook local impacts.
European demand may also be significant, particularly from Germany. Uniper struck a co-operation agreement with Oman's Hyport Duqm in July. The German company will provide engineering services and help negotiate an ammonia offtake agreement.
Uniper executive Niek den Hollander noted at the time that importing ammonia and cracking it into hydrogen was under examination. He cited the Wilhelmshaven terminal, on Germany's North Sea coast, in a potential repurposing of a site once considered for LNG imports.
Shipping
There is also scope for shippers to use ammonia as a fuel. Itochu launched a joint study framework in June to consider green ammonia for marine transportation.
"Green ammonia as a fuel is especially relevant for sectors such as maritime, where an estimated $1.4 trillion will be needed for the sector to meet the IMO's ambitious 50% CO2 reduction target from shipping by 2050," AFC Energy's Bond said.
Trafigura head of fuel decarbonisation Rasmus Bach Nielsen said the industry needed to understand ammonia better.
"For it to be widely accepted as a marine fuel we need to help demystify the risks and safety measures needed so that they are understood by policymakers and the maritime industry," he said.
In late July, Trafigura took another step to investigate ammonia, signing a memorandum of understanding (MoU) with Germany's Hy2gen. The two aim to quantify how the shipping industry can adopt green ammonia.
While ammonia is attractive for its lack of carbon emissions, it does have other problems.
A step away
SEA-LNG, which backs the use of LNG as a marine fuel, has noted ammonia has only half the volumetric energy density of synthetic LNG. As such, ships will need twice as much storage.
AP Moller-Maersk intends to have a carbon-neutral vessel in the water by 2023, running on methanol. Ammonia may be a next step. Producing methanol requires the addition of biogenic CO2.
"We expect that makes e-ammonia cheaper in production over time, compared to e-methanol," the company's head of decarbonisation innovation and business development, Jacob Sterling said.
Using ammonia throws up challenges in operation, though. It requires "extreme care when bunkering", Sterling said. "So using ammonia may very well be more restricted and more expensive than methanol. How it will all add up in the end is too early to say."
There are signs that shipping companies are eager to keep ammonia as a potential future option.
Seaspan Corp., a major container ship owner, recently ordered five LNG-fuelled ships from Samsung Heavy Industries (SHI). The company has the option of converting these vessels to run on ammonia, should environmental regulations drive such a need.
GaffneyCline's Pereira noted ammonia's role as a bunker fuel will see it compete with LNG bunkering. This, he said, was facing up to its own "hurdles due to methane slippage".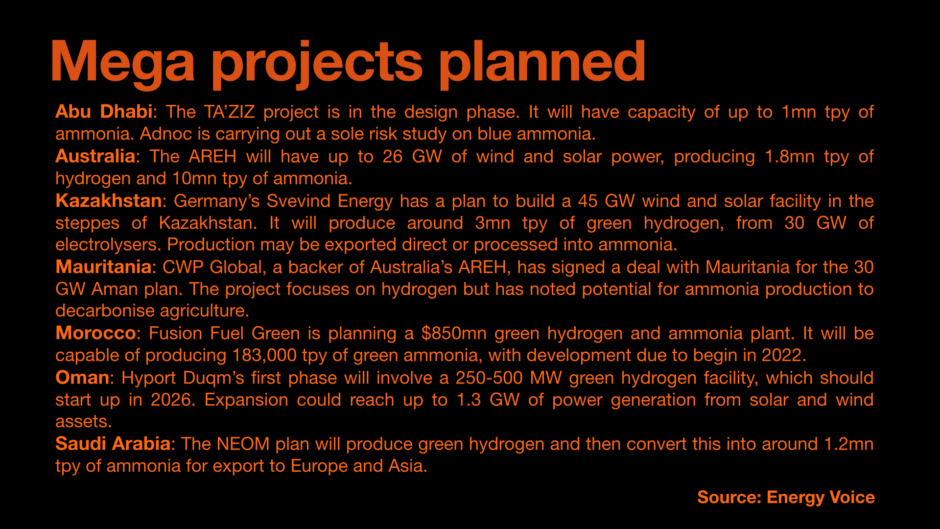 Recommended for you

TotalEnergies plans jumbo green hydrogen tender to cut emissions