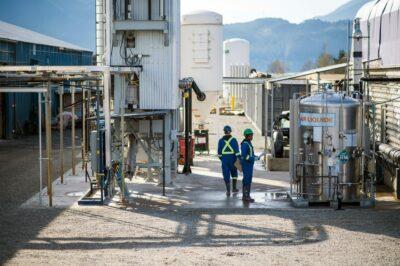 An emissions busting technology that is being backed by several large oil and gas firms could be a "non-starter" in the short term, according to researchers.
Direct Air Capture (DAC) involves extracting carbon directly from the atmosphere by moving air through a "solid sorbent or liquid alkaline solvent".
The sorbent or solvent is then heated up to release the carbon, which can then be used or stored.
Business models are currently being drawn up that would allow companies or individuals to pay to remove CO2 from the atmosphere in order to offset the emissions they generate.
Meanwhile, Storegga, which is behind the Acorn carbon capture and storage project, and Carbon Engineering (CE) are forging ahead with plans for a DAC facility in the north-east.
If the project gets off the ground, it would be able to remove up to one million tonnes of carbon dioxide from the atmosphere a year.
But DAC has been served a reality check by Westwood Global Energy Group, which claims the technology might only make financial sense for companies in a handful of countries.
The research body said problems stem from the fact that the "concentration of carbon dioxide" in the air is "very dilute".
That means the amount of heat required to extract CO2 from a DAC plant is "considerable" and, as such, the process requires a "lot of energy", Westwood Global said.
According to one estimate, DAC could need up to around 2.6 terawatt-hours to remove a million tonnes of CO2 a year.
Westwood Global said: "Based on research from 2018, historic cost estimates for DAC can range from USD$50 to $1,000 per tonne of CO2. Further analysis indicates the cost is likely to fall between roughly $95 and $230 in the next decade, depending on design options and economic assumptions.
"If carbon costs were above this range, then DAC really would make money out of thin air. As it stands, though, the average price for carbon worldwide is just $3 per tonne, according to the International Monetary Fund.
"Only in some sectors in Sweden, Switzerland or Lichtenstein would the carbon price be sufficiently high to support DAC today. So, the technology looks like a non-starter for now."
However, Westwood Global noted that the cost "hasn't put developers, governments and the research community off", with expectations of future rises in carbon pricing.
In addition to the Storegga and CE project, Aberdeen's Net Zero Technology Centre (NZTC), formerly the Oil and Gas Technology Centre, is working to make DAC more affordable.
Alongside partners, including Heriot Watt University's Research Centre for Carbon Solutions, the NZTC is aiming to develop "technology to bring the cost of DAC down to £100 per tonne of CO2".
Elsewhere, the US Department of Energy said in June it would put £8.7 million into six DAC research and development projects.
And several large oil and gas companies are also making forays into the space.
Chevron and Equinor are co-investors in DAC technology developer Carbon Clean, which has been tasked with carrying out design services for the Acorn project.
Meanwhile, ExxonMobil is linked to Global Thermostat, which is aiming to remove up to 40 giga-tonnes of CO2 a year.
Nevertheless, Westwood Global said that, even assuming the DAC cost barrier "can be overcome", question marks remain about whether it could scale up fast enough to be a meaningful solution.
As such, it said that DAC seems destined to become an "energy transition negative emissions technology also-ran".
But the technology has not been completely written off and Westwood Global said there is "one emerging trend" that could offer a lifeline.
It said: "In January, DAC firm Climeworks revealed its technology was being used as part of IT behemoth Microsoft's efforts to become carbon negative by 2030. And Climeworks is also partnering with fintech company Stripe on a venture called Stripe Climate.
"This allows businesses using Stripe to put a fraction of their revenues towards carbon removal efforts. For rich tech companies such as these, the ability to pull carbon out of the air is worth more than the cost of DAC today.
"In the future, other hard-to-abate sectors, such as aviation, may have no other choice but to use DAC if alternatives to current fuels are slow to develop. These may well be markets worth keeping an eye on."
Recommended for you

The astonishing implications of Biden's Inflation Reduction Act