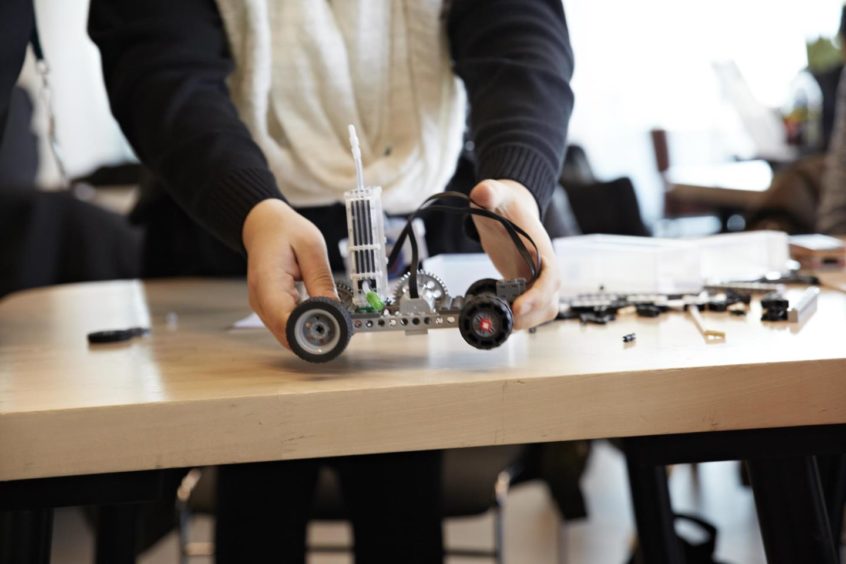 School pupils in Aberdeen are to compete against thousands from across Scotland to build the best green hydrogen powered Lego vehicle.
The Scottish School's Hydrogen Challenge pits students from across the country against one another as part of efforts to demonstrate the importance of the fuel in tackling climate change.
More than 7,000 second year pupils will design, build and race a green hydrogen-fuelled vehicle of their own design, all in under two hours.
Vehicles that travel the furthest on the zero emission fuel will take part in a grand final in Glasgow during the landmark COP26 climate conference.
The challenge will visit Fort William, Wick, Inverness, Aberdeen, Dundee, Perth, Stirling, Edinburgh and Glasgow in the run up to the summit.
Regional finals are taking place in each of Scotland's cities with the top three teams from each being entered into the COP26 showpiece.
A host of prizes are up for grabs, including a Lego Robot Inventor.
The first of the regional finals kicks off today as schools from across the Highlands battle it out in Inverness at Millburn Academy.
The competition is due to take place in Aberdeen on Friday, September 10.
Partners Arcola Energy, ITM Power and ScottishPower, are delivering the challenge in order to educate the next generation about the importance of tackling climate change.
Barry Carruthers, hydrogen director at ScottishPower, said: "Scotland is about to host one of the most important climate summits ever, COP26, and we want to help bring some of the energy and excitement around COP26 to schools across Scotland with our partners Arcola Energy and ITM Power.
"We're currently working to deliver a number of green hydrogen projects in Scotland – including the  largest green hydrogen facility in the country, but we know that we still have work to do to help educate people about this critical, zero emission fuel and the role it plays in achieving Scotland's overall Net Zero goals.
"This green hydrogen Challenge will help engage Scottish students in how green hydrogen can help decarbonise our daily lives by providing a clean fuel alternative to heavy industries and transport and supporting hundreds of green jobs."
During the workshops, competitors will find out more about the decarbonisation of transport and the important role it is playing in reaching Scotland's climate change targets.
The challenge also offers a chance for members of the community to learn about green hydrogen, its applications and its expected growth over the next decade during evening and weekend workshops.
Experts will be on hand to answer any questions about the technology.
Graham Cooley, chief executive of ITM Power, said: "It is vitally important we work with young people as they grow up during the rapid shift to a net-zero economy. We are thrilled to be working with partners Arcola and ScottishPower, who are as passionate as we are about inspiring and upskilling a future generation of scientists and engineers. These hydrogen-fuelled vehicles are being built by the generation who will inherit the hydrogen technology that we at ITM Power are creating today. We hope to learn as much from them as they do from us."
Green hydrogen is made when renewable electricity is used to power an electrolyser, which splits water into its two elements; hydrogen and oxygen.
The zero emissions fuel offers a long term, sustainable alternative to fossil fuels, and is expected to be vital in decarbonising hard to abate sectors, such as heavy industry, transport and industrial processes.
Ben Todd, CEO of Arcola Energy said: "Arcola Energy has delivered hands-on hydrogen education programmes to more than 100,000 students over the past 12 years, as part of our goal to deliver practical solutions to decarbonise transport, many examples of which will be on Scottish roads in the coming years.
"Based on real engineering principles, our workshops are delivered by our in-house team working with members of local universities and colleges who will be on hand to help teach students about green hydrogen and its applications – as well as offer a few hints and tips as they work to build their vehicles."
The challenge is being supported by the Scottish Cities Alliance and the Hydrogen Accelerator, both of which have played a key role in its coordination.
John Alexander, chairman of the Scottish Cities Alliance and leader of Dundee City Council, said: "With COP26 just around the corner there has never been a better time to engage our future leaders, engineers, economists and so much more about how important zero carbon fuel is.
"In the lead up to COP26 the Scottish cities are proud to collectively support this important programme to inspire the next generation of renewable energy engineers who can capitalise on the high skilled jobs we aim to create from our collective investment to position Scotland as one of Europe's leading early adopters of hydrogen technology.
"Innovation is happening here and now across the Scottish cities in deploying these technologies at scale to play our part in meeting Scotland's ambitious net zero target by 2045 and putting the technology in the hands of young people is vital to ensuring that Scotland's workforce of the future is best placed to reap the economic rewards as part of our just transition."
Professor John Irvine, chairman of the Hydrogen Accelerator at the University of St Andrews, said: "On behalf of the Hydrogen Accelerator and the University of St Andrews, I am delighted that we are supporting this exciting Hydrogen Challenge programme, inspiring our young people to take up future careers within sectors such as Hydrogen as it offers such a diverse range of fulfilling career opportunities.
"The Hydrogen Accelerator also looks forward to continuing to support the ambitions of the Seven Cities and city regions in achieving their decarbonisation targets.  With the abundance of renewable energy and water here in Scotland we have the right ingredients to produce green hydrogen enabling not only the decarbonisation of the transport sector but the opportunity to create innovative solutions, supply chain growth whilst providing citizens with clean, green transport."