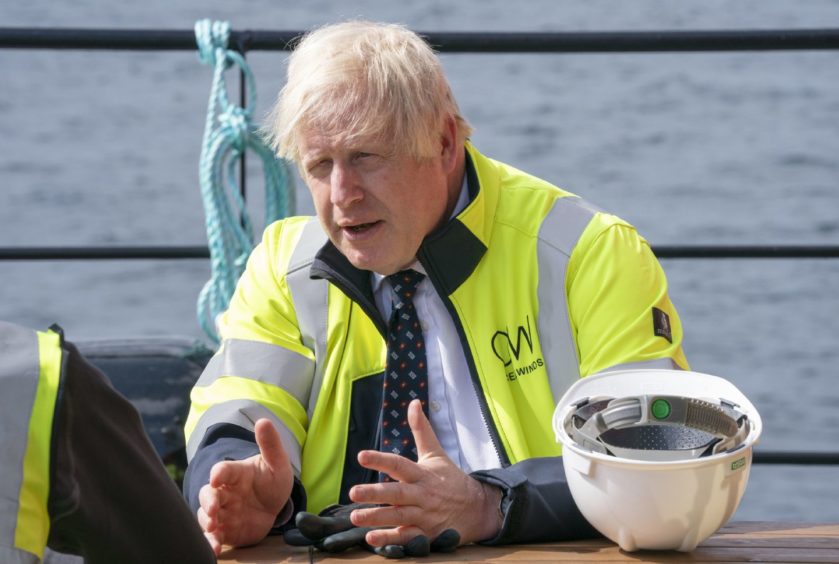 Prime Minister Boris Johnson has hinted that the Acorn carbon capture, utilisation and storage (CCUS) project in Aberdeenshire could be set to benefit from government investment.
Speaking to the BBC Good Morning Scotland programme from the Tory Party Conference in Manchester, he said:  "We're looking at all sorts of Carbon Capture and Storage Projects. The Acorn project is one of them.
"There is a big opportunity for CCUS in this country and we're investing in it. I think commcercial confidentiality probably forbids me from going into details."
Meanwhile Scottish Tory leader Douglas Ross said people should look out for more in the government's upcoming spending review.
It comes as the UK Government is due to make an announcement later this month on the first two CCUS clusters to be developed in the UK, with Acorn in the running.
The "Track 1" projects will be deployed by the mid-2020s and those selected will be eligible to negotiate support from the Carbon Capture and Storage Infrastructure Fund and have access to business models to attract private sector funding.
The Government is expected to start announcements from October 25.
On the same programme, Scottish Conservative leader Douglas Ross hinted at more details in the UK Government's spending review and Autumn Budget on October 27.
"I would listen out to the spending review that's coming up in a few weeks' time.
"There are ongoing discussions. The Scottish Secretary, I discussed this with him very recently, is continuing to make those views known around the cabinet table and I would expect to hear more of that in the days and weeks ahead."
CCUS, a process of storing emissions underground, would see the Acorn project at the St Fergus Gas Terminal take industrial emissions and store them in depleted gas reservoirs in the North Sea.
Petrochemical giant Ineos has signed an agreement with the project to help decarbonise its Grangemouth refinery in the Firth of Forth.
A total of four CCUS clusters are aimed to be up and running in the UK by 2030, as announced in the Government's 10 point plan last year.
Several other projects across England involving the likes of BP, Neptune Energy, HyNet, TotalEnergies, Harbour Energy and more are also in the running for Track 1 announcement.
The UK Government has something of chequered past when it comes to supporting CCS projects.
Between 2007 and 2015, it ran two competitions for support to develop CCS projects in the power sector, but both were controversially cancelled before funding was awarded.
A project involving Shell and SSE at Peterhead Power Station had been competing with a scheme in North Yorkshire in the second contest, only for the £1 billion grant to be withdrawn.