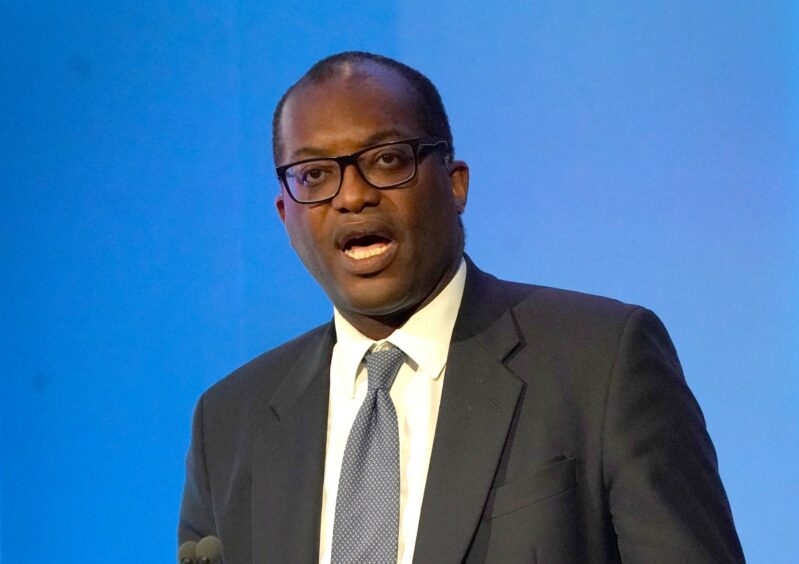 UK business secretary Kwasi Kwarteng has been grilled over the decision to reject the Scottish Cluster from the first round of a £1billion government carbon capture utilisation and storage (CCUS) competition.
Outrage was sparked across the political and business community yesterday when Westminster announced that the Scottish Cluster, led by the Acorn project at St Fergus, would not be selected among the first two UK projects to be up and running by the mid-2020s.
It comes after an earlier carbon capture competition, which Peterhead Power Station was a front-runner in, was cancelled in 2015 after the UK Government pulled funding.
Two weeks ago Boris Johnson spoke to the BBC's Good Morning Scotland programme and hinted that Acorn could be in line for investment through this latest round.
Speaking on the same programme this morning, Mr Kwarteng rejected the suggestion that the North-east of Scotland had a reason to believe it had been let down by successive UK Governments.
"None of us knew what the outcome was going to be, it was an official process and, on balance, Acorn was judged to be a strong bid but HyNet and the Joint Tees-Humber bid were given the go-ahead."
Mr Kwarteng added that Acorn would be developed "in the next few years", but gave no clarity on when the second track announcements would be made.
Also on the programme, Sir Ian Wood, chairman of business development body Opportunity North East, said he did not understand why the north-west of England was selected which doesn't have the level of infrastructure as the North Sea.
The former oil tycoon has already urged the government to reconsider the decision following yesterday's announcement and add Acorn to Track 1.
He said: "We will be talking to Greg Hands and Kwasi Kwarteng really quite strongly and try and persuade them to go for a third one at this stage."
Mr Kwarteng said he had spoken to Sir Ian extensively in the lead up to the decision.
Asked about the justification for the HyNet project in the north-west of England, Mr Kwarteng said: "The clusters were examined very thoroughly and it was found that the HyNet cluster was actually very well placed to get the go ahead.
"I think Acorn was a very strong bid, it was a reserve site, and it is something that I'm looking forward to developing in the next few years."
Despite the rejection, Mr Kwarteng said Acorn's storage capacity will be "crucial" in helping the UK to reach its 2050 net zero target.
Questioned on whether expertise could be lost due to the decision, Sir Ian Wood said: "Yes, the heavy engineering expertise from oil and gas could be lost.
"I think it is going to develop, the Acorn project is a very good project with some really good companies involved. It's just the fact it's going to be two or three years behind. That just doesn't make sense.
"I really hope we don't lose it. We'll do everything we possibly can to preserve that."
Political decision?
Politicians at local and national level have deemed the exclusion of the Scottish cluster as "catastrophic".
Sir Ian said he hoped the decision was not a political one.
"There is an issue of the levelling up question which may well have had some influence in choosing the north-west of England but Scotland is clearly very vulnerable politically right now.
"So I'd have thought these two would have cancelled the other out.
"We're slow in carbon capture and storage, we've made a very slow start in our supply chain.
"What they should do, and what they could do very easily, is allow a third one. It would cost another half a billion pounds, sounds like a lot of money but we are behind in CCS and there is a huge amount of money to be gained by getting CCS up and running as quickly as possible.
"So please, have a think about this again and think about a third one."
Recommended for you

Allowing its engineers to 'shine' gives Wood the edge in the CCS market