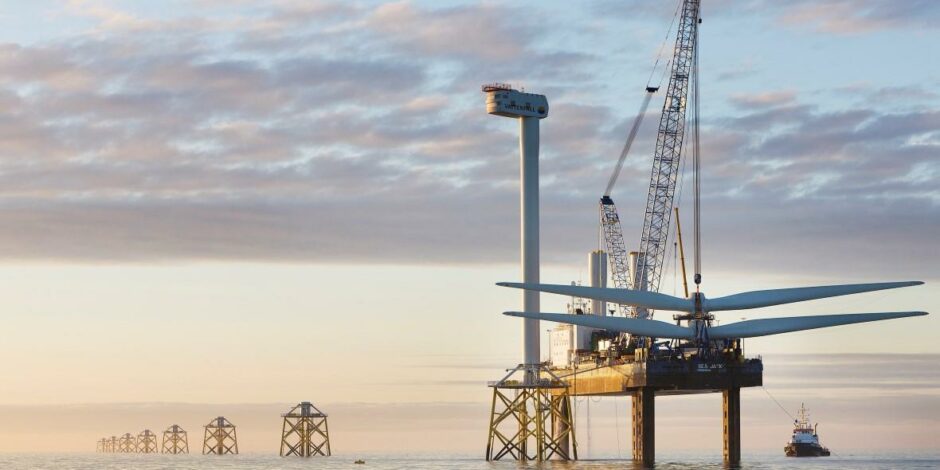 An investigation is underway after a hub of three 61-metre turbine blades were dropped at the Ormonde offshore wind farm in the Irish Sea.
The incident last week took place during a lifting operation involving the MPI Adventure vessel owned by Van Oord.
Developer Vattenfall said the majority of the parts and tools are now resting on the seabed.
No one was injured in the incident and Vattenfall said the relevant authorities have been notified
An unverified video appearing to show the incident is circulating on social media.
(18/10/2021 15:39) New Kingfisher Bulletin notice: – Dropped – Ormonde Offshore Wind Farm https://t.co/uJHKyjSV7w

— Kingfisher Info (@Kingfisherinfo) October 18, 2021
Vatenfall is urging members of the public not to remove any debris they might find.
In an environmental notice, Vattenfall said: Unfortunately some debris fell into the sea following maintenance work at Ormonde Offshore Wind Farm, and a clean-up operation is under way, as well as an investigation into how it happened.
"If you find debris which looks similar to the pictures below on the beaches around the neighbouring coast please report it by calling 0333 4141 912.
"Don't attempt to remove the items yourself, but if you can let us know where you have found it and how much there is, our teams will be along to remove it as quickly as possible. The debris is not harmful but it's best not to touch it, just to make sure everyone stays accident free."
Coastal debris linked to an incident during maintenance at Ormonde Offshore Wind Farm could be widespread. Report debris by calling 0333 4141 912. More information here: https://t.co/pBLlLIRmmX. pic.twitter.com/ZsK6CMtqoT

— Vattenfall UK (@VattenfallUK) October 24, 2021
Ormonde offshore wind farm lies around six miles off the Cumbria coast in the Irish Sea.
The project, operational since 2011, can generate enough electricity to power 100,000 UK homes.
Ormonde was the first commercial deployment of steel jacket foundations fabricated in Scotland by Bi-Fab.