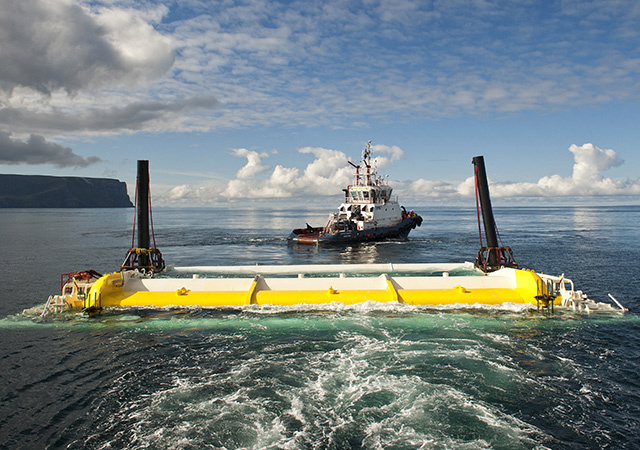 The world's biggest ocean energy site was given the go-ahead on the Western Isles yesterday.
The crashing swell of the Atlantic will place the tiny Lewis village of Halfpenny Borve at the centre of an emerging wave power industry that promises a welcome economic boost for the islands.
Wave energy developer Aquamarine Power, was granted consent from the Scottish Government for a 40MW wavefarm, enough capacity to power nearly 30,000 homes. And there are hopes that the offshore development could be a spur for energy company SHE Transmission to press ahead earlier with the sub-sea grid connector cable to take Outer Hebrides renewable power to market.
Wildlife organisations the WWF and RSPB also welcomed the development.
During construction there could be more than 140 jobs, of which 70 could be island workers, and during operation their could be 18 full-time jobs of which 16 could be isles jobs said a spokesman of Aquamarine.
The announcement was made by Energy Minister Fergus Ewing at the All Energy conference in Aberdeen. The green light means the Edinburgh firm, through its wholly owned subsidiary Lewis Wave Power Ltd, will be able to begin installing their near-shore Oyster wave energy machines around 2017 – once the necessary grid infrastructure has been put in place.
This will ultimately see the deployment of between 40 and 50 Oyster devices along the west coast of Lewis, one of the best wave energy locations in Europe.
Aquamarine Power are currently testing two full scale wave machines off Orkney that are now producing power to the grid.
Aquamarine Power chief executive officer Martin McAdam said: "The goal of our industry is to become commercial, and to do this we need two things – reliable technologies and a route to market. Our engineers are currently working hard on getting the technology right and we now have a site where we can install our first small farm, with a larger-scale commercial build out in the years ahead."
He said the development would provide significant economic benefit.
In Orkney Aquamarine spent over £5million in the local economy during the installation of the first two Oyster devices and have worked with more than 40 local companies sourcing much of the services and expertise locally.
Mr Ewing said: "With 10% of Europe's wave power potential, and 25% of its offshore wind and tidal power potential, the opportunities for Scotland are enormous."
Niall Stuart, chief executive, Scottish Renewables, said: "It's further proof that we have become home to a world leading marine energy industry that is delivering jobs and investment to communities across Scotland.
"However, we can't forget that this is the kind of prize that could be lost unless costs for projects to connect to the grid on the islands are set at a competitive level."
Recommended for you

Turning flare gas into hydrogen and graphene, Levidian seals UAE deal