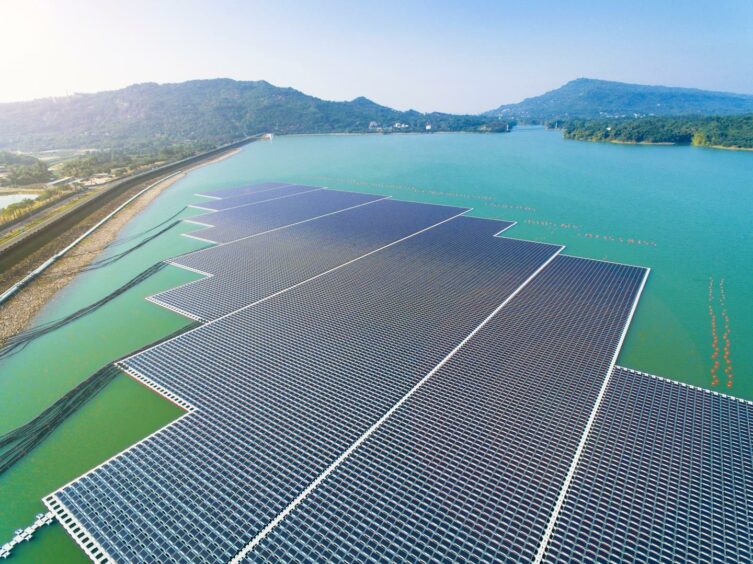 Analysts at Rystad Energy believe Southeast Asia could become the largest floating solar photovoltaic (PV) market in the world with several significant projects planned this decade.
The region is on track to hit 16 gigawatts (GW) of floating solar PV by 2030, based on the current project pipeline, the latest research from Rystad showed.
"While only 341 megawatts (MW) is under construction and operating currently, plant capacity is lined up to reach 6.6 GW in 2025. Although the floating PV project pipeline represents only 19% of total solar capacity by the middle of the decade, it has an impressive 109% compound annual growth rate (CAGR)," said Rystad.
"The key benefit of floating PV is the higher solar panel efficiency compared to ground-mounted PV. Much of the region's floating PV capacity is planned around hydroelectric dams, which have the additional benefit of lowering the technology's cost by tapping directly into existing infrastructure," added Rystad.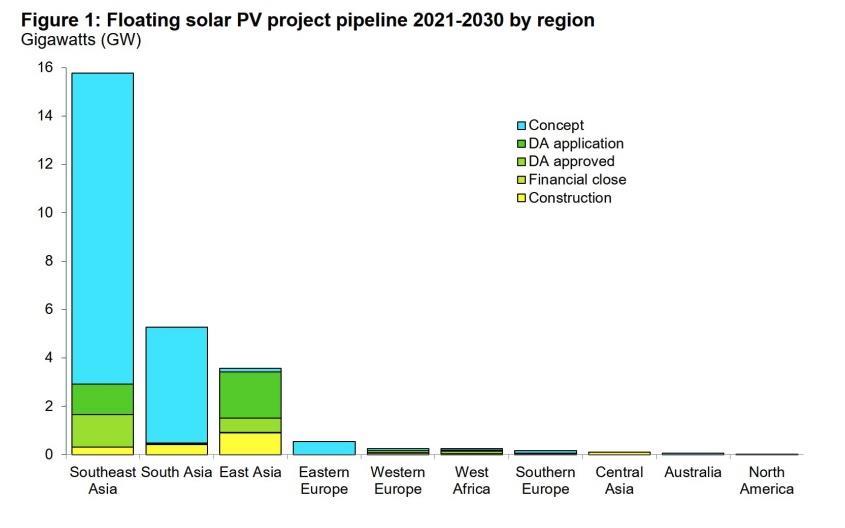 The largest announced floating solar PV project to date in the region is the 2.2GW Duriangkang Reservoir Complex in Batam Island, Indonesia. The $2 billion project is being developed by Singapore's Sunseap to include one of the world's largest energy storage systems at 4,000 Mwh. The project will not only boost the electricity capacity on the island, which is an industrial manufacturing hub, but any excess electricity will be exported to nearby Singapore via a proposed 50km subsea cable.
Regionally, the most ambitious country is Vietnam with 9.9 GW at different stages of development by 2030, reported Rystad.
Sunseap set to build world's biggest floating solar in Indonesia
"One of the key benefits making floating solar PV attractive in Southeast Asia is higher solar panel efficiency, which is due to a lower operating temperature than ground-mounted PV and minimal blockage from nearby structures. Solar Energy Research Institute of Singapore (SERIS), for instance, reports 5% to 15% higher output for floating PV. As cloud cover reduces solar irradiance in this region, owners and developers welcome any boost in solar panel output efficiency. And with a 15% higher efficiency for floating PV, this could come close to the average output seen in Australia, which has among the best solar resources in the world," said Rystad.
Moreover, Southeast Asia benefits from several large hydroelectric dams across its regions such as Bakun Dam in Malaysia, and Hoa Binh, Lai Chau, and Son La dams in Vietnam. Rystad expects to see more floating PV projects to be planned around such areas, picking up on the trend observed to date.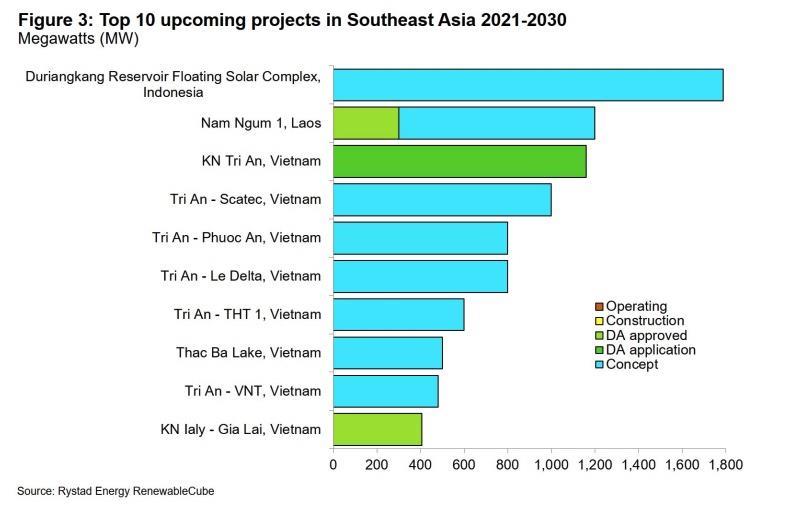 Significantly, most of the regional floating PV developments are planned for onshore bodies of water, which Rystad expects will continue. "We believe offshore floating PV is unlikely to take off mainly because it is a tougher environment with challenges related to salt water, waves, tidal level changes, and seasonal typhoons, which will increase the project cost," said Rystad.
"Southeast Asia benefits from plenty unused onshore water bodies. For instance, Indonesia has an estimated 21,000 square kilometres of such areas, and if only 1% of this is utilised, it could provide an estimated 28 GW of floating solar PV capacity," added the energy research consultancy.
Recommended for you

Masdar stacks up deals on 20 GW of clean energy