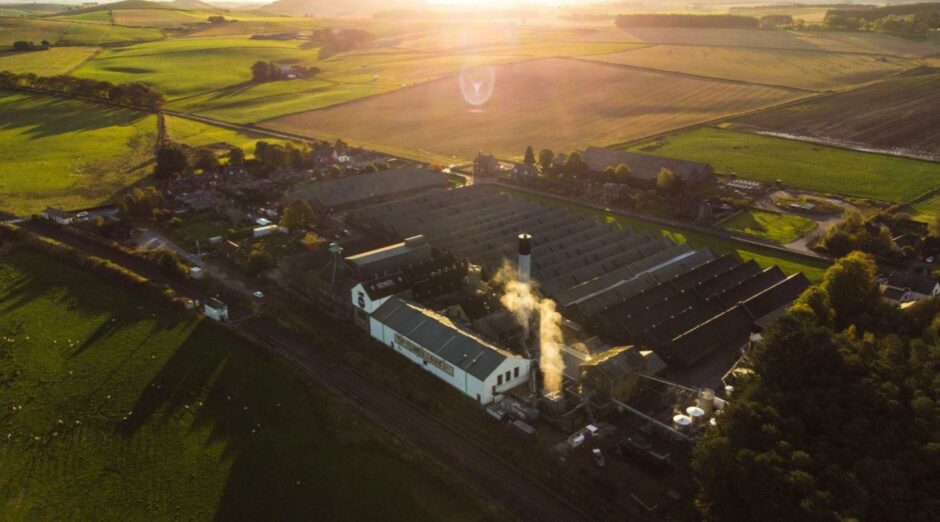 A distiller and a clean-tech start-up have been awarded further funding to conduct an industrial hydrogen trial at the Glen Garioch distillery in Oldmeldrum, Aberdeenshire.
WhiskHy, a consortium led by start-up Supercritical with partners Beam Suntory and the Manufacturing Technology Centre (MTC), has been awarded £2.94 million as part of Phase 2 of the Department for Business, Energy and Industrial Strategy's (BEIS) green distilleries competition.
Supercritical aims to develop the world's first high pressure, ultra-efficient electrolyser, and has partnered with the distiller to use the WhiskHy platform to scale up module capacity and build out the system.
Over the course of the 21-month project, the group will use hydrogen to fire the stills used to make spirits, producing circa 57,000 bottles of hydrogen-distilled whisky.
The first of the finished product would be ready "sometime after 2025" the group said.
The £2.9m award follows the completion of a similar three-month feasibility trial at the Ardmore distillery in Kennethmont, which saw the site's wastewater used as a feedstock for producing clean-burning "green" hydrogen.
Here, the green fuel was used in place of LPG feedstock to power still boilers.
Supercritical says its technology has the potential to reduce emissions in other hard-to-decarbonise sectors, such as chemicals, heavy industry and transport.
With the new tranche of funding, the company says it plans to double the size of its team, adding that supply chain contributions have already been identified across the UK and work "has either started or will be commencing imminently" with multiple product and service providers.
The MTC will also support Supercritical in developing some of its core processes as the technology is refined.
Beam Suntory, whose Scottish whisky brands include Glen Garioch, Teacher's, The Ardmore, Bowmore, Laphroaig and Auchentoshan, launched its "Proof Positive" sustainability strategy earlier this year, with an ambition to reduce emissions by 50% by 2030.
Supercritical says the bottles created at Glen Garioch would represent the first hydrogen-fired bottles of whisky ever created at industrial scale – however other distilleries are already working towards similar goals.
Bruichladdich distillery on Islay has also announced plans to cut emissions using dynamic combustion chamber (DCC) technology, patented by Jericho Energy Ventures, in a bid to decarbonise its distillation process by 2025.
Dubbed HyLaddie, and led by technology developer Protium, the pilot project will also use on-site hydrogen combustion equipment to heat its stills.
A later phase of the project, expected in summer 2023, would see hydrogen and oxygen produced from a larger commercial scale electrolyser situated offsite that will operate alongside a new renewable energy project on the island.
Meanwhile Bunnahabhain, also on Islay, plans to use a new biomass plant to power its distillation process.
Recommended for you

Kent wins hydrogen work at HyNet