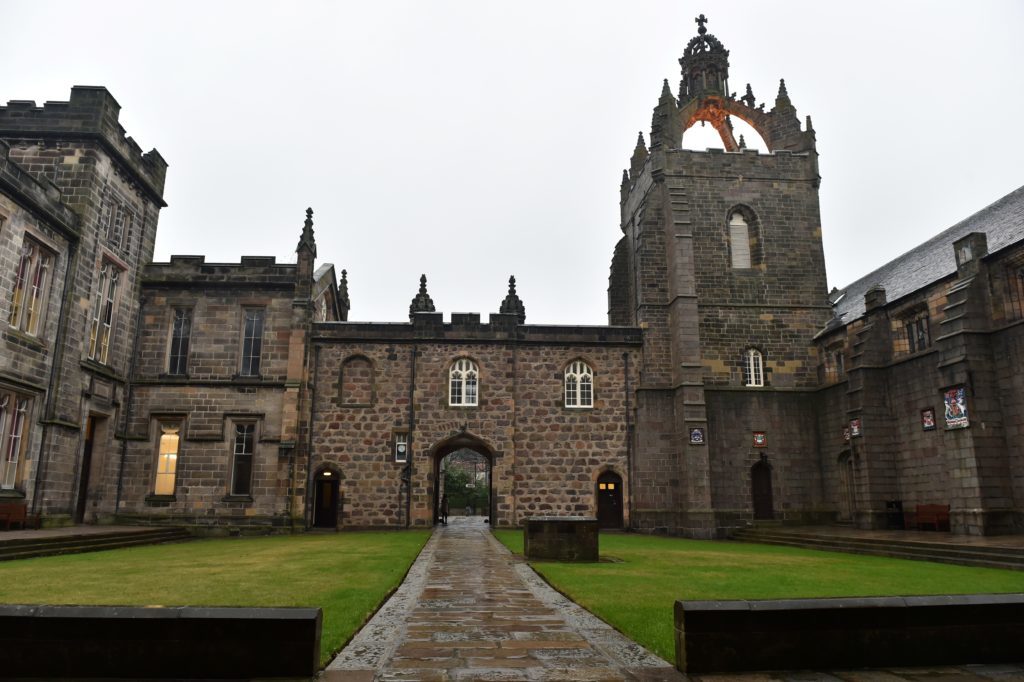 Aberdeen University has appointed a renowned geologist to head up its new energy transition centre.
John Underhill will leave his position as a professor of stratigraphy at Herriott-Watt University to take up the position of director of the Interdisciplinary Centre for Energy Transition in March next year.
He was previously a member of the UK Energy Minister's Technology Leadership Board (TLB) and currently populates the UK Exploration Task Force (XTF) and the Scottish Government's Science Advisory Council (SSAC).
He will also join Aberdeen University's School of Geosciences as a professor in Geoscience & Energy Transition.
Away from academia, Professor Underhill enjoyed a successful career as a football referee and oversaw European Champions League and Scottish Premier League matches before retiring in 2008.
His appointment is part of Aberdeen University's drive to "tackle some of the most pressing issues" facing society through "innovative research and education".
Professor Underhill said: "The energy transition is a significant global challenge, and it is a privilege to have the opportunity to lead the University's efforts to address, critically evaluate and seek the right solutions that ensure we retain energy supply as we decarbonise.
"Having been pivotal for the energy industry and wealth creation and quality of life that the UK has enjoyed over the past half century, Aberdeen and the north east region is uniquely placed to shape and deliver the transition that it is required.
"I am delighted to take on this role and look forward to working towards the goal of a just, fair and affordable transition that protects jobs and livelihoods on the journey to meet net zero emission targets."
In order to support its 2040 strategy, the University has appointed three other leading academics to its new interdisciplinary centres.
The hubs are designed to encourage and enable academics to work across scientific boundaries to provide solutions to complex problems.
In addition to Professor Underhill, the new Directors, who start their new roles in early 2022, are:
Jennie Macdiarmid – director, Interdisciplinary Centre for Health, Nutrition and Wellbeing
Georgios Leontidis – director, Interdisciplinary Centre for Data and Artificial Intelligence
Eleonora (Ele) Belfiore – director, Interdisciplinary Centre for Social Inclusion and Cultural Diversity
A fifth director, to lead on Environment and Biodiversity, is expected to be appointed shortly.
Marion Campbell, vice-principal for research at Aberdeen University, said: "These appointments represent a significant step forward in terms of our ambitions to deliver on the aims of our Aberdeen 2040 strategy.
"I am confident the new Directors will play a pivotal role in positioning the University as a global leader across the interdisciplinary challenge areas, while also providing academic leadership across the University."
Professor George Boyne, principal and vice-chancellor, added: "the purpose of our university is grounded in the service of others, and conducting research and education with impact is at the core of our mission.
"All our new Directors are recognised leaders in their fields, who have been appointed on the basis of their vision, leadership, drive and academic expertise, as well as their ability to influence and work effectively across the University and externally at all levels.
"These attributes are essential in taking forward our ambitions to tackle what our Aberdeen 2040 strategy identifies as the five interdisciplinary challenges of our time.
"By working across boundaries and sharing ideas and approaches, we have the expertise to face these particular challenges for the benefit of our region, and wider society.  I look forward to working with our new Directors and the entire University community to deliver on our ambitions."
Recommended for you

UK Government to move 200 energy department civil servants to Aberdeen