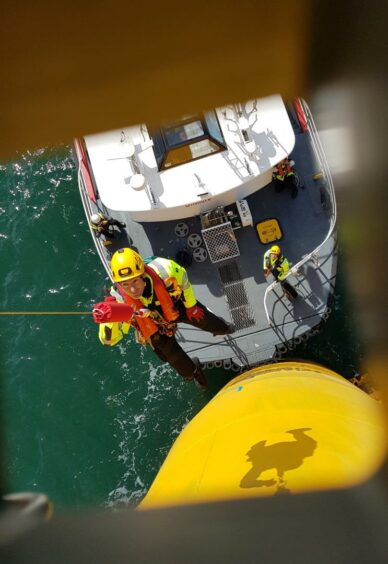 Scottish firm Pict Offshore has signed a deal with offshore wind developer Ørsted to deploy an innovative lifting system at New York's first offshore wind farms.
The get up safe (GUS) motion-compensated personnel hoist, aimed at transforming the way that maintenance technicians access offshore wind turbines.
Pict Offshore is a joint venture between Ørsted, and Limpet Technology, a Scottish height safety innovator.
The latest deal will see the deployed at the 132-megawatt (MW) South Fork Wind offshore wind farm, as well as two further projects off the US' north east coast – Revolution Wind and Sunrise Wind.
The three projects, amounting to some. 1.8 GW, form the core of a 50-50 partnership between Ørsted and Eversource, New England's largest energy company.
The agreement is the first export opportunity for Pict and illustrates the potential for technology deployment in burgeoning wind markets. Systems are assembled at a bespoke facility in Inverkeithing and have already been deployed at the Hornsea 2 wind farm, off the Yorkshire coast.
The use of the GUS means external ladders are no longer necessary, streamlining the turbine foundations and reducing the requirement for steel.
The GUS system also allows technicians to be lifted and lowered directly to and from crew transfer vessels and the turbine platforms, removing the need to step between the vessel and a ladder. The system tracks the motion of the vessel deck and automatically adjusts the line position to ensure that transferring personnel are always kept safe, even if the vessel is moving in variable wave and weather conditions.
The project is the result of a three-year collaboration between Ørsted and Pict Offshore, during which time, the Danish developer has taken a minority stake in the company.
Development of the product commenced in 2016 and was supported by Scottish Enterprise through a £250,000 regional selective assistance grant.
Scottish Development International head of energy and low carbon transition, David Rennie, said: "It is great to see Pict Offshore export its innovative hoist system internationally and further proof that innovation in Scotland can support the worldwide renewables industry."
Pict Offshore managing director, Phil Taylor, said the company was "incredibly pleased and proud" to have been selected for the US projects. "As Pict's first overseas order, it also provides the basis for strong export growth in future and further cements our position in the offshore wind supply chain," he noted.
Recommended for you

Powering ahead towards offshore opportunities