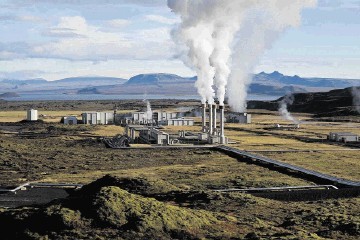 A new consortium of leading businesses and academics has been formed to explore and develop deep geothermal energy projects in Northern Ireland.
Geothermal NI, which is formed of MJM Renewables, Arup, Queen's University Belfast and Geothermal Engineering, aims to bring forward projects to provide 100% renewable energy to homes and businesses across the region.
And the group is expecting to bring forward its first projects as early as next year.
A nascent but much touted way of delivering clean energy, geothermal offers the opportunity to decarbonise Northern Ireland's power and heat networks.
It utilises natural heat underneath the ground to heat fresh water and create steam, which can then be used to produce green electricity.
A proven process, it is widely used in countries like New Zealand, Iceland and Germany, providing a constant source of renewable energy.
Naoimh McConville, director of MJM Renewables, said: "MJM Renewables are proud to be part of the Geothermal NI consortium that brings together leading organisations across research, engineering and geothermal development. Deep geothermal represents an untapped opportunity in Northern Ireland, and with the urgent need to develop renewable energy sources, Geothermal NI projects will help drive the shift to a zero-carbon economy and society."
Northern Ireland has the natural geology needed to harness geothermal energy sources, the consortium said.
Having previously identified geothermal as potential source of low carbon energy and jobs, the Department for the Economy has now established a Geothermal Advisory Committee.
The group will provide advice and guidance on the availability of geothermal energy to help decarbonise the heat network.
Ryan Law from Geothermal Engineering said: "We are delighted to be extending our geothermal footprint into Northern Ireland.  It is clear that we must urgently invest in and scale our renewable energy provision in the UK.  Hand in hand with the roll out of wind and solar power, we have to think about the provision of baseload energy to make sure our energy supply is consistent.  Geothermal power is 24/7 and can play a valuable part in helping us reach not only our renewable energy imperatives but will also play a valuable role in ensuring our energy security for years to come."
Professor David Rooney, dean of internationalisation and reputation within the faculty of engineering and physical sciences at Queen's University Belfast, said: "The journey to net-zero will require a range of technologies to work together and in Northern Ireland geothermal will be an important part of that mix. At Queen's, we are delighted to be working with MJM Renewables, Geothermal Engineering Ltd and ARUP to explore the opportunities that this natural resource can provide."
Matthew Free, director at Arup, said: "At Arup, we're helping our clients across the world to make the transition to decarbonised, secure and affordable energy. Geothermal has a further attraction, in that it is local. We are very pleased to be part of the team, with MJM Renewables, Geothermal Engineering Ltd and Queen's University Belfast to make this happen in Northern Ireland."
Recommended for you

Hunting enters UK geothermal market with Eden Project contract