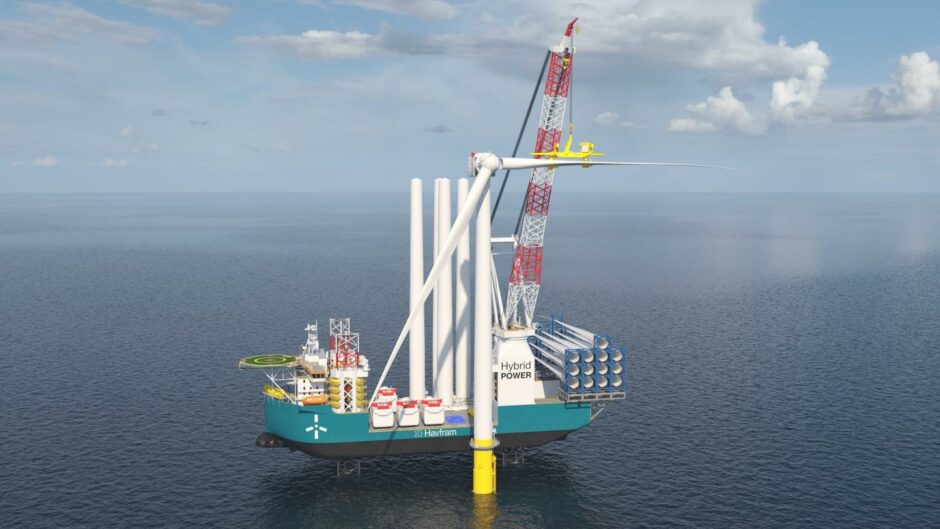 With more than 30 years' experience in oil, gas and renewables, Bob Gillespie has seen it all in the energy sector. In August 2020, he took up the reins as Managing Director of subsea and offshore wind contractor, Havfram in the UK.
He has been hugely encouraged to see the sector's resilience throughout 2021 in what he says has been a deeply trying period for the North Sea industry. "Despite market turmoil, the desire for renewables, and in particular, offshore wind, has continued to grow throughout the pandemic. As a company, Havfram has thankfully weathered the Covid-19 crisis, with staff numbers growing throughout the year, but it has been challenging. My aim is to bolster the market share in the UK and to continue driving Havfram's investment in the energy transition."
Fast-tracking offshore wind
Known for its marine and subsea operations, EPCI capabilities and seasoned project execution team, Havfram has a strong track record of delivering complex offshore projects. In support of its vision to be a global leading company in the transition of energy production from oil and gas to offshore wind energy, Havfram has focused its business into three key segments: Hav Dyp for marine and subsea operations, Hav Vind, which provides offshore wind turbine installation work and Hav Kraft, dedicated to the development of offshore wind farms.
Havfram, RWE and NTE recently signed a collaboration agreement to participate in the Norwegian government's tender process for floating offshore wind energy, which will be undertaken in 2022.
In November 2021, to further strengthen its support for offshore wind, the company announced its partnership with J.P. Morgan Global Alternatives to build a series of next-generation wind turbine installation vessels, with China's CIMC-Raffles.
Havfram intends to pursue investment to build offshore foundation installation assets for the offshore wind market, with the Centre of Excellence being established in Aberdeen. "At the moment, we have invested in wind turbine installation vessels but we're also targeting the foundation installation market as well," said Gillespie.
Retaining, retraining and recruiting
Havfram's heritage lies in the oil and gas industry and is currently working with Technip Energies for the pre-installation and hook-up of the subsea mooring system for the natural gas FPSO at the Greater Tortue Ahmeyim project, located on the maritime border of Mauritania and Senegal. This is the largest project delivered, to date, out of the Havfram office in UK. We have also secured and will soon announce another contract for the UK office. A further contract is expected with Q1, 2022 in the Offshore Wind sector.
Gillespie believes the skills and expertise forged from decades of work in hydrocarbons can be easily shared and developed for a lower carbon, more sustainable energy mix.
Over the next three years, Havfram could potentially recruit between 50 and 100 people at its Aberdeen base. "We want to grow the local talent. We have identified where, and which skills are transferrable. We have these skillsets already within our existing workforce so we can retain and develop valuable employees as we transition to greener sources of energy."
Hope on the North Sea horizon
Gillespie highlights that we all need to embrace the energy transition and realise the opportunities for the north-east of Scotland. "We need to focus on developing relations with new clients in the energy transition space and identify the risks and opportunities which go with the work."
Havfram will continue to support its existing global oil and gas clients while increasing its renewable energy business. It now boasts a dedicated renewables team, 75% of whom have moved over from oil and gas. By 2025, the company's ambition is for approximately half of it's work to come from the renewables sector.
"The oil and gas industry is resilient, adaptable and solutions-focused, and there is no doubt that it has a significant part to play in the energy transition," Gillespie states. "We're a company that services the whole lifecycle and, with the projects we already have underway, we can see that there is a real hunger to ensure the entire energy ecosystem is more sustainable to support climate change ambitions."
Bob Gillespie, managing director at Havfram UK, has over 30 years' experience in the international offshore oil and gas and offshore wind industries.
Bob Joined Havfram in 2020 and brings his extensive experience in general management, strategic and business planning, operations, project management, engineering and business acquisition to the role.
Recommended for you

Italy mulls support for fossil fuels despite climate promise