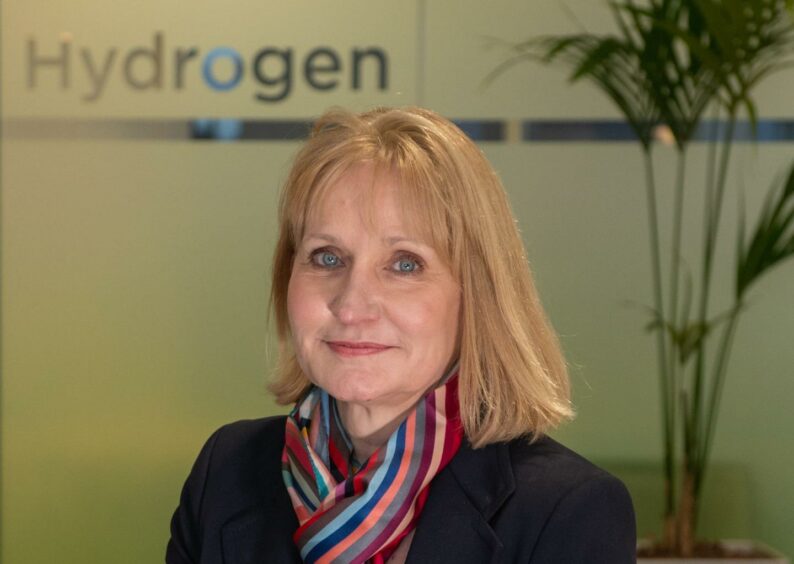 Oil and Gas UK (OGUK) is dropping "oil and gas" from its name in a rebrand which will see its focus and remit broaden to new energy sources.
The leading trade body for the North Sea energy sector, boasting hundreds of members including oil and gas giants, will now be called Offshore Energies UK (OEUK).
It follows rebrands from major players in recent years such as Statoil, now Equinor, and Total, now TotalEnergies, with increasing societal pressure on the industry to focus investment in green technologies.
Speaking to Energy Voice, chief executive Deirdre Michie said: "It's about reflecting what our members are doing. You see the amount they are changing, the sector is changing, and so we consider it important that we reflect that too.
"Oil and gas is still a fundamental part of what we do and how we do it, but hydrogen, carbon capture and storage, offshore wind. Those are all part of an integrated energy mix that we see being developed today."
Asked directly whether the move could be seen as "Greenwashing", Ms Michie added: "People may level that at us, but, actually, what we'll be able to point to is our members changing, our members being the ones who are driving these new energies.
"Therefore it's appropriate that our organisation mirrors that and we come up with a name that says what it is on the tin.
"It is about having an organisation that represents offshore energies and the fact that these energies are continuing to evolve, they do need to integrate together and we're seeing that."
The rebrand shall see the not-for-profit trade body broaden its current scope of events, forums, workshops and market insights into these new energies, as well as carrying over its expertise in offshore safety.
A focus will continue to be driving policy development for new and developing areas such as CCS, hydrogen and offshore electrification, all still in nascent stages.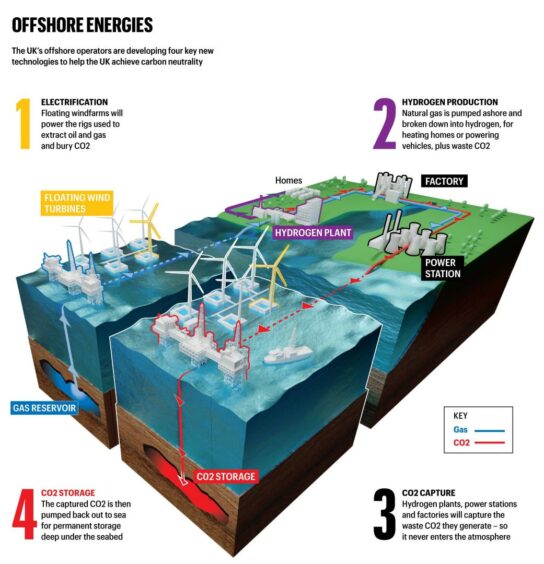 That's work that OGUK has already been driving as part of the North Sea Transition Deal (NSTD), Ms Michie said, which imposes drastic emissions reduction targets on the industry in the coming years on the way to net zero.
Although oil and gas remains the main focus for the day-to-day work and investment of its members, Ms Michie said the name change is a fair reflection of the group, which is working hard on an integrated mix of energies.
The recent ScotWind awards, where companies like TotalEnergies, Shell and BP were big winners, was an example of member organisations "putting their money where their mouth is", she said.
Major North Sea companies are also involved in CCS projects, such as Acorn, off Peterhead, and the East Coast Cluster, as well as efforts to electrify offshore oil and gas platforms with green energy – an effort where floating offshore wind is expected to play a key role.
Meanwhile Ms Michie described the balance of investment from oil and gas as "a waiting game" as the energy system in the UK shifts.
The move does, however, mean a "busy landscape" for trade bodies, she conceded, with others like Scottish Renewables, RenewableUK and East of England Energy Group.
Ms Michie said there is an opportunity to work "really positively and collaboratively" with those groups to complement each other's offerings.
'Wasn't an answer in the back of the book'
The rebrand means OGUK is taking a different path to the International Association of Oil and Gas Producers (IOGP), which shares certain members with it.
The IOGP's CEO, Iman Hil, said in November that it would not be changing its name but that doesn't mean the group won't be advocating for the energy transition.
Ms Michie said the trade body "continues to be incredibly proud of what we do, what we have done in the oil and gas context", given its importance for security of energy supply and employment.
Despite the focus on the energy transition, Ms Michie stressed that the rebrand "wasn't an answer in the back of the book".
"This has had to be worked and we have to make sure that we take people with us and that we're able to answer when people challenge us," she said, with a mix of operators and supply chain pushing for the move.
"It has been an interesting journey, where stuff has been tested.
"When we got the feedback that, yes, this is the right way to go, it felt really supportive, positive and it's the right time, it's for the right reasons, it's kind of… now."
It's also hoped that, given the scale of the challenge around the energy transition, moves such as this could help attract the next generation of talent.
"This reinforces the opportunity there is for people within the sector to attract people in to say 'come and work with us'.
"We are looking for the solutions that are going to help to address some of the biggest issues of our time. It's exciting and we are wanting to be that dynamic organisation that helps to deliver that.
"When I look back in this sector, it has constantly evolved and I think this is the next natural step. For the sector and for ourselves."