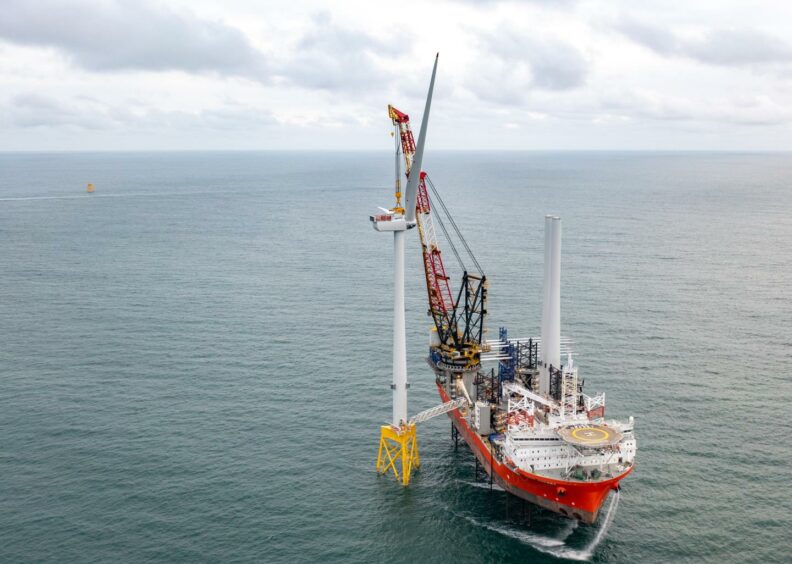 Research from Rystad Energy suggests demand for larger offshore wind turbines will outpace the supply of capable installation vessels by 2024.
As wind power has expanded, wind turbines have grown more capable and powerful. Turbines larger than 8 megawatts (MW) accounted for just 3% of global installations between 2010 and 2021, but are forecast to surge to 53% by 2030.
In tandem, demand for offshore wind turbine installation vessels worldwide, excluding China, will rocket from 11 vessel-years in 2021 to almost 79 vessel-years by 2030, Rystad reported.
The need for installation vessels for turbines larger than 9 MW, which was non-existent in 2019, will grow significantly by the end of the decade and reach 62 vessel-years in 2030.
It means operators will have to invest in new vessels or upgrade existing ones to if the projected the pace of offshore wind installations is to be met.
"When turbines were smaller, installation could be handled by the first-generation fleet of offshore wind vessels or converted jackups from the oil and gas industry. However, as operators continue to favor larger turbines, a new generation of purpose-built vessels is required to meet demand," noted the consultancy's rigs and vessels analyst Martin Lysne.
In Europe, Asia (excluding China) and the emerging US market, turbine sizes are ramping up towards 2025 and beyond.
Europe's first commercial 10 MW turbine was installed in December 2021 at Scotland's Seagreen offshore wind farm by Cadeler's Wind Osprey, with 113 set to follow as part of the 1.1GW project.
At the US' Vineyard Wind development in the US, DEME's Sea Installer will lift 13 MW turbines into place, while Jan De Nul's newbuild Voltaire vessel will debut at the Dogger Bank wind farm in the UK, also installing 13 MW turbines.
Beyond that, 15 MW turbines are set to be used at the EnBW He Dreiht project in Germany, and at many forthcoming US projects such as Coastal Virginia and Empire Wind
However, despite some larger installations, Rystad expects the Chinese market to focus on turbines of 6-8 MW for the time being.
Excluding China, demand for 12 MW+ capable installations vessels is set to increase rapidly, taking a larger share of overall demand. Yet out of the current fleet of purpose-built vessels, only a handful can install units larger than 10MW, while none are currently able to install 14 MW turbines, Rystad says.
Twenty's plenty?
By 2025 more newbuilds will begin to be delivered to the market, as existing vessels are also upgraded with larger crane capacities.
Rystad points to Fred Olsen Windcarrier, DEME and Cadeler, as the Bold Tern, Brave Tern, Sea Installer, Wind Osprey and Wind Orca are all being upgraded to 1,600-tonne cranes between 2022 and 2024, with options for other vessels to be upgraded.
In addition to the purpose-built vessels, some semisubmersible heavy lift vessels are being proposed for turbine installation, such as Heerema Marine Contractors' Thialf and Sleipnir which have previously been too large for the job.
Notably, these vessels have already been contracted for installation work in the Baltic Sea in 2023 and are already capable of installing 15 MW+ turbines and, with some adjustments, "could even install 20 MW turbines," Rystad said.
The rapid pace of development poses difficulties in newbuild procurement too.
"Vessels built early this decade are already becoming outdated as turbines grow, making owners reluctant to commit to expensive newbuilds that could be obsolete before they are profitable.
"The cost to manufacture an installation vessel capable of installing 14 MW+ turbines ranges from $300 million to $500 million, but owners are opting for even bigger cranes in the hope of staying competitive for longer," Rystad analysts added.
The trends may not just affect offshore wind either. Similar warnings were made with regards to the decommissioning market last year, where heavy lift capacity could become constrained as offshore turbine and foundations contracts compete with oil and gas asset removals.
Clearly however, the message to installers appears to be 'go big or go home.'
"Owners have one eye on the future, with some already stating they will be ready for 20 MW turbines by the end of the decade," Rystad said.
Recommended for you

WTIV fleet receives two-ship boost from China