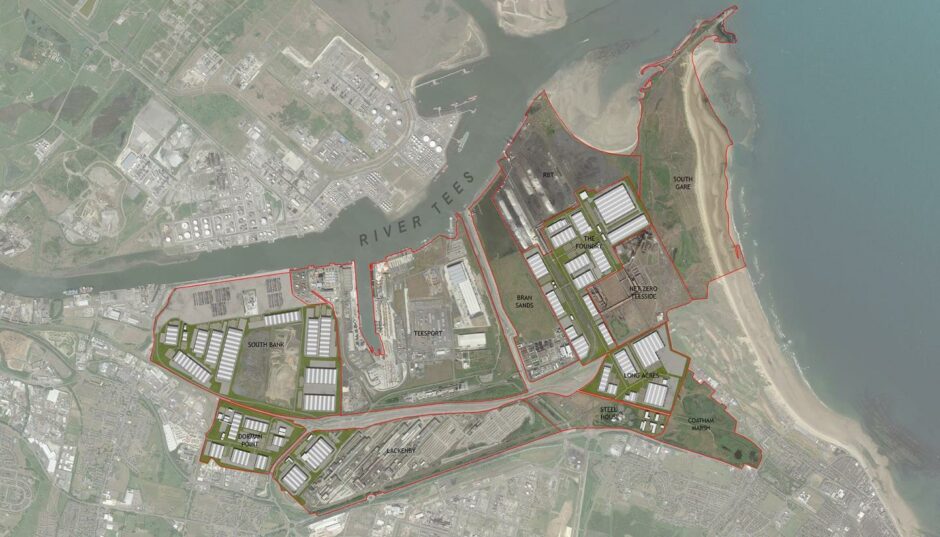 Global pipe manufacturer SeAH Wind will build an XXL offshore wind monopile factory in Teesside, abandoning plans to establish the facility at an Able UK site on the Humber.
SeAH Wind, a UK subsidiary of Korean steel manufacturer SeAH Steel Holdings, announced Monday that it would invest £200-300 million in the facility at the Teesworks industrial zone and freeport.
The group had made a final investment decision (FID) for the same facility in July, committing £260m to a monopile factory at the unbuilt Able Marine Energy Park (AMEP), south of the Humber, but blamed unspecified "business reasons" for its decision to pull out.
SeAH's new site will sit on a 4.5 million square feet offshore wind and industrial space being created on 450 acres of land next to the wharf and heavy-lift South Bank Quay at Teesworks.
A 90-acre plot had been originally set aside for a GE turbine blade plant, however its plans were also reportedly delayed after rival Siemens Gamesa secured a raft of contracts.
The development will create 750 direct jobs and 1,500 more in the supply chain and during construction, the developer said.
Construction is now slated begin this summer. When fully operational in 2026 it is expected to be able to produce between 100 and 150 monopiles per year, making it the world's largest monopile plant for offshore wind turbines, according to SeaH Wind.
In 2020, the group was awarded £117m in grant funding from the Department for Business, Energy & Industrial Strategy (BEIS) to build a UK facility.
SeAH has already secured supply contracts with developer Orsted for the 2.4GW Hornsea 3 offshore wind farm.
SeAH Steel Holdings CEO and president Joosung Lee said: "When SeAH confirmed its UK investment, the aim was to contribute to the UK offshore wind industry by working with the UK Government. We are pleased to take the first yet significant step for this goal in Teesside. We will endeavour to make our factory globally competitive as well as become a good member of the community."
Tees Valley mayor Ben Houchen added: "Spades will be in the ground for this factory at the beginning of July, delivering hundreds of well-paid, good-quality construction jobs that will deliver this huge factory that will create 750 direct jobs for local people.
"Teesworks is quickly becoming a site of firsts – it's the heart of the first UK Freeport, we're developing the world's first decarbonised industrial cluster thanks to Net Zero Teesside and we're now the first area in the UK to be home to a monopile plant."
Roadmap for AMEP
Meanwhile, Able UK's executive chairman described SeAH's decision as "disappointing" and said plans for the AMEP site would be delayed.
Peter Stephenson told ReNews that SeAH's Hornsea order would necessitate construction of its facilities within Q2 2022 but that Able could not commit to constructing a quay at AMEP until it had a minimum of two manufacturers on board to provide income.
It will now look to the yearly Contracts for Difference (CfD) auctions announced by the government last week for the next wave of offshore wind projects which could help it secure supply chain and manufacturing capacity.
Recommended for you

Korea's SeAH gets £367m financing for major UK wind factory