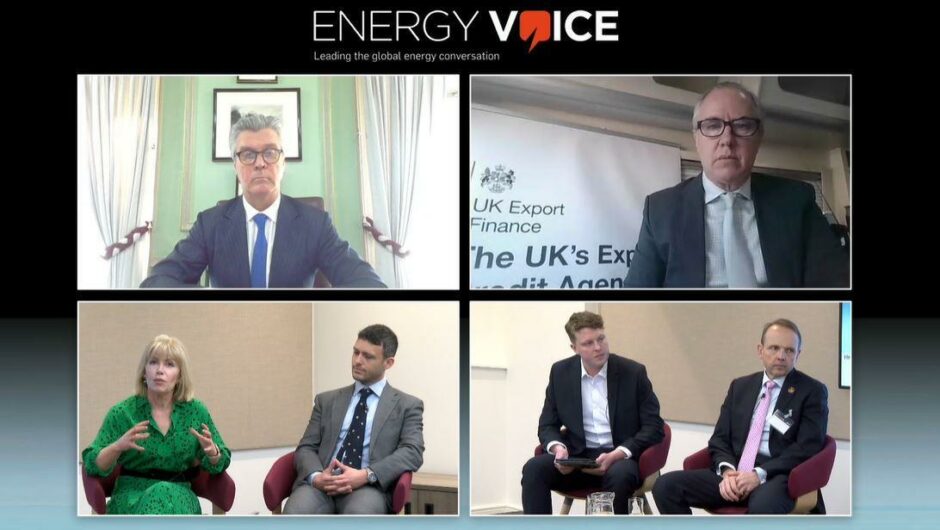 A panel of government and industry representatives highlighted the need for early engagement across the offshore wind sector if target capacity and UK export opportunities are to be realised.
Speaking at Energy Voice's Tracking Transition event in Edinburgh, the panel discussed the UK's burgeoning wind sector, the export opportunities it presents for the supply chain, and what Scotland – and its ScotWind success – can teach the rest of the UK, and the world, about offshore wind.
Cementing discussions in the context of UK energy security amid Russia's invasion of Ukraine, Parliamentary Under-Secretary of State for Scotland, Lord Offord, noted the success of the Contracts for Difference (CfD) scheme in bringing down the cost of offshore wind, but said the government was "determined to go even further".
With CfDs now due to become an annual fixture, he said the Department for Business, Energy and Industrial Strategy was very open to extending its goals: "The message for the industry is: if we can go faster, let's go faster," he added.
Moreover, he said noted the importance of the strategy in extending across the full life cycle of projects.
"We must grow the supply chain so we can create a long-term conveyor belt of contracts and jobs. We want to see Scotland manufacturing, installing, maintaining, and eventually decommissioning in house, representing the full cycle as we move towards greater deployment of floating wind in the future."
"We want the UK to secure the economic and industrial benefits that match the UK's deployment ambition."
Floating technology
Floating wind played a key role in discussions, given its prominence in building out new capacity, particularly as the industry seeks to develop sites in deeper waters with greater wind resources.
Aker Offshore Wind's UK managing director, Sian Lloyd Rees, was keen to illustrate how expertise from the oil and gas sector would be central to qualifying this technology.
"If you look at floating wind, it's a wholly different play to offshore wind. It's very much a technology play. You're moving into really deep waters, harsher conditions, and when you look at what's been done in oil and gas, floating technology has been developed for decades: the moorings subsystems, moving things, subsea, all of that affords really good potential."
Ms Lloyd Rees highlighted the lessons that could be learned from oil and gas, particularly in collaborative technology development: "These technologies have evolved because the operators and the supply chain have worked together to fund them to make the early investment to drive down ultimate cost.
"We need to adopt that model in offshore floating wind, as opposed maybe to the model that existed in fixed bottom wind."
DNV's head of renewables for UK and Ireland, Francesco Vanni, also noted the development journey the sector would need to take to bring floating wind to maturity. He pointed to the 50 or so competing designs currently being discussed, highlighting that the industry would soon begin to converge on the most efficient.
In developing the best and most efficient designs, the UK would have valuable opportunities, he said. "That's the sort of thing where, if we do the right thing and if the designers do the right thing then you could have suddenly the export opportunity," as well as expertise in developing and operating assets, he explained.
It's opportunities like these that UK Export Finance (UKEF) can then help multiply at a global scale. The export credit agency's director of business development, Richard Simon Lewis, said this was a matter of "positioning" for UK supply chain companies, who could "use the platform that we've built through projects like Dogger Bank and use that as a springboard into markets like North America, Vietnam, Asia more generally."
He said organisations like UKEF could play a vital role in helping to de-risk technologies involved in areas like floating wind and carbon capture and storage (CCS), as the sector moves through the development curve.
'Policy and ambition'
Despite the promise that offshore wind holds, however, it is not a silver bullet. Plenty more work must be undertaken across the energy sector, from building out diverse, large-scale storage capacity – something SSE chief executive Alistair Phillips-Davies said his group is already investing in – and in creating new and reinforced grid connections for the 40GW of offshore capacity that will be ready by 2030.
Doing so will require ambition and support, from many levels of government and business. Nevertheless, he was optimistic that these challenges were surmountable: "We have the funding to do these things. We just need a little bit more policy and a little bit more ambition to make sure we get there."
"It's a really, really exciting time to be in renewable industry, and it's a really exciting time to be in Scotland in the renewable industry."
Recommended for you

Rosebank approval still on OPRED's desk, confirms Ithaca