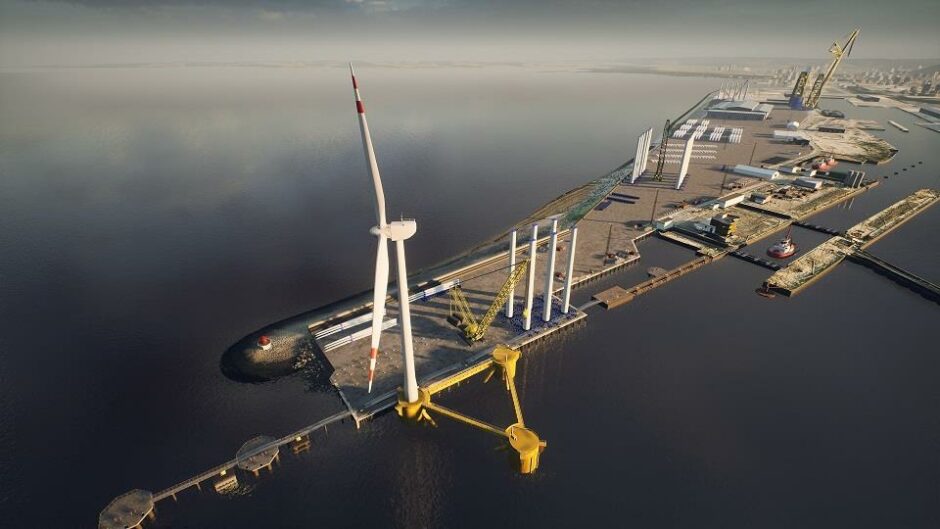 ScotWind will present a valuable learning experience for the emergent floating wind sector and the supply chain, but expectations must be managed carefully, according to one marine engineering consultancy.
With 25 gigawatts (GW) of floating and fixed-bottom capacity secured in the January auction, the ambition of the ScotWind process dwarfs other offshore wind rounds seen thus far.
As developers converge on deadlines around 2030 however, the sector will have its work cut out building a whole new industry and supply chain.
Mark Goalen, director of offshore engineering at UK-based marine design and engineering consultancy Houlder, says that total capacity would suggest that somewhere between 1,000 and 1,500 floating units will need to be built and installed during the late 2020s and early 2030s.
Even with the planned expansion of port facilities and supply chain capabilities, the scale of the build-out is likely to prove a significant undertaking.
"If you look at the area available within each of those locations, there's some quite new developments and quite substantial bits of quayside, but it's completely dwarfed by the volume of these units that they're going to need," Mr Goalen explains.
While unit volumes can be estimated, the fine detail of what will be needed and where remains one of the "biggest unknowns".
"The industry is trying to look at the positives and say: 'Yes it can happen."
"But I do think there is a crunch point when people will realise that it will take longer to achieve than maybe they're considering right now, given all of these factors."
Multi-port strategies
The sector will also have to think strategically about where its component parts will come from and how they will be assembled, Mr Goalen says, because "there's not going to be a fabrication facility in every port."
Developers may therefore opt for "multi-port strategies" – where components are partly built or assembled in one facility and moved to another for further work – or else risk using a single larger site that may see increased pressure and competition from multiple bidders.
Decisions on which two Scottish sites will be awarded freeport status – a special economic zone that offers tax breaks and lower tariffs for businesses – may help firm these choices up. A bidding process for the freeports will open this spring, and it is hoped the new sites will open in spring 2023.
The choice of foundations too will play a role in how each project will be developed. Mr Goalen highlights the variety of designs likely to be deployed, from the barge-like construction devised by BW Ideol, to the more common triangular, semi-submersible design seen at sites like the Kincardine offshore wind farm (which uses Principle Power's WindFloat system).
Each design will have various requirements in terms of the materials, foundations and assembly space required, Mr Goalen noted, and balancing all of these competing demands will again present challenges.
"None of them have been mass produced on any kind of factory-scale level," he adds.
"When you work back a timeline – and it's quite a significant duration to fabricate each of these – you then need to understand where you're going to fabricate them, and you need to understand which foundation you're going to use."
Pinning down these details will be a vital signal for the supply chain to know where to invest: "Who's going to invest in a massive fabrication facility for rolling steel plate until they know that there's going to be semisubmersibles with circular components?"
Managing these processes will see the sector undergo a steep learning curve throughout the decade – though despite the challenges, Mr Goalen remains optimistic.
"Looking at the industry right now, I think it will happen, the technology is there, but it's efficiency that's probably the biggest missing component."
Recommended for you

ScotWind developers flock together to gather two-year bird survey data