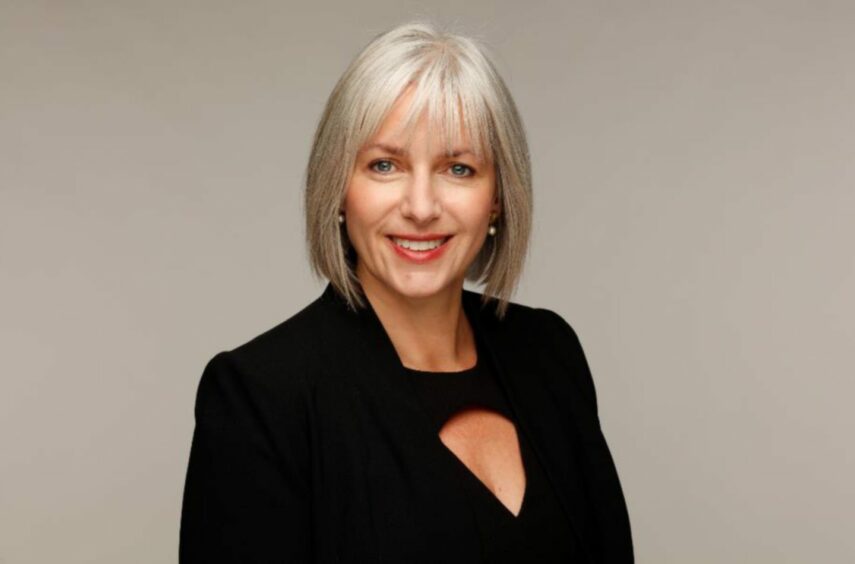 Louise Kingham admits she may be a bit of a "shock to the system", but as head of the UK business of energy giant BP, a good jolt is what is needed.
She's excited about the "firsts" the company is putting in place in the UK, which she says will then be the model for its 70-plus markets around the world.
That may be the partnership it has struck with Aberdeen City Council to establish a hydrogen production plant – or working with Aberdeen Harbour Board to decarbonise its shipping operations.
As the firm turns its tanker around to become a net-zero energy producer by 2050, its senior vice-president for Europe and head of country in the UK is under no illusion it will be easy.
Her background as the chief executive of the not-for-profit Energy Institute means she has often been "outside" the tend "wagging her finger" at industry.
Then BP's chief executive Bernard Looney persuaded her it was time to "put her money where her mouth is" and lead the company's transition in the UK from a major producer of oil and gas to a firm with a much wider focus on low-carbon energy – including offshore wind, solar, carbon capture and storage (CCS) as well as a significant investment in its global network of electric vehicle (EV) charging points as cars go electric.
Albeit, she insists BP's North Sea oil and gas production remains a "jewel in the crown" for the firm, in which it has plans to continue to make significant new investments.
Likewise the thousand or so employees based in the north-east have little to fear in the change as the low carbon business – particularly offshore wind – means there will be jobs requiring similar, transferable skills.
She said: "We have been very bold and said we will reduce oil and gas production by 40% by 2030.
"If you look from the outside in you might think surely for our Aberdeen business that's got people really rattled.
"But actually the answer is no – because there's an awful lot of opportunity not only to keep doing what we're doing because we're going to continue to produce in the North Sea.
"It's a long-term commitment and we're quite comfortable with all of that, it is a low-emissions basin and great value.
"All of that stuff means that the people we've got amongst us today have a lot of transferable skills and capability to move across."
ScotWind is on the horizon promising a brave new era for the offshore energy industry, but there are many who remain sceptical that the billions being invested off Scotland's coasts will trickle down to the supply chain.
BP, alongside its partners, successfully bid for one significant project, the "Morven" offshore wind farm, with generating capacity of 2.9 gigawatts (GW) around 37miles off Aberdeen.
In her estimation, ensuring the supply chain has capacity to deliver the ScotWind is at the heart of the challenge facing not just the UK but the globe as it attempts to decarbonise the use of energy and will require that governments, regulators, companies and investors get a grip and work more closely together.
"It's inevitable that if we don't get smarter about collaborating, we'll have moments which feel quite crunchy and nobody wants that with their projects," she said.
But she added "government has to get faster".
"Government has to feel bold enough and have enough comfort to let the developers and the builders of things to understand risk and to navigate that.
"They need to provide the frameworks, whether that's business models, whether that's regulatory environments – they need to facilitate all of that and go faster with that, particularly if you're going to hit 2030 targets."
"Because when you build stuff that really is not that far away."
She offers something a little different from a typical oil and gas company executive, who for the first 100 years of the industry at least was more typically a male engineer by trade.
Ms Kingham instead has a background in arts and media and believes that listening "hard" to the experts in their subject areas then translating that for policy makers is key to both her and the company's success.
The 50-year-old mother of three has a background in arts and media and was a chief executive part-time for 30 years before joining BP. Her leadership style could be described in her own words – "it's just elbows out and muscle in, really, and don't take any rubbish".
"Working part time, I had a baby on the boob and a laptop on the knee and that was how you did it," she observes.
But joining the energy firm at its transitional time was a "no brainer".
"It was made clear to me – come in. Be challenging. Do not lose who you are – we are used to you being outside and wagging that finger.
"We purposefully want you to come in and do that to make us better."
She said her experience as an outsider is an essential addition for improving that "diversity of thought and decision- making" which also has happened alongside the inclusion of a "number of feisty females" that now sit within the organisation.
"Having access to resources, having the scale, the desire and the ambition the new strategy has brought, then seeing money being put on the table, boots on the grounds, commitments being made, agreements being signed – this tells me very clearly that this is more than it's more than a plan," she said.
"We're doing it and that is pretty straightforward motivation for someone like me, who's quite no-nonsense, very straightforward, wants to do the right thing, get things done.
"In all honesty, if we didn't have the ambition and purpose that we have today there would have been no reason for me to be here.
"I've been quite blunt about that."
The decision to work with BP was deliberate – she could have chosen to work with a pure renewables firm but then would have lacked the ability to make a significant change.
"I think culturally I'm a bit of a shock to the system but hopefully in a way that is positive.
"If the oil and gas industry doesn't go on this journey, none of us can do this on our own. But if the most mighty do not move and ideally lead, which I think is what we're doing at BP, then we can't get this done."
Ms Kingham, senior vice president, Europe and head of country, UK at BP is speaking on Thursday tonight at the SCDI annual lecture event in Aberdeen.