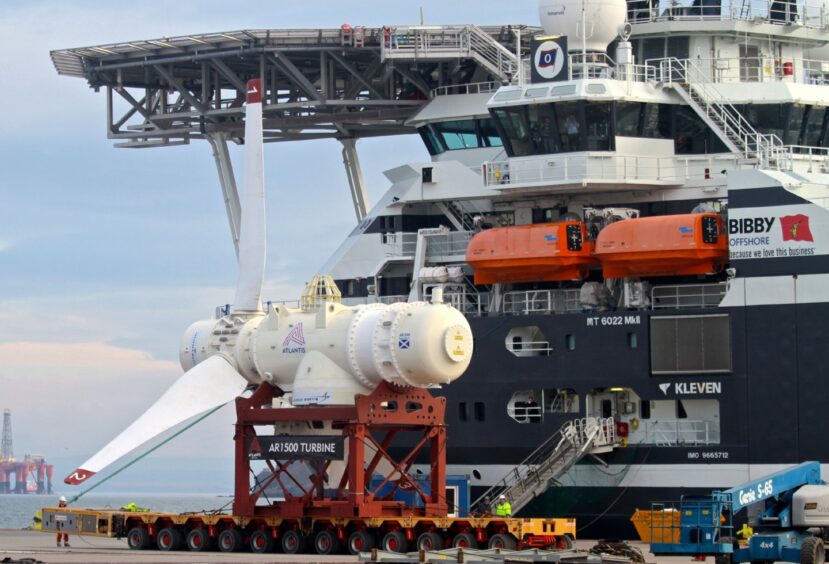 Simec Atlantis Energy (SAE) has secured a £2.5 million loan from Scottish Enterprise to support further tidal turbine redeployment at its flagship MeyGen project.
SAE said the non-convertible loan would enable the redeployment of the remaining two turbines at the MeyGen site within the next 12 months.
It follows successful installation of one of the company's AR1500, 1.5 megawatt (MW) tidal turbines earlier this month.
The first of the next two turbines is scheduled for redeployment in May 2022, while the final unit will be installed in March 2023. This will include a retrofitted wet mate connection system, which the company said would more than half the costs of future turbine recoveries and deployments.
Shares in the Edinburgh-headquartered tidal energy developer rose by more than 30% on the news.
It marks a positive step after a series of woes plagued the company last year relating to the control of shares held by major shareholder GFG Alliance and poor financial performance as a result of outages at the MeyGen project.
MeyGen claims to be the largest fully consented tidal stream site in the world. Deployed in some of the fastest flowing waters in the UK, just over a mile off Scotland's north coast, the project is being built in a number of stages.
The first four turbines for the project began their 25-year operational life in 2018, while further phases of development could see up to 398MW of consented capacity deployed at the site.
SAE chief executive Graham Reid commented: "I would like to thank Scottish Enterprise for their continued support of the business and the MeyGen project. The successes and challenges we have faced on this project pave the way to establish a world leading industry in Scotland and bring huge economic and environmental benefits for Scotland and the UK. Our focus now is in ensuring our turbines are returned to operation as quickly and safely as possible."
Scottish Enterprise director of growth investments, Kerry Sharp, said: "Scotland is rightly known as a world leader in the marine sector and central to this is MeyGen. Scottish Enterprise has had a longstanding partnership with the project and we look forward to developing this further as we support the energy transition and deliver sustainable economic growth for all of Scotland's communities."
The additional funding is a significant boost, according to an analyst note from Adam Forsyth at Longspur Research.
"Funding for reinstallation of the remaining two turbines at MeyGen phase 1A will double cashflows from the site. With one additional turbine in the water in May, the project should be able to capture some of the continuing high wholesale power prices," he said.
"We see this as helpful as the company awaits the outcome of the CfD auction which could allow it to develop out at least some of the remaining 86MW of consented capacity at the site."