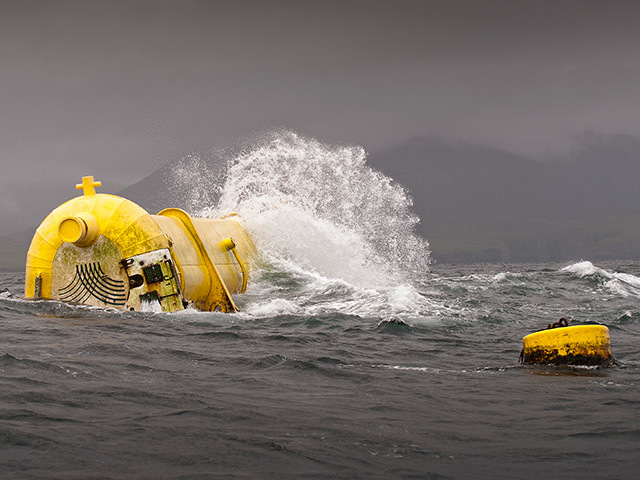 The brutal sea conditions faced by Aquamarine Power's new wave energy machine have been revealed in a new video.
The Oyster 800 has been operating in tests since February at the European Marine Energy Centre off Orkney.
The device, which has gone into a summer shutdown to conduct improvement work, has been tested in the nearshore area in depths of around 12metres – but as the new video shows, even conditions there are challenging for the device.
The footage, shot in April, shows the machine encountering waves more than eight metres high. Out at depths of 50m in the sea, it will face waves higher than 11m – more than a three storey building.
"The big challenge in designing and building a wave machine is ensuring it can survive in massive waves," said Aquamarine chief executive Martin McAdam
"The video gives a good example of what we need to design for."
"The operational testing we have conducted over the past six months confirms the data we have gathered from our tank testing at Queen's University Belfast. It gives us confidence our design can lead to cost-effective electricity generated from waves."
To see how Oyster 800 copes with the Orkney waves, watch the video below.
http://www.youtube.com/watch?feature=player_embedded&v=EtbRkIvaXXc
Recommended for you

Innovative wave energy array to be trialled off Orkney