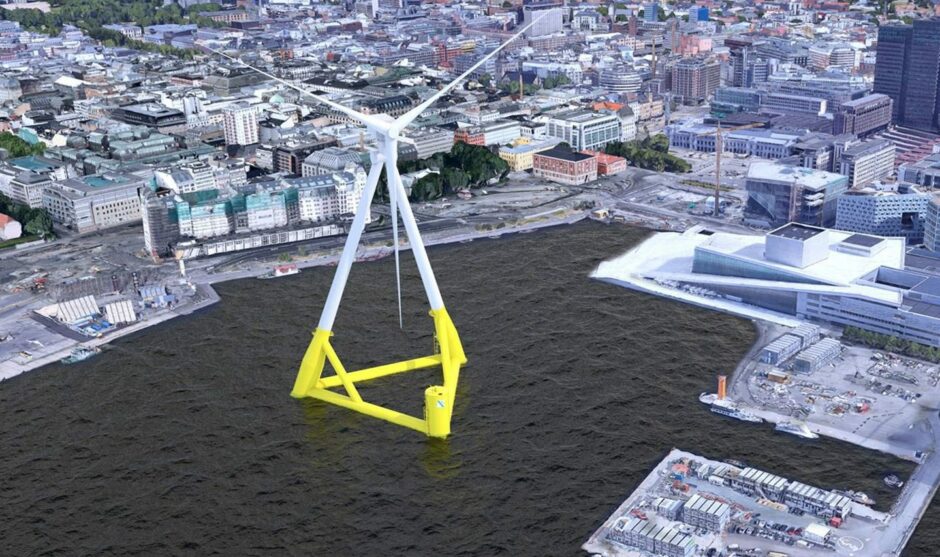 Fred Olsen 1848 has developed a new floating wind foundation design focused on scalability, which it hopes will be ready for market in just three years.
Dubbed "Brunel", the company says it has been developed to meet the demands of scale and volume needed to support huge new capacities of floating wind.
Based on a modular design, Fred Olsen says Brunel will be able to use existing global supply chains, helping to create a more sustainable industry.
While its triangular design mirrors that of other foundations on the market, Brunel uses spars at two points on the foundation to support the turbine, removing the need for a an additional central tower as seen in some other solutions.
"The design of Brunel is based on a simple, yet challenging design philosophy: to see if we can build a foundation based on generic steel tubulars and hence enable manufacturing at commercial scale," explained chief executive Sofie Olsen Jebsen.
"This radical focus on commercial requirements, while at the same time attending to excellence on all technical parameters, will allow the floating offshore wind industry to realise its enormous potential."
Created as the renewables innovation unit of parent group Bonheur, Fred Olsen 1848 was launched late last year and is aimed at developing and deploying engineering solutions for offshore wind and solar.
The company says Brunel is already at an advanced stage of readiness, having completed a final tank test at SINTEF Ocean in February 2022.
In parallel, it has also received a statement of feasibility from assurance group DNV in April 2022, both of which take the design to technological readiness level 4 (TRL 4).
Fred Olsen's goal is to carry the design to TRL 8 at "an accelerated pace", making it ready for commercial application within three years. Further tests and validation will now be undertaken with SINTEF Ocean to qualify it according to marine standards.
The nature of the design makes it suitable for deployment in various geographies, the company added, and offers scalability to accommodate the next generation of wind turbines without noticeable changes to the design.
A low draft also offers flexibility in port choice – something that has already been raised as a determining factor as the European supply chain gears up for ScotWind projects.
Fred Olsen now intends to work with engineering and fabrication specialists during the development process to ensure their requirements are addressed, and is in in close co-operation with customers.
Using an existing supply chain will help de-risk projects, it says, offer a high degree of flexibility to maximise local content.
Maintenance requirements have also been considered, and the company intends to bring further solutions to market to support floating foundations like Brunel, including component exchange, at floating offshore wind sites.
Avoiding having to tow the foundations to shore for component exchange, will further drive down the levelized cost of energy (LCOE) of floating technology.
The company hopes to position Brunel as "the floater of choice" for the coming wave of large-scale floating wind farms.
"Brunel is designed for the next generation of wind turbines. With its low LCOE and ability for serial and mass production, we believe the Brunel to be a game-changer that can unlock the potential of floating offshore wind," added Ms Olsen Jebsen.
Recommended for you

Aberdeen ETZ 'campus model' unveiled