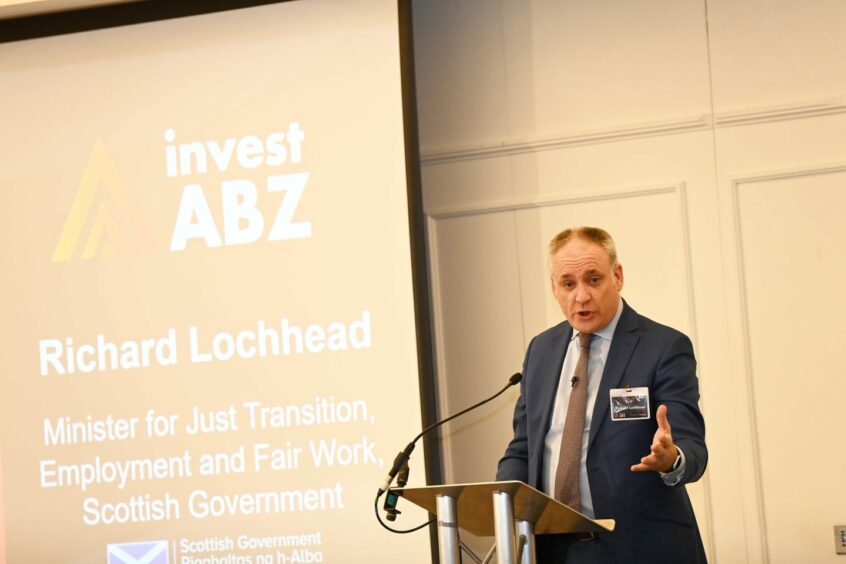 The Scottish Government is looking to back projects that will create jobs and address societal inequalities when the first portion of its £500m Just Transition Fund opens next week.
Speaking to Energy Voice on the sidelines of the Invest ABZ event in the city on Thursday, Minister for Just Transition, Employment and Fair Work Richard Lochhead said consulting with local businesses and community groups to "co-design" prospective projects would be at the heart of the programme.
"We don't want to sit there in government offices deciding what's best for the north east of Scotland – it's for the north east of Scotland to work with us and let us know what they feel here is best for the region," he said. "So that co-design approach will be at the heart of what we do."
Asked whether there were any specific initiatives he would like to see apply, the minster said: "Clearly what we're looking for is projects that will create jobs and also hopefully help tackle some of the inequalities in society."
Mr Lochhead announced earlier this week that that the first £20m portion of the Scottish Government's Just Transition Fund would be opened to expressions of interest on 31 May.
First proposed in the SNP-Green coalition programme for government in September and targeted specifically at the north east and Moray, capital is being made available over ten years to help address the transition challenges faced by the workforce and businesses across the region.
As part of this, £1m will also be ring-fenced to directly fund communities who participate, allowing them to design and vote on the interventions they want to see taken forward.
Mr Lochhead said once expressions of interests had been received, the government would examine them in more detail and consult local partners on how best funds could be disbursed and projects delivered.
He said the government had already held initial discussions with public authorities, companies, and community groups, and that many had plans which would see initial sums used for demonstration projects or feasibility studies.
"In saying that, we know there's a lot of projects ready to be taken off the shelf, they just need funding, and I don't anticipate a shortage of bids for the funds," he added.
Guidance will be published next to support those bidding into the fund, and the minister said the government intends to work with successful bidders to build the best possible investments in capital programs.
Recommended for you

The case for COP28 and developing nations' needs