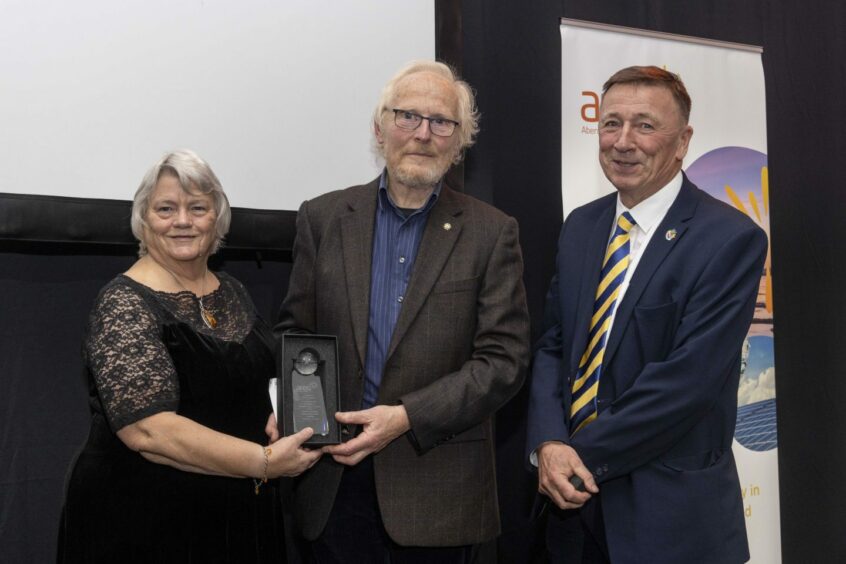 Jeremy Cresswell was honoured last night at an industry event for his contribution to the renewable energy sector in Aberdeen.
The AREG (Aberdeen Renewable Energy Group) Energy Futures conference dinner was topped off with the special recognition award.
Jeremy Cresswell, emeritus editor at Energy Voice, was the founding chairman of AREG more than 20 years ago, laying crucial groundwork for development of the Aberdeen Bay Wind Farm, otherwise known as the European Offshore Wind Deployment Centre (EOWDC).
AREG director Gordon McIntosh relayed some highlights of the well-known journalist's career, including having written four books about oil and gas, and recalled asking Jeremy 22 years ago to help "take renewable energy forward" in Aberdeen.
Jeremy's efforts with AREG ultimately led to creation of the All-Energy Conference, which later moved to Glasgow, and development of the wind farm.
"(He's) a bit of a character, and when I knew I was going to be speaking about him tonight, I asked folk if they could think of a word that could describe him…
"Motivated… intense… controversial… contumacious… cantankerous, even! But they all said he has lots of energy. He's put that into all of the work that he's done."
He added: "Jeremy was the first chairman, Jean's the second, there's only been two and they've done a tremendous job together.
"And there's no one more deserving of the award that Jean's about to present to Jeremy than the man sitting here tonight."
Receiving the honour, Jeremy said he's "gobsmacked" but continued "when was a so-called journalist ever lost for words?"
He added: "It's not just me, but what I was doing was only possible because of other people gathered around you."
Jeremy went on to list a series of names, among others, including George Yule, Robert Ross, Professor Peter Robertson, Professor Paul Mitchell and John Black.
"It's actually been an incredible journey for me and I'd like to think it's for all the other people who helped build AREG, helped get it past the wind farm project and I've been wishing it well like you wouldn't believe."
Recommended for you

AREG CEO David Rodger to step down