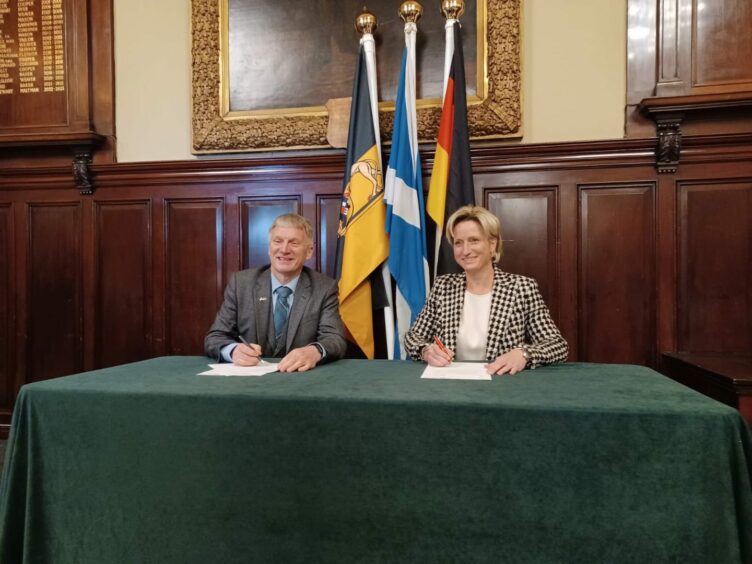 A new pact on hydrogen between Scotland and Germany has been branded "extremely bad news" for the domestic supply chain.
Dick Winchester, a member of the Scottish Government's Strategic Leadership Group on energy transition, reacted to the deal that is to see Germany "provide technologies for the production of green hydrogen."
Ivan McKee MSP took to Twitter to announce that the Scottish Government has signed a Memorandum of Understanding (MoU) with the German Government "to develop our hydrogen economy."
Columnist and former subsea engineer, Dick Winchester, described the deal as "extremely bad news in terms of Scotland developing an indigenous hydrogen technology manufacturing supply chain."
German economics minister, Dr. Nicole Hoffmeister-Kraut, said: "The partnership with Scotland is a win-win situation for both sides: Baden-Württemberg can provide technologies for the production of green hydrogen, which is then also delivered to us."
However, Winchester says: "Having looked at this German statement it's blindingly obvious now why the Scottish Government is interested in cooperating with them, they're doing everything we're not."
The deal will see the Center for Solar Energy and Hydrogen Research (ZSW) in the Baden-Württemberg region of Germany provide hydrogen infrastructure with the idea of producing green hydrogen and exporting the fuel source back to the country.
The ZSW is a collaboration between the state of Baden-Württemberg, universities, research institutions and companies set up in 1988.
The former subsea engineer added: "The Centre for Solar Energy and Hydrogen Research (ZSW) in Baden-Württemberg which is the German State with which Scotland now has an MOU on cooperation on developing our hydrogen economy, has already developed an electrolyser stack and seems to be in the process of commercialising a fuel cell design.
"This begs a few questions the first of which is why none of our nineteen universities isn't in the same position as ZSW.
"The second is why hasn't Scottish Enterprise been proactive enough to do anything about this and thirdly I have to ask what exactly is the point of all the money being spent on the Net Zero Technology Centre if we're allowing research institutes like ZSW to run rings around us."
Delighted to meet with @WM_BW tonight and welcome Baden Wurttemberg  hydrogen delegation to Scotland. Taking cooperation to next level as we sign MoU to develop our hydrogen economy. 🏴󠁧󠁢󠁳󠁣󠁴󠁿🇩🇪 pic.twitter.com/S95y41v2Qs

— Ivan McKee MSP (@Ivan_McKee) November 28, 2022
The Scottish Minister for Business, Trade, Tourism and Enterprise, Ivan McKee added: "We are committed to playing a key role in meeting the growing hydrogen needs of importing countries like Germany.
"Our huge potential for renewable energy production, our long history of energy production and our proximity to mainland Europe make us an ideal partner to ensure Europe's long-term security of supply of green hydrogen.
"It is important that we work together to share knowledge, develop the sector rapidly and promote the growth of the global hydrogen market.
"The signing of our letter of intent underlines this."
Earlier this year, Scottish Energy secretary, Michael Matheson said that hydrogen energy could be the best "opportunity since oil and gas" for Scotland ahead of a trip to Brussels for European energy week.
A Scottish government spokesperson responded: "Hydrogen has an important role to play in delivering a net zero economy, by supporting the bold, urgent action required to deliver cleaner, greener energy and also by supporting a just transition – creating good, green jobs for our highly skilled workforce.
"The Scottish Government is fully committed to helping the hydrogen sector develop and grow.
"We are investing £100 million in renewable hydrogen projects over this parliament and our Hydrogen Action Plan sets out how we will work collaboratively with the energy sector to drive progress as we build both our domestic capabilities and supporting supply chain, and realise our huge potential to become an exporter of hydrogen.
"We are open to the world and actively seeking opportunities to collaborate with international partners in order to accelerate the development of our hydrogen sector both domestically and internationally.
"This collaboration is an important way of supporting Scottish businesses, including in the manufacturing sector and wider supply chain, to further capitalise on the benefits of our energy transition."
Recommended for you

Should decommissioning still be a priority?