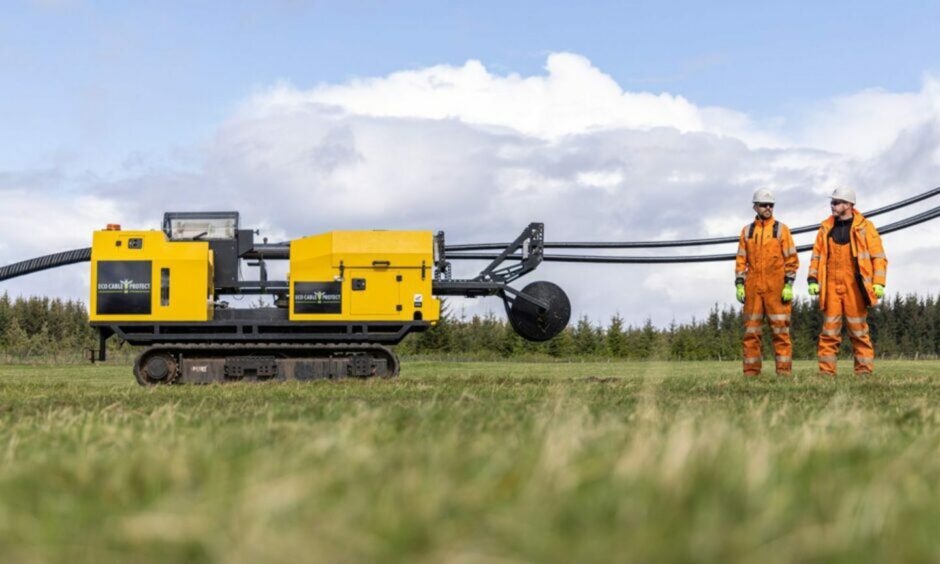 McGowan Environmental Engineering, of Aviemore, has carried out its biggest project to date, at Moy wind farm, 10 miles south of Inverness.
The work was part of a "milestone" £7.2 million wind farm cable installation contract awarded by Scottish and Southern Electricity Networks (SSEN).
McGowan, which employs more than 60 people, said the work involved "a huge multi-department team effort" over the past year.
More than 37 miles of 33-kilovolt underground cabling were laid at the Moy development, culminating in the circuits getting connected to the national grid in recent days.
According to family-owned McGowan, founded in 2009, the Eco Cable Protect (ECP) technology used for the SSEN contract reduces installation time, costs and the carbon footprint.
Another part of the contract saw cable installed at Burn of Whilk wind farm in Caithness.
A total of 50 miles of cabling was involved across the two projects.
McGowan managing director Darren Hendry said: "This marks a great milestone for our team within the industry as we look to grow organically within the energy sector."
Douglas Munro, senior project manager, McGowan, added: "The projects have been a huge success, thanks to the combined effort of all parties involved – SSEN, landowners, our supply chain and the local communities who have been impacted by the works."
High hopes for new technology
Donald MacKinnon, head of large capital delivery, SSEN said the two projects "ran very smoothly, considering the distances, terrain and number of landowners involved".
McGowan secured exclusive rights to use the ECP cable protection technology, aimed at customers across the onshore energy and utility industries, from German developer Cable Protect Europe earlier this year.
There are high hopes for its roll-out across new energy developments in rural locations.
Steven Mitchell, project manager, McGowan, said the technology was "vital to the timely and cost-effective delivery of the work at Moy, with minimal impact on the sensitive landscape".
He added: "The innovative cable protection, provided both (wind farm) projects with an efficient and effective installation solution, which is set to revolutionise the rural cabling sector."
McGowan, controlled by Ross McGowan, provides civil and environmental engineering services to a wide portfolio of clients across the UK and Ireland.
Its projects to date range in value from around £20,000 to the recent bumper deal with SSEN.