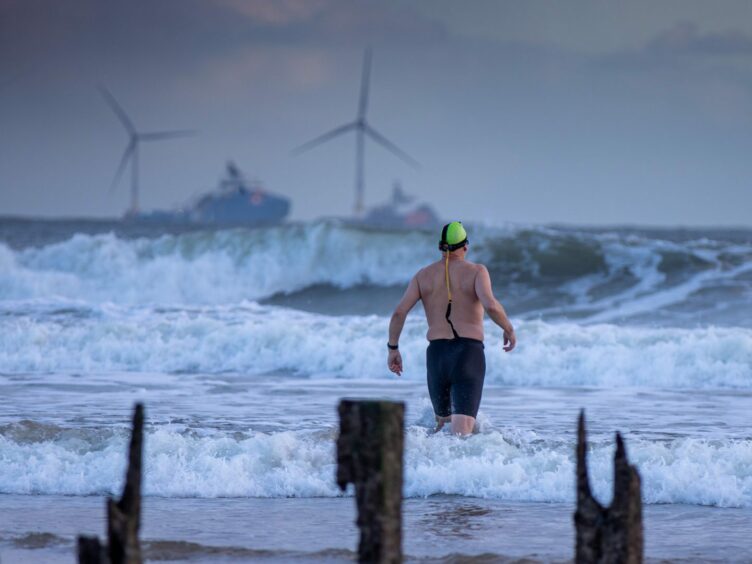 The winner of a competition to take the best picture representing energy transition has taken pride of place at the front of a new calendar.
The winning image of the Aberdeen Renewable Energy Group (Areg) 2023 photography competition was taken by Tom Forbes.
It shows a swimmer entering the water at Aberdeen Beach against a backdrop of the Aberdeen Wind Farm and offshore industry supply vessels.
The photograph will now feature as the January image for Areg's 2023 calendar.
Keen amateur photographer Mr Forbes joined a local camera club at the start of lockdown where one of his colleagues was a member.
Win a 'nice suprise'
He said: "In January last year, we headed down to the beach hoping to get some nice shots with surfers and there was a gentleman about to go into the water for a wild swim. From where I was standing, he lined up perfectly with the wooden groynes, so I framed him between these and the waves.
"It was only when I looked afterward that I noticed the wind farm and supply vessels in the background too.
"When the Areg competition came about, I thought the image signified everything the renewable energy industry represents in Aberdeen as well as our heritage in oil and gas. I didn't expect to win so it was a nice surprise."
Mr Forbes, who works for an Aberdeen energy company, received £200 while the twelve runners-up will each receive a prize of £50 and have their images featured in the calendar.
The competition, sponsored by floating offshore wind project Stromar, invited photographers to submit pictures that reflect the changing energy mix and the environmental challenges that are impacting communities and the planet.
This year's submissions included images of offshore wind, solar power and the power of nature.
Stormar project director Nicholas Ritchie said: "We were delighted to sponsor the competition which perfectly captures what the energy transition looks like in real life.
"The stunning winning images really highlight that renewable energy is not only vital for a secure carbon-free future, it can also fit in with the surrounding environment and very quickly become part of daily life."
The winning images will also be displayed at Aberdeen Science Centre for the nest year.
'Great selection' to choose from
Areg chairwoman Jean Morrison said: "We would like to congratulate Tom on his winning entry and thank everyone who took the time to submit a photograph for our annual calendar competition. Once again, we had a great selection to choose from and that never makes it easy for the judges.
"As one of the original energy transition organisations in the north-east, it's our mission to be a powerful voice in the net zero conversation, at home and overseas, and announcing the winner of the photography competition a month after our inaugural Energy Futures conference feels like a fitting way to end a successful year."
Recommended for you

Noble Innovator is a 'great win for the Aberdeen area'