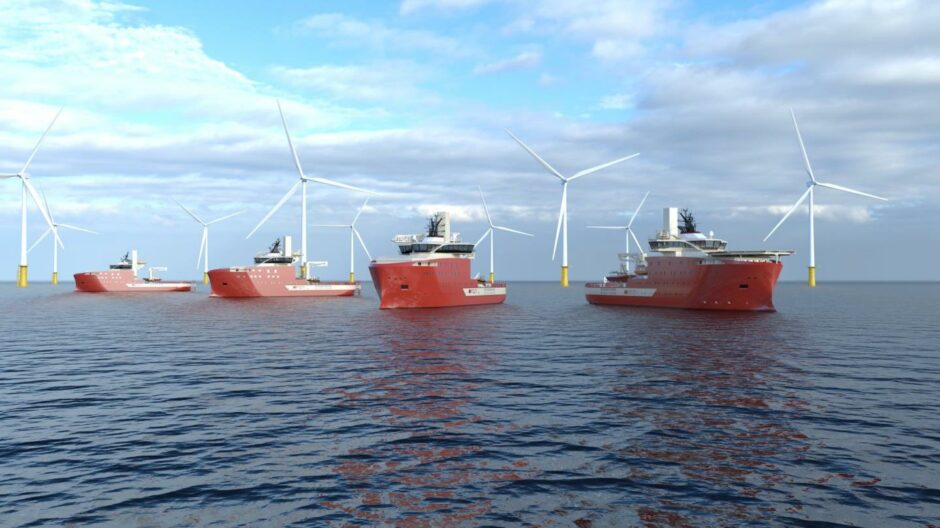 The chairman of Scotland's national investment bank wants to speak to companies in the north and north-east that want to get into the next "massive industrial revolution".
Offshore wind – particularly floating offshore wind – that is planned to be built off the coasts of Scotland represents a "massive opportunity", Willie Watt, chairman of the Scottish National Investment Bank (Snib) confirmed.
However if companies are going to support developers of the 10 gigawatts of windfarms expected to be built through the ScotWind leasing process, they need investors – and
soon.
Mr Watt said: "The developers all made big promises of domestic content but the supply chain needs to be ready to provide that content.
"Unless investments are made in the next couple that won't happen."
The Scottish Government has set a target that 60% of "content" in the next phase of offshore wind should be delivered by UK companies but, so far, projects that have been built – or that are currently being built – have been cause for disappointment.
But the bank – set up by Scottish Government with a plan to invest £2 billion over 10 years – aims to fill this gap.
Mr Watt was raised in Aberdeen and led private equity company 3i, which was an active investor in the region for decades – he said he is enjoying becoming reacquainted with the region's industries.
"We are keen to talk to companies who think they may have a role in the next stage of offshore wind development to come and talk to us," he said. "We are keen to be a champion for the opportunity in offshore wind."
The bank has a mandate to support the Scottish Government's goal of being net zero by 2045.
He admits the £2bn "is not enough" but he is pleased with investment performance in the last year.
He added the bank is currently looking to channel third party funds managed by "impact" investors that share the same aims – while still expecting a healthy return on investment.
The bank has now deployed £350m in loans and investments which has unlocked further private sector backing to the tune of £600m.
Of this, more than £165m has been invested or loaned to firms with operations
in the north and north-east.
This year started with a £30m loan to the Port of Aberdeen and ended with
a £50m investment in shipping firm North Star in December.
Money deployed this year has corrected an initial central belt bias to the bank's investments.
Mr Watt said: "When we started out in 2020 were mainly in the central belt.
"Given Aberdeen's scale and also the skills sets and invested capital in the oil and gas industry, one felt there had to be more that could come out of that that would allow us to deploy our mission capital in that part of the world.
"It is looking a lot healthier now than it did a year ago in terms of the spread across Scotland of investments that we have made.
"With North Star they have a big oil and gas business but they are trying to pivot towards a low carbon future.
"That is absolutely the kind of investment the bank should be making in
a company that is trying to make itself more relevant to a low carbon future."