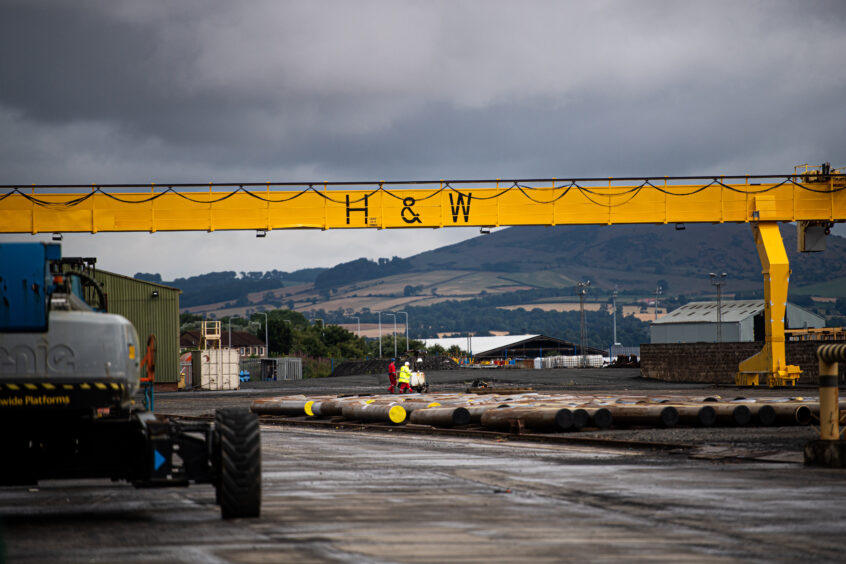 Harland & Wolff has terminated its contract with Saipem for the supply of four wind turbine jackets for a major Scottish offshore wind project, claiming cost escalation and delays have made the work "sub-economic."
The engineering group was due to deliver four huge wind turbine foundations – known as jackets – for the Neart na Gaoithe (NNG) project being built off the Fife coast, but said Friday that it had reached the "mutual" decision with Saipem to terminate the contract.
The firm had originally signed up to provide eight jackets as part of a £26.5m deal announced in April last year, though this was later reduced to four after key materials arrived late and defective, the company said in September alongside the release of its half-year results.
In a 30 December trading update, H&W (AIM:HARL) said its original agreement was "based on the economic assumptions at that time" and it had since experienced "numerous issues with payments, delays and defective materials."
The company said it was "determined" it would not bear the resulting cost increases "given that it has not been possible to find a mutually acceptable methodology to split these additional costs between the parties."
"Continuing with the project will be sub-economic from a target margin perspective and would, therefore, not be in the best interests of the group," it continued.
While the first foundations were installed earlier this autumn, a series of delays at the 450-MW wind project developed by Ireland's ESB and EDF Renewables have pushed its completion date back to 2024.
H&W management said capacity at its Methil facility could now be better used on "more economically viable projects" expected to come to fruition during the first half of 2023 onwards.
It has now begun negotiation of a commercial settlement with Saipem to evacuate the materials from the site and make way for other projects. Estimated revenue for Q4 2022 against the NNG work was around £5m, part of which the firm expects to recover on final settlement next year.
Meanwhile, it said delays to a key defence contract would also result in the deferral of around £20m worth of revenue into 2023.
As a result of the deferments, full-year revenues for the group are now expected to be "materially below expectations" at £29m- £31m – roughly half the £65m-£75m stated in its half-year results.
Shares in the firm plummeted nearly 40% on the previous day's close as the market opened on Friday morning. Though they have since rebounded, they remain down by around a quarter at the time of writing.
Methil reshuffle
In response to the NNG termination, H&W said it would move the fabrication of two barges for Cory Group to Methil, commencing January 2023.
"This will keep production flowing through Methil's fabrication halls and is also expected to speed up delivery of the barges to the Cory Group, with two sites (Belfast and Methil) working on six barges in tandem," it stated.
This would also free up the group's Belfast facility to carry out new pending contracts in 2023.
Looking longer-term, H&W emphasised Methil's importance in offering "fabrication capacity and capability for a large number of Scotwind related contracts" expected to commence from 2024 onwards.
It said it would continue to look for "smaller and shorter length contracts" as negotiations are ongoing with "a large number of Scotwind awardees" for larger contracts with start dates in 2024 and 2025.
It pointed to continued strong performance at its Arnish facility, which has secured a series of new projects and extension awards, with "strong demand" expected in 2023 and beyond.
Debt refinancing
In addition, the group said it was now seeking to further extend its debt facility in the wake of progress on major defence work as part of the Team Resolute consortium.
H&W struck a £70m refinancing deal with and Astra Asset Management UK in November, with a view to increasing the facility to £100m and enabling it to refinance existing debt.
It now says it is working with Astra to increase this facility to between £150m and £200m, as part of negotiations expected to close in Q1 2023.
Chief executive John Wood said: "Whilst it is disappointing that we have not met our aspirations for FY 2022 due to timing issues, we have made significant progress over the last twelve months, and I am confident that we will see a robust 2023 with deferred revenue from 2022 which will start getting booked during the course of H1 2023.
"Despite the external challenges that we face, I believe that we are now at the cusp of a major transformation of the entire Group and the team is working hard to convert bids into contracts."
Recommended for you

Saipem completes work at Neart na Gaoithe wind farm