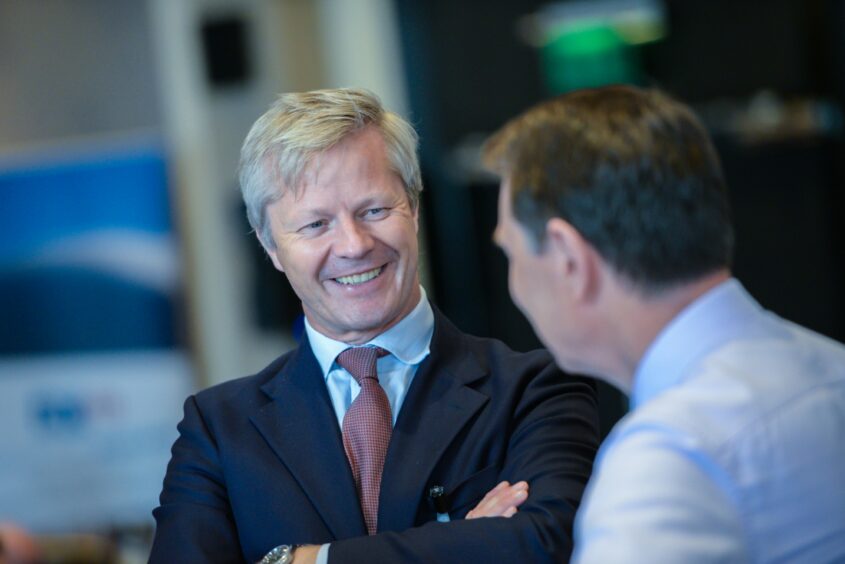 The skills required for a successful North Sea energy transition are available but in very short supply, an industry expert has warned.
Chris Claydon was speaking as he headed for the exit door after seven years and five months as chief executive of the Engineering Construction Industry Training Board (ECITB).
In the hotseat from tomorrow as interim CEO of the employer-led skills body is operations director Andy Brown.
Mr Claydon told The Press and Journal oil and gas was "absolutely the biggest part" of his time at the helm.
The sector has done "the hard yards" over that period, going through a big downturn and the Covid pandemic, with Sir Ian Wood's review of the industry and the response to it sandwiched between, he said.
Next stop for the former Army helicopter pilot is Kent-based JTL, a work-based learning provider for the building services engineering sector in England and Wales.
He is JTL's new CEO and sees lots of cross-overs from his job at ECITB, with future skills needs staying front of mind.
ECITB has trained many hundreds of graduates over the past seven-and-a-half years, and helped keep them in jobs, even when employers suffered lean times, Mr Claydon said.
Progress on industry collaboration
He added: "It's also helped to reduce some of the cyclical nature of the oil and gas industry."
That success is partly down to ECITB having a pivotal role in greater industry collaboration, he said.
Firms across the industry are showing far more willingness to work together to solve some of their long-term skills challenges, and improve health and safety, he continued.
Back in 2015, when he took up the reins at ECITB, companies were "less receptive" to the idea of working together, he said.
He added: "There's been a big change of approach across the industry since then.
"And latterly we've seen that pivot towards the transition – and how we can ensure we get a just transition for the workforce."
There is a lot of agreement across the sector on how to do this and some "really positive" signs for the north-east, he said.
'Now is not the time' for turning off oil and gas
Mr Claydon echoed industry warnings the oil and gas tap must not be switched off overnight, adding: "Now is not the time. We need that energy.
"Alongside that, we have got a big job to do to prepare and build the workforce for the transition.
"We have most of the skills we need but the overwhelming issue facing the energy industry is a lack of volume.
"About 80% of the skills we need are there already.
"But we don't have enough skilled people to do the work. We are desperately short."
There is a lot more work to be done in terms of filling energy sector roles for the future, with oil and gas, renewables and decommissioning activity all taking place side-by-side, he said.
Carbon capture and storage, and major rail infrastructure projects in the UK will put a further squeeze on the availability of skilled engineering and construction workers, he warned.
Mr Claydon also said he was leaving behind an organisation in "rude health", with a strong mandate from its levy-paying members to keep on doing what it does.
Handing on the baton
He added: "I am delighted to be handing on the baton to Andy, with whom I have worked for many years.
"With his strong industry background, he will be a safe pair of hands for the ECITB while the board recruits a permanent CEO."
Mr Brown has been involved in engineering since 1982, when he joined the Royal Air Force as an aircraft technician.
He joined ECITB in 2006 and became its director of operations in 2013.
The new CEO said he was looking to help the UK's engineering construction industry "move the dial on diversity" as it faces up to the task of delivering the volume of skilled workers that are needed for a "large number of infrastructure projects on the horizon".
He added: "The UK and devolved governments need to continue to be creative in their approach to skills development and industry needs to look at recruiting from different parts of the economy."
ECITB chairwoman Lynda Armstrong said: "Having worked within the engineering sector for decades, Andy is well respected by employers and training providers alike.
"He understands the challenges in terms of skills shortages and training needs within industry."