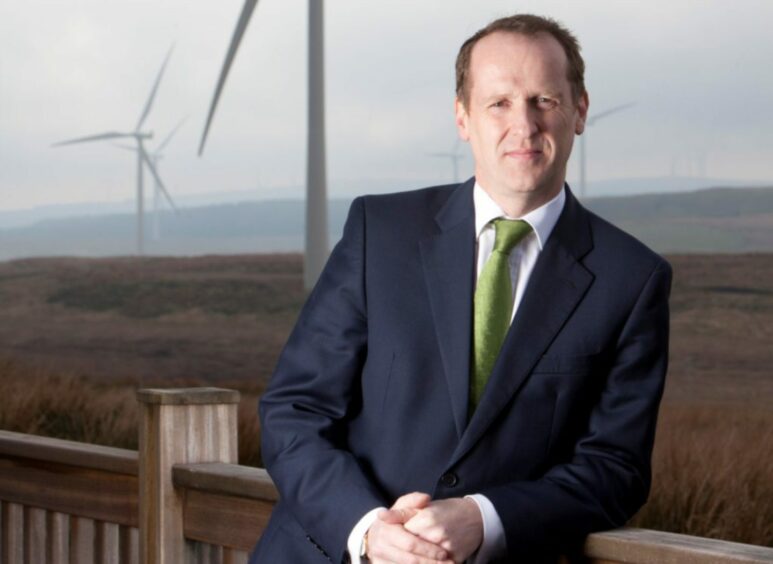 The boss of ScottishPower has hit out at firms that are abandoning their green goals as his business produced a set of financial results without the massive windfalls that many of his rivals have presented.
The business also revealed that it had sold nearly a fifth less gas to households in 2022 than it had a year earlier, as people tightened their belts.
Chief executive Keith Anderson said that ScottishPower would continue to throw its investment towards zero-carbon solutions.
Parent company Iberdrola on Wednesday revealed that it had invested around 1.5 billion euro (£1.3 billion) in the UK last year, around 13% of its total global investments.
The business has more than 2.3 gigawatts (GW) of solar and wind farms being built in the UK, which are set to come online by 2026.
"We're focused on future fuels, not fossil fuels," Mr Anderson said.
"As a 100% green power firm we're proud to be delivering the technology to kick volatile fossil fuels off the grid.
"We're delivering solutions to the energy crisis – investing more than we make in building our huge pipeline of clean wind and solar farms and in the electricity network to unlock the UK's green economy.
"Unlike others, we won't be distracted from decarbonisation and will continue investing in the technology needed for a greener, more secure and affordable energy future."
Two weeks ago, energy giant BP said that it planned to slow its retreat from oil and gas as it made bumper profits from the fossil fuels. Its climate targets for the end of this decade were also watered down as a result.
ScottishPower managed to increase its earnings last year, but fell far short of the big jumps seen by Shell and BP, EDF's UK arm and Centrica.
Operating profit increase by 7.4% to reach £785 million, the business said.
That was not thanks to the business's retail division – the part that supplies gas and electricity to households across Britain.
That part of the business saw an £8 million rise in operating loss to £274 million as people used less gas and electricity and the price cap limited what the company could charge customers.
The business said that it had sold 4.5% less electricity and 18.3% less gas. Gas prices have soared in the last two years, putting pressure on households. The increase in gas prices has also pushed up electricity prices.
It has been a tough year for other energy suppliers too, most of them making only modest if any profits over the past year.
Like many of its other competitors in the sector such as Centrica or EDF, ScottishPower also has other units, such as its renewables arm and the section of the business that runs parts of the electricity distribution grid.
The renewables part of the company saw a 36% rise in operating profit to £470 million as wind speeds picked up in Scotland after a quiet 2021. The business sells most of its power years in advance, so did not benefit as much last year from rising energy prices as some of its competitors.
Its onshore wind farms pushed out a huge amount of power compared to the year before. Production was up 34.8% to more than 4,400 gigawatt hours (GWh). Offshore wind production fell by 1.2%.
Recommended for you

From black gold to green – decarbonising the UK's offshore oil and gas industry