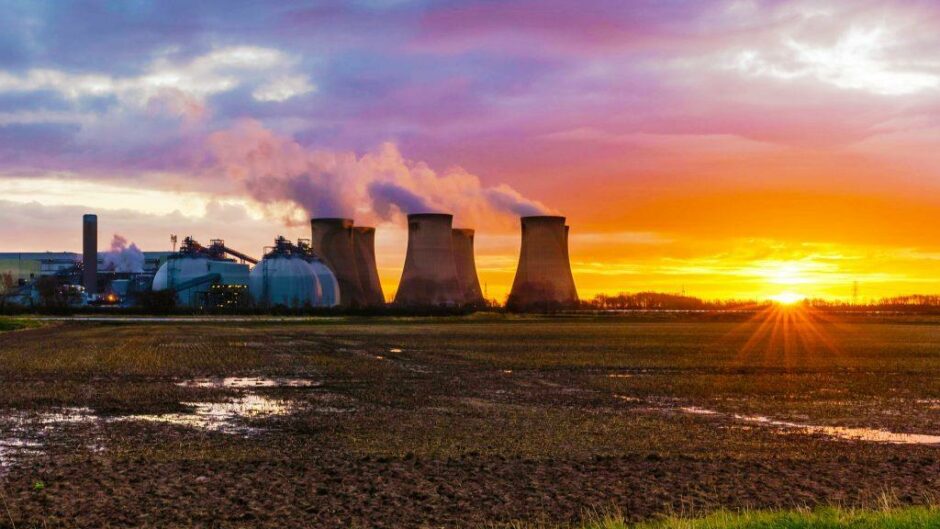 One area of the energy sector that everyone will be looking at following today's budget is carbon capture utilisation and storage, however, what does that mean?
Carbon capture utilisation and storage, or CCUS, refers to the technologies required to capture carbon dioxide directly from the atmosphere of areas with high concentrations of the chemical.
From this process, if the CO2 is not being used on site, the gas is compressed and transported by pipeline, ship, rail or truck to be used in a range of applications this is called carbon capture utilisation (CCU).
If the resource is not utilised, the CO2 will be injected into deep geological formations, an example of this would be INEOS and Wintershall Dea's Greensands project in Denmark, which is referred to as carbon capture storage (CCS).
Injecting the carbon dioxide into the ground as part of the CCS process traps the CO2 for permanent storage.
Greensand is the most mature project of its kind in Denmark, the project has the potential to lock away between 0.45 to 1.45 million tonnes of carbon dioxide per year by the end of 2025/start of 2026.
The storage, which began this month, takes place in the INEOS-operated Siri area where there are currently a number of oil rigs.
The future of CCUS
With so much attention being directed at CCUS, it is important to understand the scale of the sector, both in the UK and globally.
According to IEA, around 230 million tonnes (Mt) of CO2 are currently used each year with around 80 Mt of that coming from advanced oil recovery.
Currently, CCUS facilities around the world have the capacity to capture more than 40 MtCO2 each year.
IEA write "Project developers have announced ambitions for over 200 new capture facilities to be operating by 2030, capturing over 220 Mt CO2 per year.
"However, only around 10 commercial capture projects under development have taken FID as of June 2022."
The organisation has predicted that in its "net zero scenario" over 95% of the CO2 captured in 2030 is geologically stored, and less than 5% is used.
In a UK government CCS report, it is stated that globally "IEA estimate that CCS will deliver 19% of the global reduction in CO2 emissions that is required by 2050 if we are to limit global warming to a maximum of two degrees.
"Achieving this goal will necessitate the construction of 3400 plants worldwide with over 2000 of these being built in developing countries."
UK Government report adds: "If CCS opportunities develop as anticipated, benefits for UK-based firms have been estimated to be between £3 – 6.5 billion a year by the late 2020s."
Aberdeenshire's Acorn CCS project
The Acorn CCS project in Aberdeenshire has been announced as a winner of the £1bn UK Government "Track 2" competition.
It will use infrastructure at the St Fergus terminal – which lands about 25% of the UK's supply – to send CO2 underground into depleted gas reservoirs in the North Sea.
For the Peterhead region, it follows a decades-long wait to get local CCS projects running following cancelled projects in 2007 and 2015.
Ineos' Grangemouth site which employs 1,300 people, aims to decarbonise via the Acorn development, and getting the CCS site up and running is integral to the longevity of that plant, the firm's group communications manager, Richard Longden told Energy Voice this year.
Mr Longden, comparing Greensand with Acorn, said: "The learning here [greensand] will be applied to some of the other CCS projects that are being used.
"The similarity is that you've got the same you've got the infrastructure, you've got sort of skill sets out of Aberdeen that can all be utilised to drive that project forward, so it's quite important."
Viking CCS
Alongside Acorn, the Viking CCS project was also successful in the UK government's Track 2 process.
Formerly named V Net Zero, Viking carbon capture storage (CCS) looks to capture emissions from across the south Humber region, the UK's most industrialised area.
Earlier this year, it was confirmed by geoscience consultant ERCE that Viking is capable of holding up to 300 million tonnes of CO2.
Carbon dioxide will be sent along a newly constructed pipeline from Immingham to Theddlethorpe, before entering the pre-existing 75-mile LOGGS pipeline to reach the depleted Viking gas fields.
The project is a joint partnership between the UK's largest producer of oil and gas, Harbour Energy (LON:HBR), and BP (LON:BP).
Harbour claims a 60% stake in Viking while the London-listed supermajor holds 40% of the shares.
Following the announcement that Viking was selected for Track 2, Harbour Energy's chief executive Linda Cook said: "Viking has the potential to be transformational for the Humber, the UK's most carbon-intensive industrial region, creating thousands of jobs in the area and playing a vital role in supporting the UK to meet its target to capture 30 million tonnes of CO2 annually by 2030."
Successful projects
As Acorn and Viking look to get up and running after receiving funding from the UK government's "Track 2" process, here are some examples of projects that have successfully stored carbon or are making progress towards that goal
Greensand
INEOS and Wintershal DEA have began using their CCS site in Denmark, Project Greensand.
Repurposing an end-of-life hydrocarbon well, the project will see carbon dioxide shipped from Antwerp to a repurposed oil rig.
From there the CO2 will be injected into the ground for permanent storage.
The vessel that delivers the greenhouse gas from the Danish coastline will hook up to tubing on the drilling rig, at which point the CO2 will be brought to the optimum temperature and pressure before being pumped over 6,500 feet below.
Once injected below the surface the CO2 will remain in the reservoir.
The project has the potential to lock away between 0.45 to 1.45 million tonnes per year by late 2025-26.
By the end of 2030, this could climb to 8 million tonnes of CO2 per year, more than 13% of Denmark's total annual emissions.
Track 1
Hynet was one of the two winners of the UK government's Track 1 process.
HyNet is a project backed by Italian operator Eni that aims to remove industrial emissions from north-west England and north Wales.
The East Coast Cluster was also selected as a winner of the Track 1 process, alongside Hynet.
The East Coast Cluster looks to decarbonise industrial emissions around the Humber and Teesside and has the potential to transport and securely store nearly 50% of all UK industrial cluster CO2 emissions.
Failures – Gorgon
Not all CCS projects have managed to operate smoothly, as US supermajor Chevron proves with its flagship project down under.
It was reported earlier this year, Chevron's Gorgon CCS project in Australia was experiencing issues as it was stuck at one-third capacity.
The Gorgon CCS project, one of the largest of its kind in the world, needs investment to boost performance and will be stuck at around one-third of its intended capacity until that's completed.
This month Chevron said it expects to inject even less CO2 at the Gorgon plant this year than in 2022 as it experienced issues with water management and seismicity.
The $3 billion carbon capture and storage (CCS) project, which is also backed by Shell (LON:SHEL) and ExxonMobil (NYSE:XOM), has been dogged by technical issues since it was commissioned in late 2019.
As a result, Chevron (NYSE:CVX) which operates the linked Gorgon LNG development, has yet to deliver on targets agreed with local government to store around 4 million tonnes per year of carbon dioxide.
Recommended for you

UK can do better at CCUS, event hears