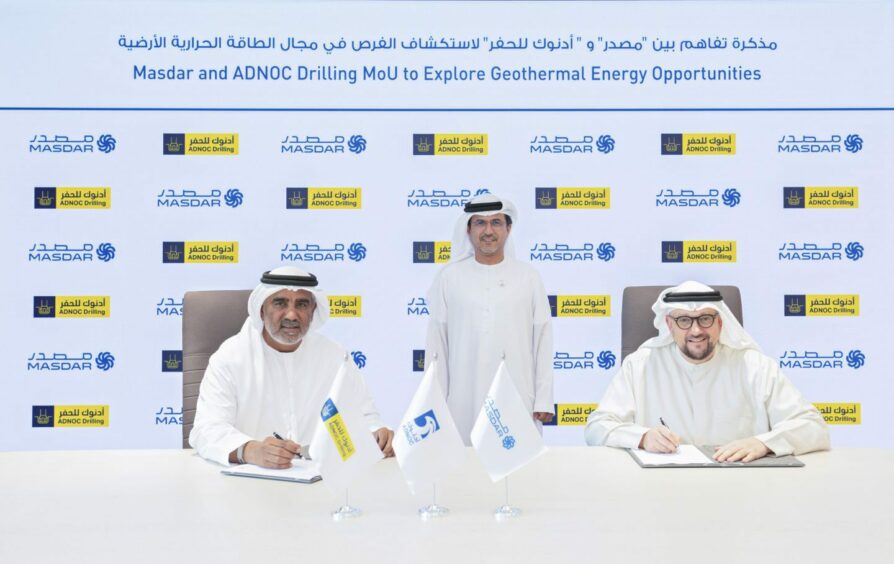 Adnoc Drilling has signed a five-year memorandum of understanding (MoU) with Masdar to explore geothermal opportunities around the world.
The drilling company will provide its services as a technical expert and advisor to help Masdar deploy geothermal energy. The two companies will work together to evaluate Adnoc Drilling's ability to provide drilling services.
"Our leading integrated drilling services offering can bring advanced, efficient start-to-finish drilling and completion technologies to enable Masdar the potential to generate clean geothermal energy to cool thousands of homes and office buildings," said Adnoc Drilling CEO Abdulrahman Abdulla Al Seiari.
The challenge, he said, was to deliver cost-effective wells.
Masdar CEO Mohamed Jameel Al Ramahi said the MoU further reinforced the company's commitment to clean energy opportunities. "We are excited about the important role that geothermal can play in helping to drive forward the global energy transition", he said.
Studies from Masdar highlight the importance of new drilling and completions technology to control costs.
Masdar invested in Indonesia's Pertamina Geothermal Energy (PGE) in Februaryin Indonesia's Pertamina Geothermal Energy (PGE) in February. This was Masdar's first move into this sector.
Indonesia intends to boost its geothermal capacity from 2.8 GW in 2022 to 6.2 GW by 2030. PGE operates more than 1.87 GW of geothermal energy in Indonesia.
Masdar is aiming to produce 100 GW of renewable energy by 2030.
Recommended for you

Adnoc Drilling orders six more hybrid rigs