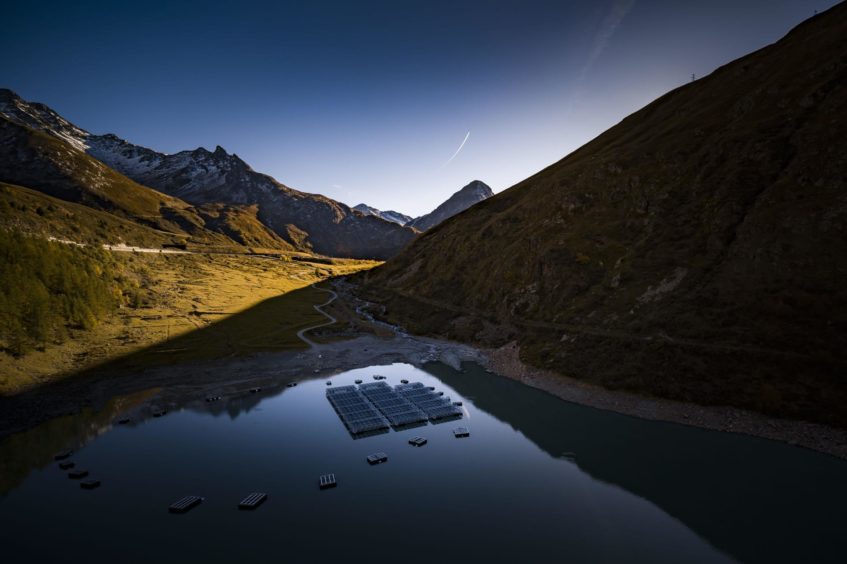 Floating solar panels are to be installed in the waters off Scotland for the first time this year – with First Minister Humza Yousaf insisting the technology has "significant potential".
Mr Yousaf visited Nova Innovation in Leith, where bosses believe the new floating panels can help "drive the race to net zero".
The panels were manufactured there and are being tested before being put into the water this year.
The same company installed the world's first offshore tidal turbine array off the coast of Shetland in 2016 – with Nova Innovation having used its expertise in that area to help develop this latest project.
It comes after the company received £6.4 million from the Scottish National Investment Bank (SNIB) in 2021 to help boost its production of innovative renewable energy generation systems.
Speaking as he toured the site, Mr Yousaf said: "These panels give a fascinating glimpse into the opportunities for Scotland's future energy system and are the first step towards harnessing our significant potential for floating solar."
The First Minister added that the SNIB investment had helped Nova Innovation expand its manufacturing base in Leith, but had also tied in "strongly with the Scottish Government's priority of supporting innovative technology that will help us achieve net zero carbon emissions by 2045".
He said: "Scotland is already one of the most advanced hubs in Europe for the testing and demonstration of marine energy technology and I look forward to seeing where the panels will be launched in the near future."
Nova Innovation chief executive Simon Forrest said: "With record-high energy prices and growing concerns over security of supply, there is an immediate need for Scotland to focus on homegrown energy from our abundant natural resources.
"Scotland is at the heart of the tidal energy revolution and Nova continues to lead the sector with proven technology and unrivalled reliability.
"With the addition of floating solar to our portfolio, we are ideally placed to help drive the race to net zero.
"We were honoured to welcome the First Minister to discuss the economic benefits, job creation opportunities and the part Scotland can play in the global supply for renewable energy."
Recommended for you

Nova wins €20m funding for world's largest tidal site in Orkney