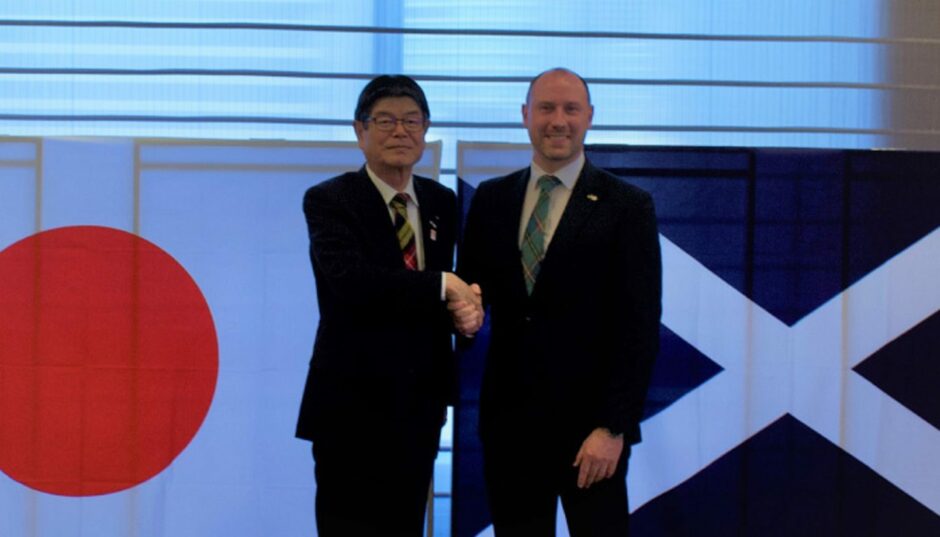 Sumitomo has tabled plans to build a cable factory to supply new grid connections and offshore wind farms during a Scottish trade mission to Japan.
Sumitomo Electric – a division of the Japanese conglomerate – said it intends to establish a factory in the Scottish Highlands to capitalise on a boom in demand for "high-end" subsea cables used for offshore wind farms and international grid connections.
The announcement was made during a three-day trade mission to Japan led by Scottish energy secretary Neil Gray, and focused on inward investment in renewables and low-carbon tech.
During his visit, Mr Gray met with Sumitomo Electric in Osaka to discuss the company's plans.
Sumitomo said the UK is expected to be "one of the largest markets for power cables," given the wave of offshore wind projects being developed and the wider push to achieve Scotland's 2045 net zero targets – and UK's five years later.
The location, size and potential investment in the factory were not disclosed, however the group said it would support a range of services including production, supply and long-term operation and maintenance.
Sumitomo has been approached for comment.
The Scottish Government, said it is now "working closely" with the company and with Scottish Development International and Highlands and Islands Enterprise to advance the plans.
In 2019, Sumitomo delivered a high-voltage direct current (HVDC) submarine cable system for the UK-Belgium interconnector (NEMO Link), and supported its installation.
Further wins have seen it secure work to provide cables for the UK and Ireland (Greenlink Interconnector) and a project in Germany (Corridor A-Nord).
Previous contracts have seen it deliver power cables for offshore wind power projects around the world including the UK, Germany, Taiwan, Korea, and Japan's first commercial offshore wind farms at Akita and Noshiro.
Commenting on the plans, Mr Gray said: "Today's announcement from Sumitomo demonstrates the strength of confidence investors have in our vision for a net zero economy. The company has a proven track record in high-voltage underground cables which will be invaluable to supporting Scotland's rapidly expanding offshore wind sector.
"The Scottish Government will continue to work alongside Scottish Development International and Highlands and Islands Enterprise will continue to work closely with Sumitomo to foster this important partnership.
"It is clear that there is enormous interest for investment in Scotland's renewables revolution. We have a world-beating pipeline of offshore wind projects and this visit has demonstrated the important role played by Scotland's international network and the value of growing and developing our partnership with our trusted Japanese partners, both old and new."
"We are delighted to work with Cabinet Secretary to build a state-of-the art submarine cable factory in Scotland. Sumitomo Electric is a technology leader in the industry with a 100-year history of submarine cable production, a solid track record, and high quality standards," said Osamu Inoue, President & COO of Sumitomo Electric.
He added that the company planned to work with Scottish and UK governments and other stakeholders on future offshore wind and interconnector projects in the region.
The announcement would mark the show of confidence in the sector as cable demand booms. Last year JDR Cable Systems, part of TFK Group, started construction on a new £130 million base near Blyth, Northumberland, due to start up in 2024.
Recommended for you

Highlands cable factory: Sumitomo won't build without £24.5m government grant