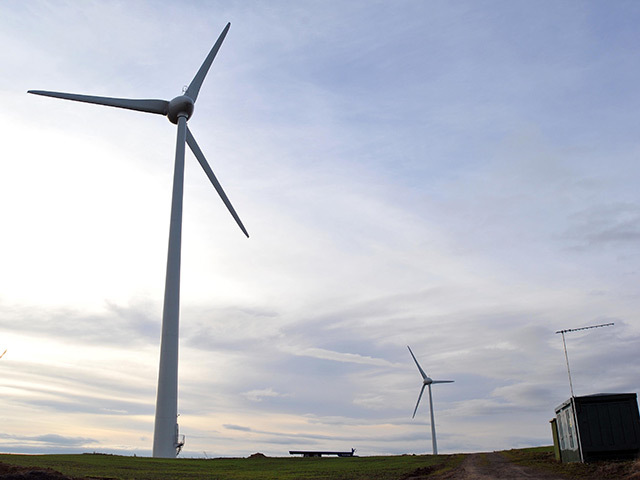 Campaigners have called for a moratorium on windfarm developments until the results of a new Scottish Government study of the impact of turbines are announced.
Environmental body Climate-Xchange has been hired to examine some of the country's most contentious green energy projects.
Its investigation will focus on 10 sites throughout Scotland, including the huge developments at Achany and Baillie in the Highlands and the much smaller West Knock Farm project, on the edge of Stuartfield, in Aberdeenshire.
Residents living close to each windfarm will be asked if and how the turbines have changed their lives.
The findings, due to be published in autumn next year, will be used to inform the Scottish Government and local authorities about future planning applications in an effort to minimise any negative effects on residents.
Last night, some campaigners said the study was "too little, too late", although others welcomed it as a sign ministers were starting to pay heed to communities' concerns.
Stuart Young, chairman of Caithness Wind Farm Information Forum, said: "It doesn't bear thinking about how many more windfarms will be approved before we see the outcome of this study."
But independent anti-windfarm campaigner Lyndsey Ward described it as "an extremely important study" and it should be allowed to run its course.
Matt Ogsten, project manager at Climate-Xchange, stressed that everyone living near the selected windfarms would be given their chance to take part, not just objectors.
"We will be speaking to individuals and households and asking them how they feel the turbines have affected their area," he said.
"We don't plan to hold public meetings or gatherings or anything like that."
The wide-ranging study will focus on visual impact, noise and shadow flicker issues. It will be led by a steering group that will include representatives of people living near windfarms, as well as turbine developers and operators.
ClimateXchange has been briefed to research "how the predicted impact at the planning stage matches the impacts when the windfarm is operating".
A spokesman for the group said: "Windfarm applications go through a rigorous planning and consenting process.
"However, there has never been a multi-site study of the match between the impact of a windfarm as stated in the environmental assessment and the actual impact once the farm is operational.
"The project will inform the Scottish Government on the need for guidance to developers of windfarms on how they should measure the potential impacts of their windfarms and how they should communicate this to planning authorities and those likely to be affected."
The Edinburgh University-based group describes itself as "Scotland's centre of expertise on climate change" and provides advice and analysis to policymakers at Holyrood and associated agencies.
This latest study on the impact of windfarms on rural communities is not its first analysis of turbine issues.
In April, the group published its findings on the health impacts of turbines, looking at everything from sleep disturbance to motion sickness-like symptoms.
It concluded that there was evidence of "annoyance" caused by turbines, but found that not everyone agreed this was a health issue.
Last year, Climate-Xchange looked at the impact of turbines on tourism in Scotland.
Its study concluded that there was no new evidence to suggest that windfarms were having a "discernible negative economic impact".
Engineer and campaigner Jim Bain, from Banff, said he believed the study would make little difference.
"No matter what findings they come back with, the real problem is still going to be with individual councillors who approve these developments despite the robust advice from planning officers," he said.
"It is going to be difficult to rein them in."
He added: "I would welcome this study more if the Scottish Government weren't behind it. I think it would have more credence if it was by a more independent expert."
Mr Bain, who presented Aberdeenshire Council with a petition last year calling for a policy change, added: "The Banff area is now just one big windfarm. I don't think anyone could have anticipated the number of applications which have gone through in the past few years."
Scottish and Southern Energy's 23-turbine farm at Achany was approved by Highland councillors in December 2007.
In 2011, the local authority ordered a temporary shutdown of the Sutherland site after nearby residents complained about noise. The order was lifted a few days later.
The 21-turbine Baillie windfarm, near Thurso, has been in operation since August this year.
The three-turbine project at West Knock Farm, on the edge of Stuartfield, was approved by councillors in early 2010, despite a handful of objections. Opponents raised concerns about noise problems and shadow flicker.
The project was developed by landowner Albert Howie, who was an independent councillor for Central Buchan at the time.
Recommended for you

Neptune, RWE award feasibility studies for H2opZee hydrogen scheme