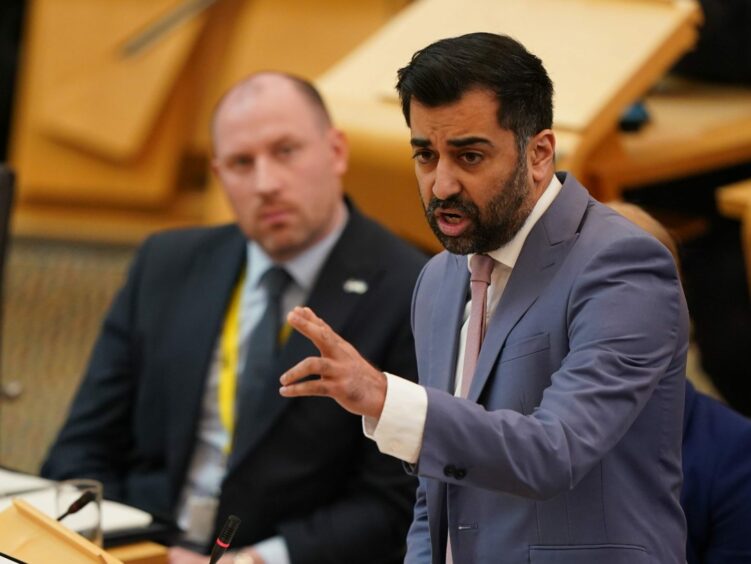 The Scottish Government has announced £7 million of investment in renewable hydrogen projects to drive "innovation in the production, storage and distribution."
First Minister Humza Yousaf announced the Hydrogen Innovation Scheme funding while addressing delegates at the All-Energy conference in Glasgow.
There have been 32 projects awarded funding, with winners including Wood, Port of Aberdeen, Subsea 7, EnQuest and National Subsea Centre and Robert Gordon University.
Mr Yousaf said: "The projects cover a wide range of different areas – such as how to produce and store hydrogen on floating windfarms, and how to decarbonise agriculture and forestry work in rural areas.
"Together, they show the range of possible ways in which hydrogen can be produced, used and stored. They highlight the expertise and innovation that is already such an important part of the sector.
"And, of course, they demonstrate the scale of the opportunities that hydrogen can create."
Mr Yousaf added that the Scottish Government has "committed £100 million, over this parliamentary session, to supporting the green hydrogen sector."
Comhairle nan Eilean Siar, University of The Highlands (UHI) and Islands Outer Hebrides and PlusZero have been awarded £1,129,000 for a green hydrogen production learning, test and research hub at Creed Park, Stornoway.
This is the highest sum awarded to an individual project with National Subsea Centre and Robert Gordon University's application receiving the second highest sum.
Comhairle nan Eilean Siar Head of Municipal Services David Macleod said: "This ground-breaking public, private and university collaboration will help deliver the skilled workforce and robust hydrogen technology needed to support the Outer Hebrides ambitions to be Scotland's leading green hydrogen production hub and play a key role in achieving the Scottish Government's ambition for delivering 5 gigawatts of renewable and low-carbon hydrogen production by 2030."
Other notable winners
The Aberdeen-based Wood has successfully secured £150,000 in government cash ahead of its annual general meeting which is set to take place in the granite city tomorrow.
Wood has received funding for a feasibility study into its HyFloat, a floating wind platform that would house renewable hydrogen production equipment and stores the hydrogen within the buoyant structure.
Port of Aberdeen also managed to bag some cash for its H2Shore – Hydrogen coastal storage and distribution project.
Bagging £150,000 as well, the money will fund a study to investigate the feasibility of establishing underwater hydrogen storage at the South Harbour at Port of Aberdeen.
Subsea 7 looks to use its £150,000 of government funding to bring about a proposed floating hydrogen production unit.
The cash will go towards a concept study programme that will focus on the offshore production of green hydrogen in Scottish waters.
This project will be located "close to offshore windfarms" according to the Scottish Government announcement.
EnQuest Heather managed to take home slightly less funding than the aforementioned projects, however, it still secured £149,633.
This will fund a green hydrogen integration at Sullom Voe in Shetland.
A study will be conducted to assess the feasibility of producing hydrogen from treated water from the Sullom Voe terminal water treatment plant.
Hydrogen will be produced by electrolysis, then it will be stored or distributed through existing "obsolete O&G infrastructure."
Finally, National Subsea Center and Robert Gordon University managed to secure one of the highest sums from the initiative for their Hy-One project.
The two received £1,198,000 will provide a testing facility to support the development, demonstration, and implementation of small- to large-scale compressed hydrogen storage vessels and their accessories.
Recommended for you

KBR wins 1GW HyNet hydrogen work with rebranded EET