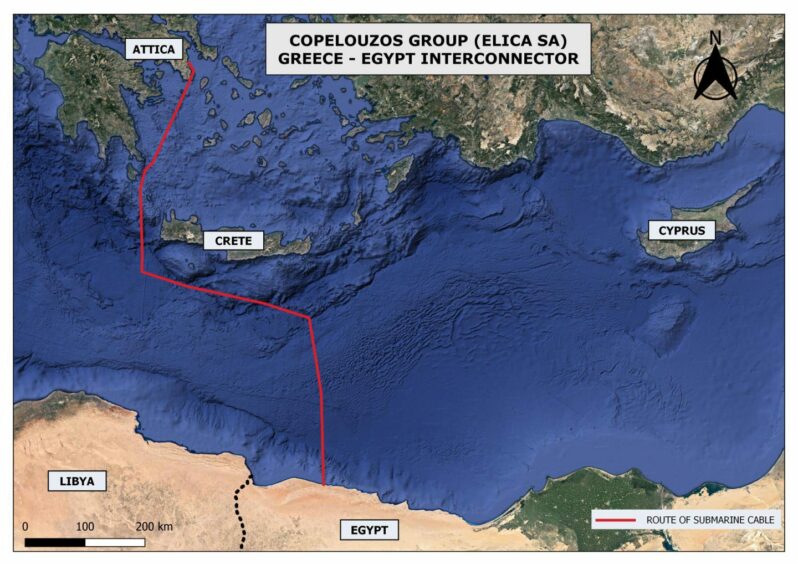 Plans are firming up on a power link that would connect renewable energy sources in Egypt to Europe, through Greece.
Infinity Power has signed a memorandum of understanding (MoU) with Copelouzos Group, and its subsidiaries Damco Energy and Elica Mediterranean Interconnection. The agreement sees the companies talking, non-exclusively, on the joint development of renewable energy projects.
The 950-km GREGY interconnector would have 3,000 MW of capacity. Copelouzos said it would need around 9.5 GW of power to utilise the link.
The MoU sees the companies establish a steering committee, made up of three members. This will co-ordinate discussions, exchange information and carry out negotiations.
Infinity Power is a joint venture of Abu Dhabi's Masdar and Egypt's Infinity. Chairman of Infinity Power, Mohamed Ismail Mansour, said the GREGY plan was "a remarkable opportunity for Egypt to benefit through economic development and revenue growth. The project will also enhance the country's energy security and be a key venture in promoting international co-operation."
Infinity Power currently has 1.3 GW of operational projects, with another 13.8 GW of projects under planning.
The Greek company has forecast the link would cost around 3.5 billion euros ($3.8bn).
High-level plans
Copelouzos is not the only company with such a plan. Eunice Group has proposed a similar HVDC interconnector, with its Greece-Africa Power (GAP) link proposed to carry 2,000 MW from Egypt to Crete.
The GREGY plan, meanwhile, bypasses Crete and runs direct to the Greek mainland.
Copelouzos noted the MoU with Infinity Power followed a deal signed in 2022, when Greek Prime Minister Kyriakos Mitsotakis visited Abu Dhabi.
Infinity Power CEO Nayer Fouad said the plans were helping realise the goals of COP27, held in Cairo last year. "We are also spearheading the movement towards COP28 by establishing ourselves as a significant green energy supplier, beyond Africa. The benefits of the Egypt-Greece subsea transmission project are far-reaching." COP28 will be held in the United Arab Emirates in November.
Copelouzos chairman and CEO Christos Copelouzos noted the appeal for Europe. The GREGY plan will "support Europe in its efforts towards achieving energy diversification and security".
Recommended for you

Land deal signed for largest African wind farm project