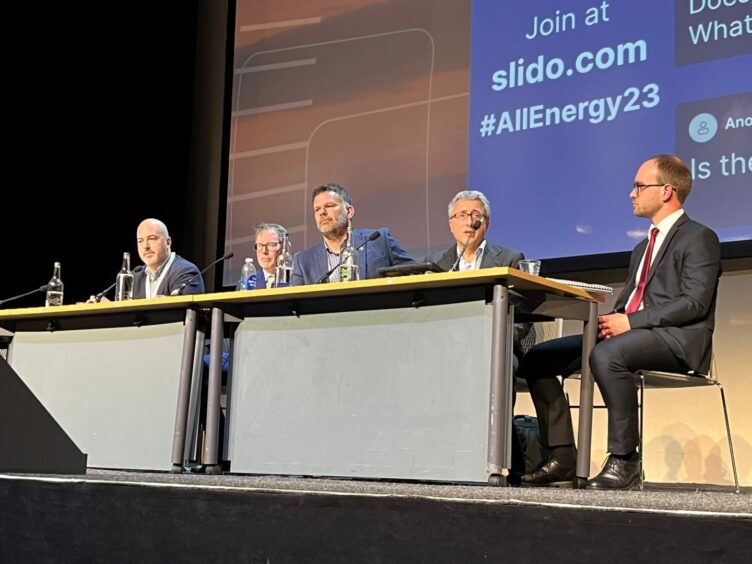 A panel of industry experts suggested there would not rush to hold an 'INTOG 2' leasing round, given the challenges and pace needed to deliver existing projects in tandem with ScotWind.
Speaking during a panel session during All-Energy in Glasgow last week, regulators and industry representatives said the scale of the current planned offshore wind build out would be more than enough to keep industry and supply chains busy.
Aimed at securing low-carbon power for North Sea oil and gas platforms, the the world-first Innovation and Targeted Oil and Gas (INTOG) leasing round was overseen by Crown Estate Scotland and concluded in March, with 13 projects securing licences.
Of the successful applications, eight fell within the TOG category and representing just under 5 GW of capacity, while the remaining five were classified as innovation projects, worth around 450MW.
Speaking during the panel session NZTC head of net zero technology Graeme Rogerson said work by the centre had highlighted 34 assets suitable for linkups to INTOG projects. Yet of these thirty-plus sites, 12 – all of which are east or west of Shetland – have no nearby connections to planned floating wind projects.
Given they face the same imperative to decarbonise, the panel was asked whether areas like West of Shetland would require an "INTOG 2" round.
NSTA chief technical officer Carlo Procaccini replied: "I'm not sure if it needs an INTOG 2 but it is true there is oil and gas [power] demand.
"There are projects in the pipeline to add to that demand which should be around 200-250MW if all these projects come to fruition – and this will be long-term demand as well.
"The operators are committed to decarbonise their operations and lower emissions and they are now looking at opportunities to source from shore – and this will be the first port of call because of the cost, the depth and the harsh environment west of Shetland probably it's the most sensible solution."
It comes as BP (LON: BP), Ithaca Energy (LON: ITH) and Equinor (OSLO:EQNR) agreed to work together on electrification for their Cambo, Rosebank and Clair assets in the region.
Different concepts will be evaluated this year, but both floating wind and power-from-shore are being considered. Analysts Welligence suggested that, if full electrification can be achieved, emissions from these oilfields could decrease by 93%.
30% by 2030
Others meanwhile emphasised the scale of the build faced by the sector. Offshore Energies UK's wind and renewables Manager Thibault Cheret said INTOG projects alone could account for around 30% of global floating wind capacity by 2030.
Crucially, there was a consensus amongst panellists that many of these schemes will need to be delivered ahead of the 28GW worth of ScotWind projects, despite the leasing round being held nearly a year later.
This is especially urgent for the sector, given its commitments to slash offshore production emissions by 25% by 2027 and 50% by 2030 compared with a 2018 baseline, under the North Sea Transition Deal.
Flotation Energy project director Alexander Quayle said that if firms intended to meet 2030 deadlines, work had to begin on these projects years ago.
"If you start with a fresh page now it is exceedingly hard to build a project and business case in that sort of timescale," he noted.
It was a sentiment echoed by Simply Blue's Huw Bell, who said his group had "taken a risk" in starting work on its Salamander floating wind scheme some time ago, in order to ensure it could be built and delivered in Scotland.
While some assets face clear challenges in their path to slashing emissions, session chairman and Crown Estate Scotland development manager Ben Miller was firm, closing the session by noting: "There were a couple of [panel] questions around Scotwind 2 and INTOG 2; from Crown Estate Scotland's point of view, market engagement happens pretty continuously but I would gently suggest we've given ourselves quite a lot to get on with and lots of opportunity to make a success of it."
Recommended for you

Crown Estate kicks off Celtic Sea wind leasing round