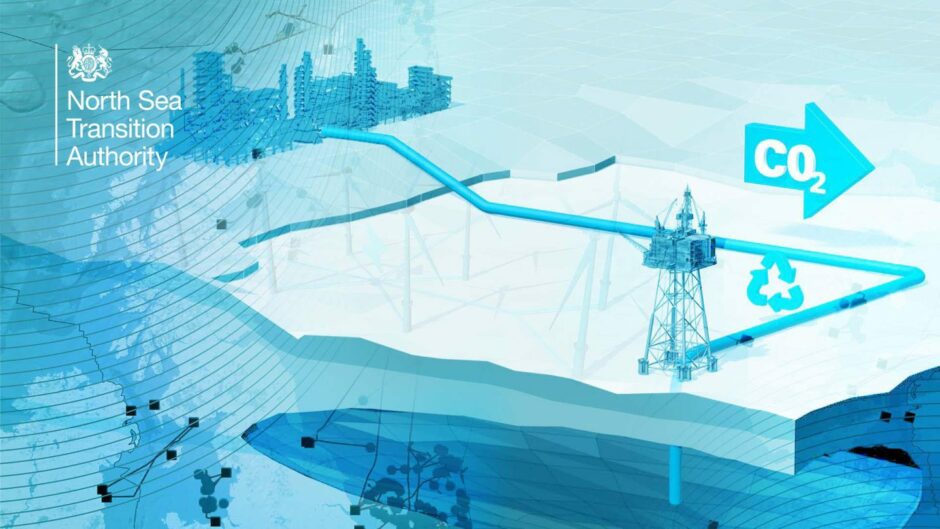 Twelve companies have secured a total of 20 licences as part of the UK's first-ever carbon storage licensing round, spurring on development of several CCS clusters.
Thirteen areas were offered off the coast of Aberdeen, Teesside, Liverpool and Lincolnshire in the southern North Sea, central North Sea, northern North Sea, and East Irish Sea as part of the process, which kicked off last summer.
Overseen by the North Sea Transition Authority (NSTA) the score of licences cover more than 4,600 square miles of offshore acreage – an area slightly larger than Yorkshire.
The NSTA said the names of successful applicants would not be formally disclosed until they had accepted their awards – a process expected to take days or weeks.
Several companies including EnQuest, Neptune Energy and Eni have announced public bids, but it is yet to be confirmed whether these have been successful.
However, the volume of awards suggest the majority of bids have been accepted, after a process involving 19 companies and a total of 26 site applications.
They will join the six licences already dished out to CCS cluster projects across the basin.
The sites are expected to offer sufficient storage capacity for around 10% of the UK's annual emissions and make a "significant contribution" to the UK's target of sequestering 30 million tonnes of CO2 per year by 2030.
The round is likely to be the first of many as up to 100 CO2 stores could be needed to meet the UK's net zero targets.
Licences include a range of geological store types and were selected following a process which considered attributes such as the geology, proximity to existing infrastructure – as is found at Bacton off the coast of Norfolk – and links to industrial clusters which are expecting carbon storage to help meet decarbonisation goals.
It follows the UK government's pledge to invest £20bn in CCS clusters over the next decade.
The UK's 'crown jewel'
NSTA chief exec Stuart Payne described the announcement as "an exciting and important day."
"As a nation, we cannot meet our decarbonisation targets without carbon storage. This is net zero delivery in action.
"Through our engagement with applicants, we will have committed work plans in place such as seismic surveys and drilling of wells – we are working with industry to move at real pace."
"The UK's offshore waters remain the crown jewel of our energy mix, providing energy security, emissions reduction and carbon storage.
"We look forward to working with these licensees to make these projects a reality as soon as possible and to opening more carbon storage rounds in the near future – my thanks to our teams and industry for their great work, but this is just the beginning."
Minister for Energy Efficiency and Green Finance Martin Callanan said: "Thanks to the government's unprecedented £20 billion investment in early-stage carbon capture and storage development, we are in prime position to take advantage of the geological goldmine beneath our shores to store CO2, and grow our economy by becoming world-leaders in this developing industry.
"These new licences, together with fresh powers granted to NSTA within the landmark Energy Bill, will develop our most comprehensive picture yet of UK's carbon capture and storage potential, strengthening our energy security and cutting emissions while creating thousands of skilled British jobs."
Don't stop now
The news was also welcomed by the head of trade body Offshore Energies UK (OEUK), David Whitehouse, who urged the sector not to slow down in progressing delivery.
"The UK's offshore oil and gas industry has the expertise needed to make carbon storage a success – and these licence awards can showcase our heritage of energy production skills to the world.
"If we get this right, it will not only help the decarbonisation of heavy industry, power generation and manufacturing globally but also create growth and export opportunity for industrial communities across the UK.
"But we will need 100 such sites or more, and the Track 1 and 2 clusters to be accelerated, if we are to reach net zero – so we mustn't stop here.
"We look forward to the Government's continued support for CCUS to make sure the UK secures a leadership position in this exciting new sector."
What is the CCS Licensing round?
As with exploring for oil and gas or building a new wind farm, companies must obtain permissions from various regulators to operate facilities that will sequester carbon.
As the body responsible for offshore CO2 storage in the UK, the NSTA approves and issues carbon dioxide storage and appraisal licences, storage permits, and maintains the carbon storage public register.
In the first process of its kind, the NSTA offered 13 areas last year, with sites made up of a mixture of saline aquifers and depleted oil and gas field storage opportunities.
19 companies reportedly expressed interest in the areas on offer, submitting a total of 26 bids before the deadline last September.
Further rounds are likely, with as many as 100 CO2 stores potentially needed in order to meet the net zero by 2050 target.
In addition to being awarded a licence from the NSTA, successful applicants will also need to obtain a lease from the Crown Estate or Crown Estate Scotland, depending on location, before they can progress a project.
Different licenses are expected to proceed at different paces, due to their size and scale, but first injection of CO2 could come as early as four to six years after they have been allocated.
What is CCS?
Carbon capture and storage (CCS) refers to various processes which capture carbon dioxide emissions, generally from industrial processes.
This includes many carbon-intensive activities such as steel and cement production, the generation of hydrogen through steam reforming, or from the burning of biomass or fossil fuels in power generation.
This CO2 can then be transported and stored in underground locations – in this case within depleted natural rock formations or depleted oil and gas reservoirs.
CO2 will typically be stored at depths greater than 800 metres, where it no longer behaves as a gas, but instead as a supercritical fluid.
According to the NSTA, the same formations that are well understood in the UK from many decades of oil and gas production, such as the Triassic Bunter Formation and Tertiary Forties Sandstones, are also likely to be ideal for CO2 storage.
Estimates suggest the UK North Sea could store up to 78 billion tonnes of CO2 – enough to meet hundreds of years of domestic demand and potentially assist other countries as well.
Recommended for you

Education proves to be biggest challenge for carbon capture start up