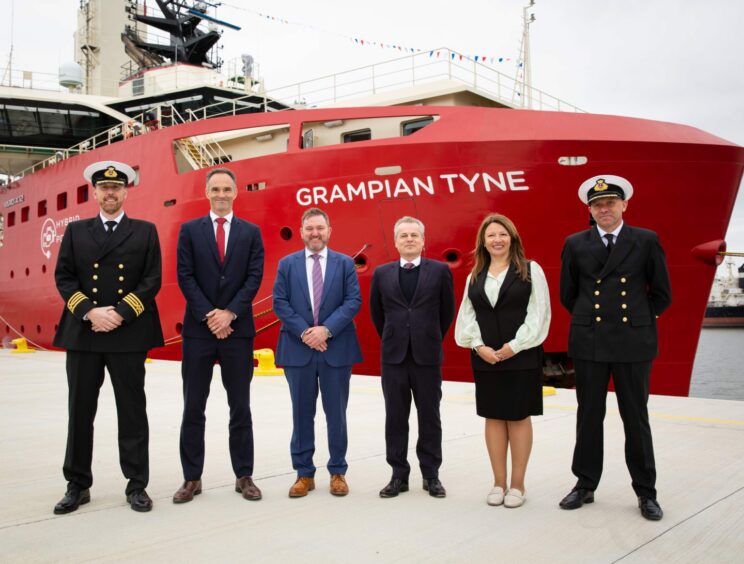 The first of new fleet of North Star offshore wind vessels built to service Equinor's Dogger Bank project has been named at a ceremony in Port of Tyne.
The Grampian Tyne is the first of a quartet of service operation vessels (SOVs) to be commissioned and run by North Star, and was officially named at a ceremony at Equinor's operations and maintenance (O&M) base ahead of handover to the wind farm.
The customary smashing of a champagne bottle against the hull of the ship was carried out by the ship's "godmother" Lindsay Gordon, who is married to North Star chief executive Matthew Gordon.
North Star won the initial contract to serve the Dogger Bank A and Dogger Bank B wind farms in 2021, following a competitive tender for the design and delivery of three SOVs.
It later secured a fourth to serve Dogger Bank C later that year, taking its total contract value to a combined £360m.
Each of the four vessels have been contracted on a 10-year agreement, with three additional one-year options.
Backed by partners Equinor (40%), SSE Renewables (40%), and Vårgrønn (20%), the 3.6GW, 190-turbine Dogger Bank wind farm will be the largest in the world and produce enough electricity to meet around 5% of the UK's demand.
Future-proofed facilities
Based on a VARD 4 12-design all four craft are being built at the manufacturers Vung Tau shipyard in Vietnam, and are on track to be operational by 2026.
The state-of-the-art design offers accommodation for turbine technicians, as well as a centralised logistics hub configured to handle cargo and act as a warehouse while offshore. A side-loading logistics space means the vessel can be reloaded directly from the quayside.
The hybrid vessels also host MGO power generation gensets with battery architecture in-built, coupled with Voith-Schneider eVSP propulsion package.
Grampian Tyne will also sail with a daughter craft, the Grace Darling, named after the British lighthouse keeper's daughter who rescued survivors from a wrecked steamship off the coast of Northumberland in 1838.
This is the first of North Star's hybrid-powered daughter craft used primarily as crew transfer vessels, and was designed by Chartwell Marine and built by Alicat Workboats in Great Yarmouth.
The first of many
Matthew Gordon, North Star CEO, said: "Being able to welcome our clients and esteemed guests onboard the Grampian Tyne in all her glory has been an incredibly proud moment for the entire North Star team and everyone involved in its design and construction.
"The significance of the name is not just a simple nod to the river, but to the people and the community this vessel and wind farm serve. We're extremely proud of the links being built with the local supply chain with a rich history of shipping on this waterway.
He said North Star aimed to offer "more investment and recruitment opportunities" to the area as it looks to the three further ships, which will also all be based out of Port of Tyne.
All told, 170 new full-time UK jobs are expected to be created in crewing and shore-based roles as part of the wind farm service fleet.
Equinor hosted an official opening ceremony for its north-east England O&M facility earlier this year.
Kamala Hajiyeva, head of Dogger Bank Development at Equinor, said: "We are thrilled to welcome the new Grampian Tyne service operation vessel to our Operations and Maintenance base here at the Port of Tyne. The vessel provides a best in class working and living environment for our offshore wind technicians and team members, ensuring they can carry out essential maintenance safely and comfortably. "
Further opportunities are likely on the way, with North Star last month contracting VARD to provide a further four commissioning service operation vessels (CSOVs) in addition to the Dogger Bank fleet, as it looks to deliver 40 offshore wind ships by 2040 to meet growing demand across the UK and Europe.
Recommended for you

North Star teams up to explore charging tech for offshore wind vessels