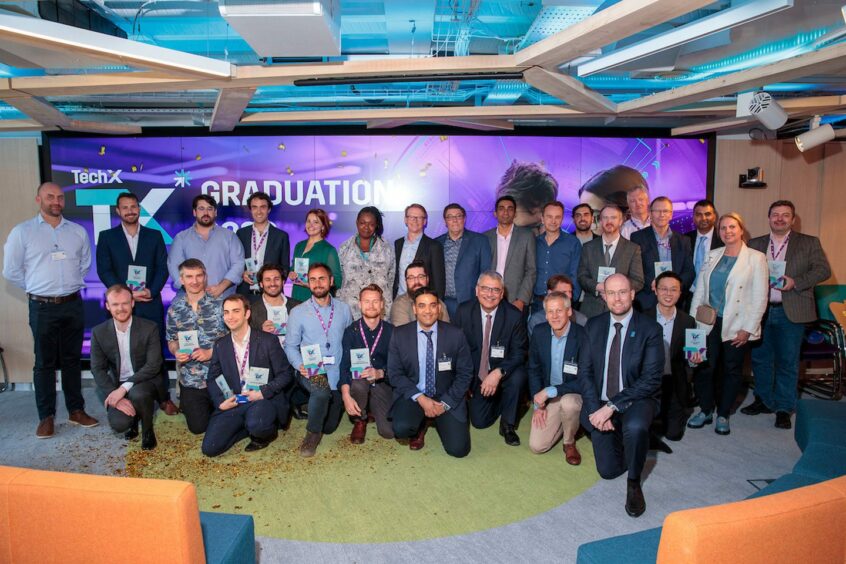 A dozen cleantech start-ups have graduated from a four-month TechX accelerator programme, raising hundreds of thousands of pounds of equity to spur growth.
A cohort of 12 companies graduated from the TechX Clean Energy Accelerator after an intensive 15-week programme run by Aberdeen's Net Zero Technology Centre (NZTC).
The group of international tech developers, whose ideas include the likes of hydrogen motors for aviation, kite-based wind turbines and space-based metocean survey equipment, concluded their schooling with a 2023 Demo Day, in which they pitched their solutions to a range of industry leaders.
Through the programme founders gained access to more than 30 mentors and introductions with a range of potential customers within the energy industry.
This allowed them to validate their technologies, as well as cement business models and value propositions, ultimately enabling them to raise a collective £740,000 in equity.
Those recognised with the most impactful net zero technologies received funded cash prizes from the project partners BP, Equinor and ADNOC, worth over £200,000.
2023's duo of winners include Fluxart, which works on cryogenic superconducting hydrogen motors to decarbonise aviation; and Wastewater Fuels, which uses microbial electrolysis cells to produce green hydrogen production from wastewater.
Italy-based MESPAC, which offers space-based metocean survey intelligence for offshore renewable energy, was also awarded the TechX Best Performance prize.
Chief acceleration officer and TechX director Mark Anderson said this year's group had "grasped each and every opportunity that has come their way."
"They are a testament to the pivotal role entrepreneurs will play in unlocking new solutions that will help industry reach its net zero targets.
"I look forward to being part of their continued development as we work with these exciting companies for a further two years through our TechX Growth programme. Their journey is only just beginning, and I have no doubt they will continue to see success."
UK Government Minister for Scotland Malcolm Offord also wished a hearty congratulations to the finalists, adding: "The Net Zero Technology Centre offers a place for pioneering start-up companies to create eco-friendly solutions that will drive change and help the offshore renewable energy sector continue in its goal of achieving net zero."
Scottish Government Wellbeing Economy Secretary Neil Gray said: "The TechX Clean Energy Accelerator programme is providing invaluable support to innovative start-ups in the energy industry.
"I applaud the ingenuity demonstrated by these entrepreneurs and wish them every success as they develop new products for the market."
The NZTC will continue to support the 12 start-ups for a further two years, offering them more showcase and networking opportunities, as well as co-working space in Aberdeen, Scotland.
Not counting this year's intake, some 45 start-ups have been supported through the TechX programme so far, and have gone on to generate more than £10m in collective revenue and raise over £50m in equity.
Recommended for you

Talent and timing: Can Aberdeen's oil and gas skills make the energy transition?