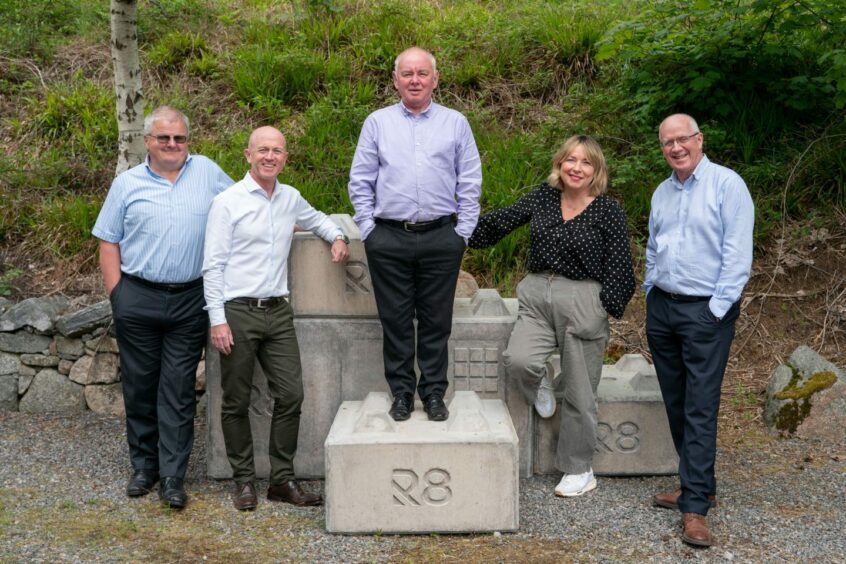 Environmental services firm Recycl8 is launching a recruitment drive after it secured a six-figure sum from Scottish Enterprise.
The grant was awarded as part of the public body's Low Carbon Manufacturing Challenge Fund (LCMCF), part of the Scottish Government's 'Making Scotland's Future' plan.
It helps companies in developing low carbon products, processes or services, as well as supporting projects that accelerate the energy transition in the manufacturing industry.
Recycl8 plans to use the cash to recruit several new members of staff across its research and development (R&D) division, as well as complementary roles.
The LCMCF award will also allow the Aberdeenshire-based firm to showcase the benefits of R8 Mix, its low carbon concrete solution.
There are ambitions to secure further private investment in the near future too, and Recycl8 says is in ongoing discussions with a number of interested parties.
"We are thrilled to have secured this substantial grant from Scottish Enterprise," said Mark Gillespie, chief executive of Recycl8.
"It's very heartening to have our technological process, our product and our commercial proposition recognised in this way by the Scottish Government's national economic development agency.
"We are on the cusp of launching the Recycl8 low carbon concrete solution: R8 Mix. Our rigorous testing programme is progressing well, and we have developed excellent relationships with potential partners and customers nationwide – there is huge demand for low carbon concrete solutions which reduces CO2 emissions at source. The award of this funding will be a springboard, building on all the hard work already completed, and propelling Recycl8 to the next level of its evolution to market.
"We are committed to playing our part in supporting the transition to a low carbon economy, and in fostering a circular economy that repurposes 'waste' to preserve our natural resources – this grant will help us to deliver on that commitment."
Rhona Allison, managing director of business growth at Scottish Enterprise, said: "Recycl8's new mix design can help meet the growing demand for low carbon building materials without sacrificing the integrity of its traditionally high carbon counterpart. This is an exciting breakthrough considering concrete is the most used man-made material in the world."
Recommended for you
Scottish Enterprise awards £9m grant to Ayrshire cable manufacturer