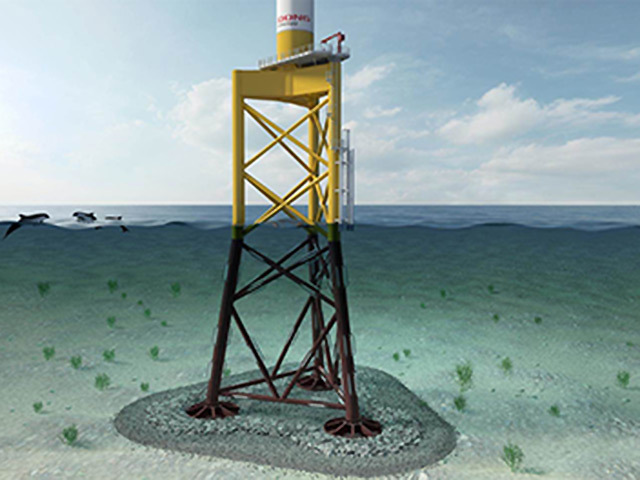 Danish energy giants Dong have landed £6million to develop a new form of offshore turbine foundation which could help cut the cost of renewable energy generation.
The firm has landed the grant from the UK Carbon Trust, through its Offshore Wind Accelerator programme, to fund a full demonstration of the system, known as a suction bucket jacket.
The project could be implemented in commercial projects as quickly as 2017 if the demonstration model currently being developed is successful.
"Cutting the costs of offshore wind quickly is the greatest challenge facing the industry over the coming few years," said Carbon Trust chief Tom Delay.
"Having identified that lower cost foundations remove significant cost we are delighted to be working with DONG Energy to take this exciting design forward and sharing the concept with other players in the industry."
The system draws on the methods used to anchor North Sea oil and gas platforms to the seabed, and uses existing jacket technology with suction buckets to anchor the turbine in place.
The company is looking to install a prototype of the jacket at the Borkum Riffgrund windfarm, off the coast of Germany, over the next few months to test how it works.
A number of offshore energy firms, including E.On and ScottishPower, will share the test data to see if it suits their needs for UK waters.
"Having more developers utilizing the Suction Bucket Jacket will benefit optimisation of design, fabrication process and installation logistics and thereby help to drive down the cost," said Dong wind vice president Tove Feld.
"DONG Energy see the OWA as an important part of the joint industry effort to lower the cost of Electricity for future offshore wind farms.
"The Suction Bucket Jacket demo project is a good example of focused industry cooperation, and this would not be possible without the support from the Carbon Trust."
Recommended for you

First offshore substation fitted at Neart na Gaoithe wind farm