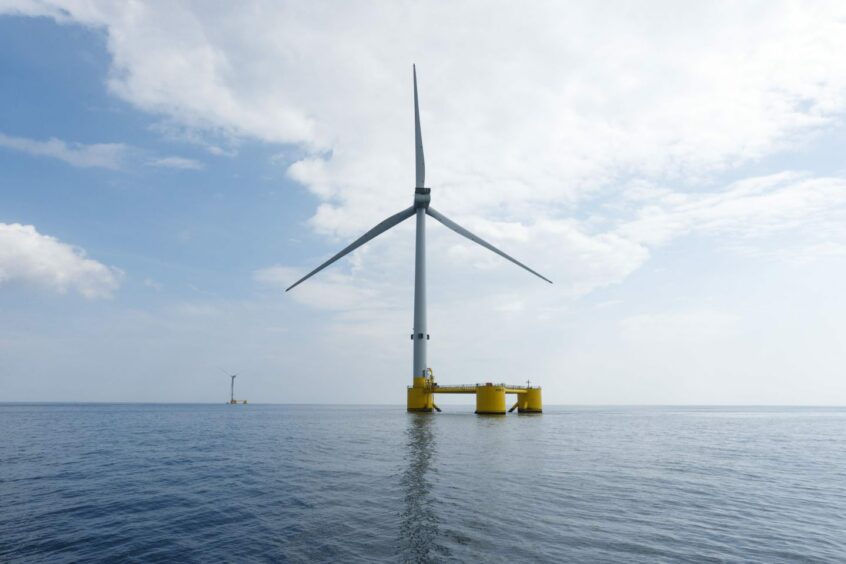 ScotWind has been hailed for bringing a potential landslide of supply chain opportunities to UK shores, but experts caution that collaboration and pragmatism will be needed to realise those goals.
Around £29bn in Scottish local content commitments have been secured from developers as part of the ScotWind leasing process. Yet the hard work lies in realising that pipeline of work, particularly in the nascent floating wind sector where the country hopes to establish a world-leading foothold.
Speaking with Energy Voice Xodus' Scott Hamilton, who chairs the Scottish Offshore Wind Energy Council (SOWEC) supply chain and clusters working group, commended Crown Estate Scotland (CES) for securing the commitments, contrasting it with other leasing processes which have focused solely on price.
"You can either have cheap electrons, you can have reindustrialisation or you can have a little bit of both, but you don't get all three," he noted.
"It's a bit like trying to manage a project: you've got cost, time and quality and you're trying to balance between them and you can never get it perfect. You have to be in favour of one or the other."
In introducing these additional criteria, he says CES conducted an "unintentional experiment" but in doing so proved the value of a model he would encourage other nations to adopt.
However, questions remain over exactly how much UK supply chains will be equipped to deliver – particularly when it comes to business of fabricating the hundreds, if not thousands, of steel structures needed to deliver gigawatts of projects over the next decade or so.
Competing strategically
Having spent more than a decade campaigning for better support for the UK's wind supply chain, Mr Hamilton is also pragmatic as to where the potential opportunities lie.
"I don't see how we would ever compete on a global scale – to be able to say that we are going to make an entire semisub here and then ship it off somewhere else," he opined.
For that reason, firms may have to be more strategic in the work they look to onshore in the UK.
One potential blueprint would be to encourage assembly, rather than end-to-end manufacturing of floating structures. He pointed to turbine nacelles, which tend to be made of many components shipped from across the globe to a central facility and assembled into final units.
"I do wonder whether floating substructures should go in a very similar way, whereby you can break that down into various components which can be made at the various places that are best at making these things.
"They can then be shipped in a much more efficient manner – rather than one or two full size floaters being shipped across at any one time – and then assembled locally," though acknowledged such an approach was a personal opinion and not SOWEC strategy.
"So you'd get some degree of local impact for sure. There's a lot of jobs in welding and fastenings and the painting that has to happen locally."
Developers have taken flak in the past for sending fabrication contracts for major UK projects overseas, but the fact remains that Scotland – at least for now – lacks the capability to deliver at the scale required.
SIM-ple plans
It's hoped that the Strategic Investment Model (SIM), launched earlier this year, will go some way towards addressing this issue of scale and capability, by ensuring investments are made and that they offer long-term sustainability.
Overseen by the SOWEC, the SIM aims to provide certainty and clarity on "a shared view of need" for the supply chain – marshalling industry and the public sector, to make sure investment is pooled effectively and risks shared.
Chief amongst those challenges is port infrastructure, identified by many as a sticking point that must be decoupled from investments in wind projects themselves.
The key report prepared by former Offshore Wind Champion Tim Pick's highlighted that, for Scotland's projects alone, three to five integration ports would be needed by 2030.
Lack of floating wind ports a 'national disgrace' says Offshore Wind Champion
Mr Hamilton is optimistic it will help address the barriers posed by the innately competitive offshore development process.
"The SIM sets collaboration out from the very beginning makes it separate to [the CFD process] and allows collaboration around working on the infrastructure that we need to deliver some of these supply chain pieces to start coming through," he explained.
"We're still at the early days, but I think it is far better than anything we've had in the system before in order to manage the collaboration and that joint funding of some of the infrastructure requirements."
Export opportunities
It's also important that UK supply chains don't attempt to run before they can walk.
"The core tenet I'm trying to bring into the SOWEC side of things is that your exports can only ever be as good as your domestic supply," he continued.
"Before you worry about that, you must be able to supply as much as possible to your own market.
"The degree of influence we can have on the export market has to be smaller, but there are clever ways to do it.
"I think it's a more novel approach that we need to look at rather than this idea of just shipping bits of steel all over the world. It's how do we take our knowledge and experience and move those things around."
One example he suggested was for companies to form international joint ventures, which could establish and prove themselves during the ScotWind buildout, and later compete for larger global work with experience under their belts.
The same applies to firms who could specialise in one element of floating structures – rather than attempting to build entire units.
"You're maybe talking about 1-2% of the overall steel mass – but once they qualify as part of that supply chain, they are qualified for that globally.
"So they get the opportunity when floating structures go over to the Brazilian market or the US market or go to Japan, they can still be part of that supply chain.
"That becomes a very sustainable long-term opportunity for them as part of something bigger, rather than having this 'one-and-done' approach."
There is evidence of this already; investors have commited £300m of private equity capital into the former McDermott fabrication yard at Ardersier, with BW Ideol hoping to make the site an assembly line for floating foundations.
All these considerations are even more important as the wind sector battles soaring costs and issues with delivery – made clear by a recent disastrous Contract for Difference round for the wind sector.
More certainty on CfDs will aid the supply chain too, he says.
"I think CFD has become a blunt instrument, it was good for what it was delivering at the time, which was reducing costs and offshore wind.
"It's now become outdated for where we are, and revisions that we're looking at for non-price factors and other things cannot come soon enough."
Recommended for you

Rovco completes survey work for Cenos floating offshore wind farm