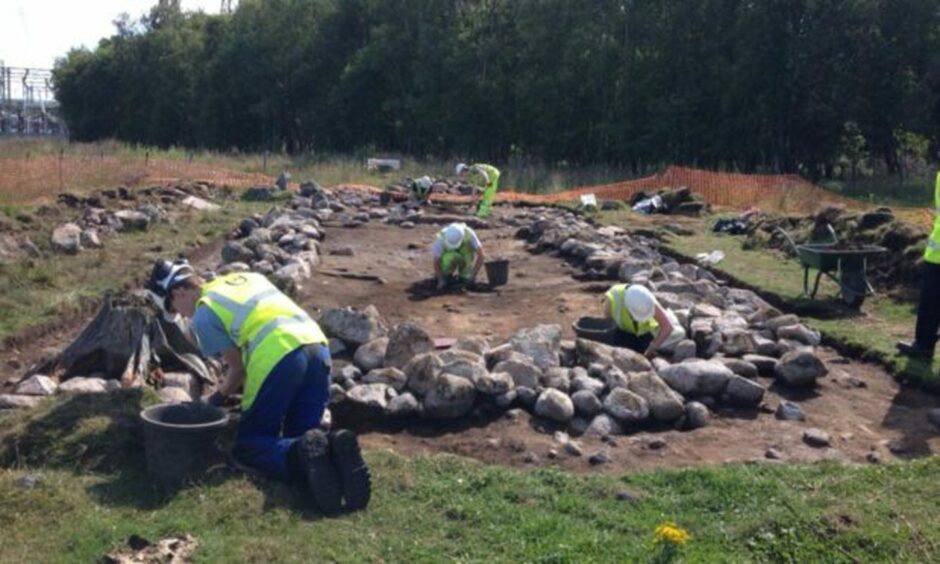 A flagship hydrogen project expected to create hundreds of jobs near Kintore in Aberdeenshire has taken a major step forward.
The company behind it, London-based Statera Energy, has submitted an environmental impact assessment (EIA) "scoping request" to Aberdeenshire Council.
Seeking helpful council feedback on the development proposals, the document is an important milestone ahead of public consultation events taking place early next year.
Aberdeenshire project will convert surplus wind energy into hydrogen
Kintore Hydrogen will use electrolysis technology to turn surplus Scottish wind power into "green" hydrogen. This will, in turn, supply the UK's power generating facilities and carbon intensive industrial clusters through existing gas transmission pipelines.
In March, the UK Government confirmed Kintore Hydrogen was a successful applicant in its Net Zero Hydrogen Fund Strand 1 competition, backing an initial 500 megawatt phase of the development.
At three gigawatts (GW) capacity, the overall scheme will be among the largest of its kind in Europe, potentially meeting nearly one-third of the UK's 10GW hydrogen target.
It is expected to provide the UK gas network with a large supply of green hydrogen.
Statera said that, along with the production of low cost, green hydrogen, the proposals should also deliver a huge boost to the north-east", providing hundreds of jobs during construction and operation.
The company added: "Kintore Hydrogen hopes to take full advantage of the existing skilled labour and supply chains already supporting the UK's energy sector in the north-east and, importantly, assisting these with the transition to net-zero."
The project needs planning approval but it is hoped phase one construction can start from 2025.
Initial phase hydrogen production would commence by 2028, with the wider scheme becoming fully operational from "2030 onwards".
There are two scheduled monuments, including an ancient stone circle, that lie wholly within or are intersected by the proposed development.
Any other heritage assets?
Medieval ruins and artefacts were previously found in the area and the scoping request says there is "strong likelihood" of buried archaeological remains within and around the proposed development site.
Chris Palmer, planning lead, Statera, said: "The submission of the EIA scoping request is another major milestone for this project, and a significant next step for secure and clean energy production in the UK.
"Kintore Hydrogen is a flagship development that will utilise surplus Scottish wind power, and Aberdeenshire and the north-east's strategic location to play a vital role in helping the UK meet its future energy targets and the important transition to net-zero."
Statera said it would be be liaising closely with Aberdeenshire Council, consultees and key stakeholders over the coming months as its proposals continue to develop.
Following feedback from the council and other consultees, a "proposal of application notice" will be submitted to the local authority.
This will kick off a formal statutory consultation process and public exhibitions in advance of the submission of a planning application next spring.
Statera has about 1GW of battery storage and flexible generation in operation or under construction around the UK.
It has a further 13GW of hydrogen production, battery storage, flexible generation and pumped storage in development. The firm's mission is to be the UK leader in providing flexibility resources pumped storage in development. Its mission is to be the UK leader in "providing flexibility resources to help balance a high-renewables electricity system".
Main features of the Kintore Hydrogen scheme
Operational capacity of up to 3GW, operating as flexible demand, with the ability to ramp up production during periods of high wind
Electricity to power the facility will be sourced directly from Kintore substation
Project granted UK Government funding for first 500MW
Kintore Hydrogen is targeting full production by the early 2030s, with first phase of 500MW to be ready for construction from 2025
Further information on the proposals will be communicated at consultation events and on the project's website, kintorehydrogen.co.uk
What is green hydrogen?
The Kintore project's website says a range of hydrogen production methods exist and they were assigned different colours to distinguish them.
Green hydrogen is produced by using renewable electricity to split water into hydrogen and oxygen. This process is called electrolysis, with water and electricity being the key inputs.
There are no carbon emissions created from this process, given the input electricity is taken from renewable sources, and it is considered the greenest of all hydrogen production methods.
Recommended for you

OCP calls first mover advantage in move to green ammonia