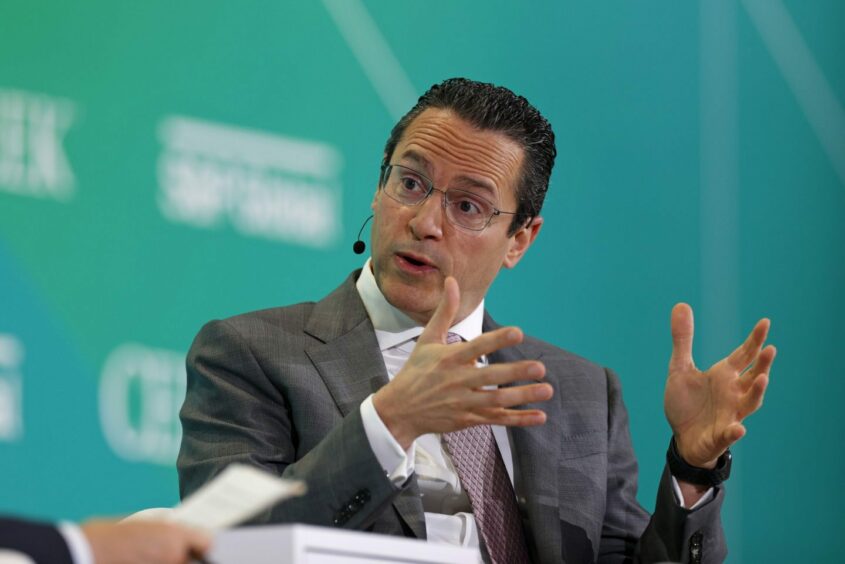 Shell's chief executive has said his firm will not "pretend to lead" on areas of the energy transition that it does not already have a foothold in.
The Shell chief executive told the Financial Times that he wants the business to be "leaner," reflecting the messaging from the company's Capital Markets Day this year.
During a capital markets day in July, Shell said it was reassessing its 2023 spending, including slowing investment in renewables as part of a move to boost returns.
Mr Sawan said: "We need to get leaner, we need to get more focused, we need to get more disciplined."
He added: "That inevitably will include choices around where we are going to operate but also importantly how we operate."
Speaking at Adipec in Abu Dhabi earlier this year he affirmed that there had been "no change in direction" for the company strategy.
Mr Sawan said at the Middle East conference: "All we are doing is pacing ourselves."
Shell looks to cut jobs from its low carbon hydrogen business
The UK-listed supermajor has recently been criticised for rolling back its green energy ambitions following Wael Sawan taking up the top job at the firm earlier this year.
Recently, Shell announced it was cutting 200 jobs as it looked to roll back on its low carbon hydrogen business.
London-listed supermajor (LON:SHEL) confirmed the positions will be lost from its global low-carbon solutions (LCS) business in 2024.
A further 130 positions are also under review, though some of these roles are expected to be integrated into other parts of the company.
The proposed cuts are likely to comprise around 15% of the company's LCS arm, though make up a small proportion of Shell's 90,000 global employees – around 1,000 of which are based in and around Aberdeen.
Criticisms from within
Shell's shift from hydrogen relates to its efforts to fuel passenger cars, instead, the firm will focus on supplying heavy goods vehicles.
"In transport and industry we already have a significant market share there, and we think it is only natural for us to lead as we support the decarbonisation of those sectors," said the Shell boss.
Scaling back its focus on green technology has prompted criticism from outside, and inside, the firm.
It was reported in September that an open letter, published on Shell's internal site by two employees, raised concerns about the shift in business strategy.
The open letter, written by Shell employees Lisette de Heiden and Wouter Drinkwaard, stated: "The recent announcements at and after the capital markets day deeply concern us."
The pair added: "We can only hope the optics of the CMD [capital markets day] announcements are deceiving us and that Shell continues its path as a leader in the energy transition."
At the time, Mr Sawan responded to the letter, saying: "For an organisation at the crux of the energy transition, there are no easy answers and no shortage of dilemmas or challenge."