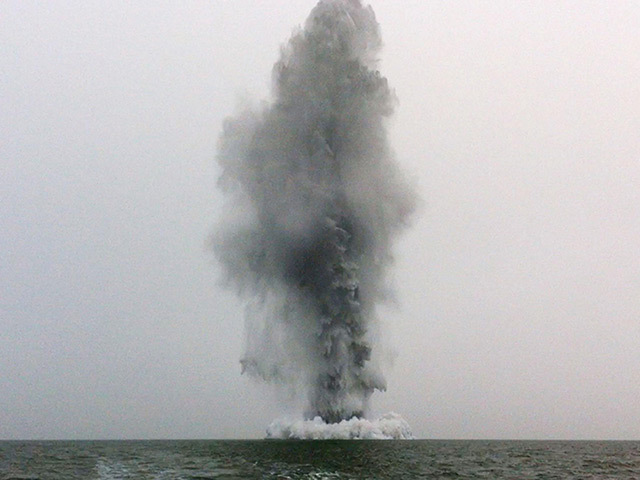 A new set of guidelines is to be published for offshore renewables firms over how to deal with unexploded World War 2 mines near potential projects.
Project management consultancy Royal HaskoningDHV and 6 Alpha Associates is to carry out research on the best ways for firms to deal with unexploded ordnance off the UK coast as the number of offshore wind and tidal projects increases.
The new resarch programme will look at the risk posed by ordnance still lurking in UK waters, and how best to deal with it in a safe manner.
"To date, there has been insufficient clarity and awareness concerning a number of key issues related to the safe management of UXO (unexploded ordnance) risk on marine construction projects," said 6 Alpha managing director.
"We often find that project developers and operators are under-informed about the true scale and nature of the UXO threat in European waters.
"The offshore wind and wider marine construction sectors are in clear need of guidance about where legal responsibility lies for managing this long-term risk and how to do so in a cost effective and safe manner."
"In cooperation with CIRIA and Royal HaskoningDHV, we're hoping to use our expertise to bring some clarity to the market with guidelines that can act as a starting point for the establishment of universal best practice."
Unexploded mines remain a threat for offshore installations. Two years ago bomb disposal experts had to remove an World War 2 explosive that had threatened FLAGS gas pipeline to St Fergus.
The research project has been commissioned by the Construction Industry research and information association and has been backed by a host of offshore energy firms, including Dong, EDF and Wood Group Kenny.
It will look at other marine energy and construction projects to provide proper guidance for firms as wind farms and marine projects move closer to munitions dumps, test sites and unexploded mines.
"As marine construction and energy projects grow in scale and number, it's vital that we pool knowledge and experience, especially where the risk of catastrophic incident is involved," said Royal HaskoningDHV technical director Nick Cooper.
Recommended for you

Jadestone Energy gets new finance chief from SBM Offshore