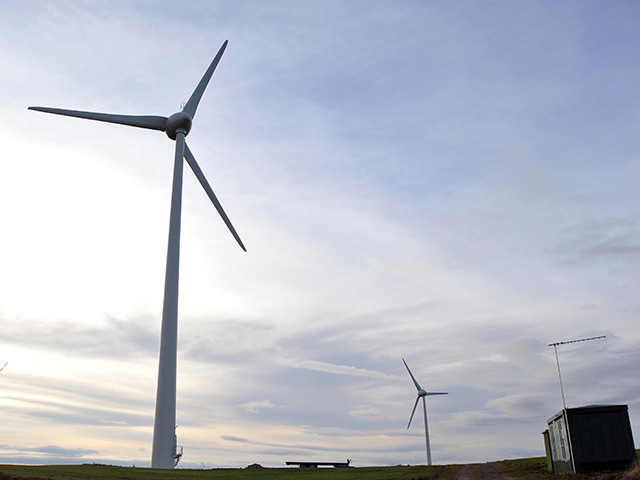 A controversial Scots windfarm has been served with an Asbo-style "noisy neighbour" notice.
Operators of the triple-turbine development in rural Buchan have been warned they face prosecution unless they take action to address a thumping, "whoomph" noise that nearby residents say is driving them to distraction.
The 260ft-high turbines were installed at West Knock Farm, near Stuartfield, by landowner Albert Howie, who was a local councillor at the time.
The masts became operational in November 2011 and, since then, environmental officers at Aberdeenshire Council have received regular complaints about general noise and disturbance.
Following an investigation, the local authority has issued the business – now called Stuartfield Wind Power Ltd – with a statutory noise-nuisance notice, demanding measures to fix the problem.
If the firm fails to comply with the terms of the notice, it could be taken to court and fined up to £5,000 – plus a fine of £500 for every day the offence continues.
It is believed to be one of the first times such a notice has been served on the owners of a windfarm in Scotland.
Stuartfield Wind Power is battling the order and has raised a civil action against Aberdeenshire Council at Peterhead Sheriff Court.
A hearing to decide the appeal has been scheduled for May. The company is being allowed to keep the turbines in operation pending the outcome of proceedings.
Last night, a council spokesman said: "This matter arose following complaints from neighbours and a subsequent investigation by environmental health officers.
"As the sound of the turbines was considered to be a statutory nuisance, an abatement notice was served."
Mr Howie's son John, who runs Stuartfield Wind Power, said yesterday: "This seems to have come about after complaints from just one person.
"As far as we're concerned, we have been operating well within our planning requirements. We have carried out our own noise surveys and taken microphones to all neighbouring properties. Everything has been done above board.
"You can occasionally hear the whooshing of the blades, but it's very seldom this happens and it's not very noisy."
Mr Howie sen added: "I don't think there's a problem here. It's something that will be resolved."
Last year, it emerged that the West Knock farm was one of 10 wind turbine developments being investigated by environmental body Climate-Xchange as part of a nationwide study for the Scottish Government. Residents living close to each windfarm have been asked for their views, specifically about how the turbines have changed their lives.
The findings are due to be published in the autumn and will be used to inform the Scottish Government and local authorities about future planning applications in an effort to minimise any negative effects on residents.
The West Knock windfarm was approved by Buchan area councillors in February 2010.
The scheme, which is understood to generate enough electricity to power up to 4,000 homes, attracted four objections from nearby residents.
They told planning officers at the time that they feared the development would become a noise nuisance. Objectors raised further concerns about the visual impact of the turbines, as well as a potential drop in property values.
Recommended for you

Aberdeenshire resident of 40 years objects to 820 ft turbines