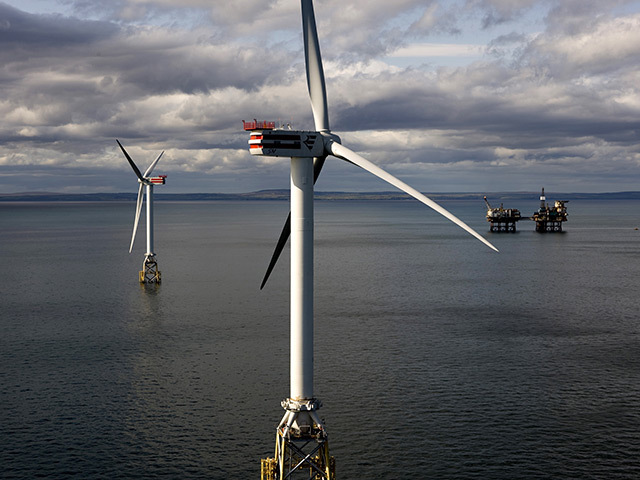 A 30-mile power line could be buried under the Aberdeenshire countryside to feed electricity from the world's biggest offshore windfarm to homes and businesses across the UK.
Construction of the cable link, which will stretch from the Banffshire coast to the heart of Buchan, will create nearly 600 jobs, developers said last night.
It will provide a crucial connection between the National Grid and a trio of wind energy developments in the outer Moray Firth.
Last month, the Scottish Government granted consent to consortium Moray Offshore Renewables (MORL) for up to 339 turbines off Caithness.
Now, plans have been tabled with Aberdeenshire Council for the onshore section of the work.
MORL, which comprises EDP Renewables and Repsol, wants to create an underground connection point at Inverboyndie or Sandend, near Banff.
A trench will be dug to accommodate the cable, which will run to land south of New Deer.
It will go under at least three main roads, including the A947 Banff-Aberdeen route. Two new electricity substations will be built at the end of the corridor. Full details of the plan will be revealed during a public consultation exercise later this summer.
Feedback from residents will be used to help finalise the route before any planning application is submitted.
Last night, a spokesman for MORL said: "In March we received consent from the Scottish Government to construct and operate 1,116MW of offshore wind generation in the outer Moray Firth. This proposal is part of the project's progress and will allow us to connect to the electricity grid onshore."
He said the company had originally planned to connect the supply to land near Peterhead Power Station.
"Under regulatory processes, working with National Grid and Scottish Hydro Electric Transmission, MORL have found a more economic and efficient connection to the National Grid, which will result in better value for consumers," he said.
Construction is expected to begin early next year.
Recommended for you

Ocean Winds submits key paperwork for 2GW Caledonia wind project